The Men's Golf team began the season by finishing first place overall in the Gopher Invitational. The tournament was hosted by the University of Minnesota. The team finished under seven collectively. The tournament took place from Sept. 10-11.
The best individual performer was Senior Walker Isley. Isley finished second overall, just behind Will King of Kansas. Isley shot under seven, with scores of 69-67-70 across the three rounds. A score of under seven is seven shots under the expected/average score. So, if Isley's final score collectively was 206, that means the expected score was 213. The expected score is referred to as par. If you shoot under, you are shooting seven under par.
Finishing just behind Isley was senior Patrick Sparks. Sparks shot under five with scores of 73-68-67 across the three rounds. Sparks finished the tournament off strong, shooting under four in just his last round, propelling 11 spots up the rankings. After Sparks, the next highest Seahawk finisher was Gray Mitchum, shooting under two and finishing tied for sixth place. Mitchum shot 68-71-72 across the three rounds. The men's golf team plays next at the Rod Myers Intercollegiate, hosted by Duke University. The tournament is Sept. 24-25.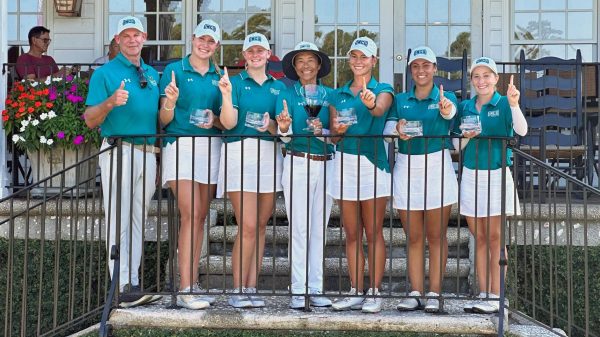 As far as the Women's Golf team, they participated and won first place as a team in the Golfweek Fall Challenge, held in Pawley's Island, SC. The tournament was held from Sept. 10-12. There are a couple of standout individual performers on display as well.
Fifth-year Mallory Fobes won first place in this tournament. This victory was her first collegiate tournament victory. Fobes was a 2022 NCAA Regional individual qualifier, playing in the Raleigh Regionals. In the Golfweek Fall Challenge, Fobes shot 72-68-69 across the three rounds. Fobes also accrued 13 birdies across the three-day tournament, tying for the lead at the tournament. After Fobes, Victoria Levy finished tied for second place overall. Levy shot 71-74-66, with an impressive under five in the final round. The women's golf team next plays in the Furman Paladin Invitational from Sept. 22-24, in Greenville, South Carolina.