As the 2023-2024 school year begins, so does new chief Frank Brinkley's tenure at UNCW. Following 29 years with former chief of police David Donaldson, the University Police Department (UPD) welcomed Brinkley into the position of police chief, effective March 27th, 2023. Brinkley brings with him years of experience as police chief at UNC School of the Arts as well as police major and acting chief at NC State University, in Raleigh.
"I kind-of tested it," said Brinkley on his move to Wilmington. "I wanted to make sure it was right for my family [since] I didn't really give them a choice when I went to the last job; I was looking for advancement and felt I was ready at that time to be chief and that was where that opportunity led."
Brinkley completed his undergraduate education at NC State University as a Parks Recreation and Tourism Management major, and initially planned to become a park ranger in the North Carolina state park system. When he graduated, an economic crisis had forced a hiring freeze on many state ranger positions. After spending some time working towards his original goal, Brinkley eventually got in touch with old friends from his time as a student patrol officer and applied to an officer position at NC State. His time there as a student ensured that he was well acquainted with the campus, and he went on to serve 15 years in the aforementioned leadership roles at his alma mater.
Following his time at NC State, Brinkley moved to the UNC School of the Arts and spent five years in the position of Police Chief. While there, he implemented "diverse applicant review panels" and saw "significant increases in diverse applicants," per the press release that was published on UNCW's website.
"The best practices in law enforcement, according to recommendations by several studies and government bodies, is that your department needs to represent the community that it's policing," Brinkley explained. "It should be obvious, but it is the best practice standard out there."
Brinkley's department developed a recruitment team from whom they took recommendations and began to advertise with minority-based law enforcement organizations such as the National Organization of Black Law Enforcement Executives, or NOBLE, and the National Association of Women Law Enforcement Executives, or NAWLEE. They also reached out to more localized groups such as the Winston Salem Hispanic League and the National Asian Peace Officers Association. According to Brinkley, the department soon began to see notable increases in diversity. He plans to pursue similar initiatives here.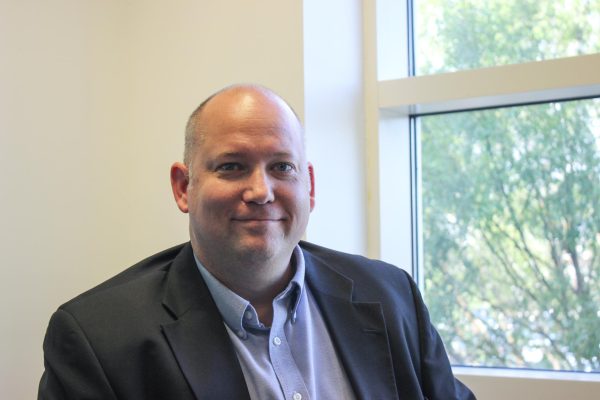 Now with 20 years of experience in the system, Brinkley finally joined the UNCW University Police Department in the spring semester of 2023, where he plans to continue working until retirement. He explained that UPD has a great reputation as a department statewide, and that so far, his experience here has met his expectations.
"The selling points I was told during the interview process [were] 'you'll have great support, it's a great community, lots of collaboration,' and it's all been true," said Brinkley. "Lots of people have reached out, wanted to meet; wanted to talk about how we can help each other- not just 'Hey, what can you do for me today?' It's really been a good, collaborative conversation."
Throughout the entirety of his career, Brinkley believes the one constant has been the campus collaboration. He explained how appreciative he has always been of the openness of his coworkers and community, and how they have been able to recognize the value of a strong partnership.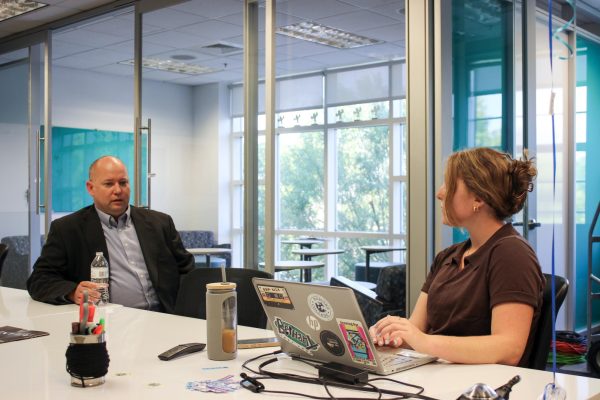 In the shadow of the Parkland High School shooting in Florida, Brinkley also established the ALICE Active Shooter Response Trainings at UNCSA, as a means of increasing awareness and preparedness. The program, which was very similar to the "Run, Hide, Fight" initiative that many other North Carolina schools have, lasts about two hours and is offered as an annual refresher for all staff in the UNCSA program.
At UNCW, all officers receive rapid deployment training, as well as life-saving care and basic trauma training. Security guards are not armed, but every sworn law enforcement officer in the North Carolina system is, including those on campus. All officers at UPD also wear body cameras. Supervisors at the department are required to review the footage from those cameras on a regular basis to ensure good conduct and look for potential performance improvement opportunities.
"There's no waiting outside a building to go in. If we hear active gunshots, then we're going in the building, whether that's in pairs, with a team or alone," said Brinkley. "The biggest priority is to stop the threat, stop the killing. After that, we'll be going back and rendering medical care as quickly as possible. You can believe we have a good partnership with all the law enforcement agencies in the area, and all of them are coming too."
There are several measures in place at UNCW should an active shooter situation occur. Per the "Active Attacker Preparedness" video on UPD's website, once an emergency situation is confirmed, the department will sound the Seahawk Warning Sirens. Students, faculty and staff that are registered with the UNCW Alert system will also be notified via text message and email. If you personally witness a situation that can disrupt campus safety, the easiest way to report it is to either dial 911 or use one of the emergency call boxes located around campus.
UPD is currently looking to meet with freshman UNI classes to review the "Run, Hide, Fight" procedures with the new students. The department also offers trainings for departments by request.
"Just because it worked at NC State or UNCSA… we want to make sure these programs are right for here, so we're accessing everything and putting ideas on the table; we're talking about it with our partners to see if these things are right for us," said Brinkley about replicating past initiatives at UNCW. The UNCSA and NC State student populations are about 1,100 and 34,000, respectively, making their safety protocols not directly applicable to the UNCW experience.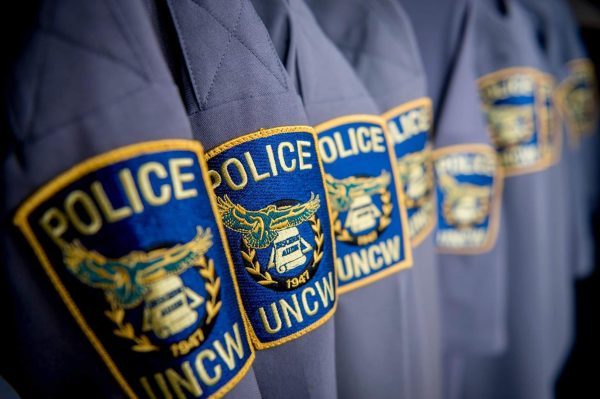 Issues with law enforcement, put lightly, have damaged the faith that communities have had in their departments nationwide, both in whole cities and on college campuses over the last few years. A 2022 Gallup poll found that the number of Americans who have a "great deal of confidence" in the police dropped from 51% to 45% from 2021-2022. This is only the second time that the percentage has dropped below the 50% majority line; the first time this occurred was in 2020 in the aftermath of the death of George Floyd. This decline was seen across party lines, with the largest drop being among Republicans. Right-wing confidence in the police decreased from 78% to 67% from 2021-2022. Comparably, Democrat and Independent confidence in the police went from 30% to 28% and 49% to 41%, respectively.
Brinkley plans to directly reach out to departments and individual members of the UNCW community in order to establish a positive connection and build favorable rapport.
"We need to make sure that we are setting ourselves apart and make sure that the trust is there. UNCW, I think, does a great job with their liaisons with both residence halls and the different departments on campus. We're talking about ways to enhance that. Again, it's [about] being visible and having those positive interactions. It's being available and answering questions–you know we do "Coffee with a Cop" in the library. If anyone ever wants to sit down with me and say 'Hey, I saw this. What were your officers doing?', I'll answer those questions with them as much as I can."
As a whole, Brinkley's time at UNCW has been positive, and he plans to finish out his career at this campus. He looks forward to engaging more with Wilmington and establishing a positive connection with the students, faculty and staff on campus.
"I'm happy to be here," said Brinkley. "I'm looking forward to learning more about the community and its history, and building partnerships and relationships. It's been a welcome experience so far, and I like it here."