Marlowe Foster announces campaign for Wilmington City Council
On April 18, 2023, Marlowe Foster announced that he will be campaigning for the Wilmington City Council and preparing for the municipal election that will be held in November of this year. The three main tenets of his campaign are job creation, juvenile crime and the opioid epidemic, and housing affordability.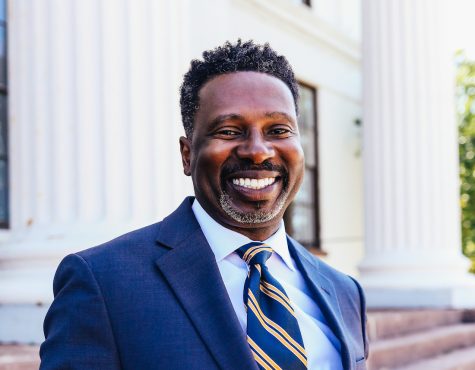 Moving to Wilmington several years ago, Foster was born in Farmville, VA as a middle child and son to two educators on a tobacco farm. The importance of hard work and making the world a better place were two pillars that his parents instilled in him from a young age. He now lives with his wife, two kids and a Jack Russell Terrier.
With a long history of public service in North Carolina, Foster has worked closely with community-focused organizations to identify key issues within communities. In Wilmington, he spoke with the Good Shepherd Center and volunteered at his church, along with other churches in the area, during the COVID-19 pandemic. His wife runs a tennis charity called Tennis for Good, which is focused on helping the community through funds raised during tennis tournaments.
Having worked a wide range of positions in government and community relations, the nonprofit sector, and latest role being Senior Vice President of Development and Business Strategy at the Food Bank where he was in charge of fundraising, Foster has a strong background in community service and the "ability to understand a variety of points of views and the ability to find a consensus on issues, regardless of political persuasion," according to Foster.
"I look forward to doing more," Foster said. "I think the bottom line is having the heart for public service, community engagement, and knowing this is our forever home. Having the passion to make Wilmington better because we know we will be here for the long term is what drives me."
Job creation is "critically important" according to Foster, as Wilmington has a "rich history of being innovative." His goal is to nurture upcoming businesses and foster economic growth in Wilmington including small businesses. Taking advantage of current businesses locally is also on his list, especially with the new amphitheater.
To nurture a growth-oriented economy in Wilmington, Foster believes identifying companies that will attract larger businesses to come to town and holding them accountable for hiring residents in Wilmington is an idea for job growth, especially for local graduates.
Next on his list is addressing juvenile crime and juvenile violence. According to a 2021 report from the NC Department of Public Safety, post-pandemic, juvenile crime has increased in the form of gang activity; Foster aims to see law enforcement recognize the issue and approach it in an "appropriate" manner, including possible solutions such as bodycams, interactions with the youth and addressing gang-related crime. His goal is to foster an environment where "kids are not afraid of other kids and parents aren't afraid of their kids."
Foster believes the opioid crisis is a large proponent of the increase in juvenile crime. His goal is to provide more funding for organizations such as the Boys and Girls Club, that give back to the community and provide a safe place for youth to create a path outside of the life of crime. In turn, he believes this will also add to job creation.
The third target of the campaign is housing affordability. In New Hanover County, the average home costs $400 thousand. According to Rocket Homes, Wilmington is considered a seller's market, which means prices are higher and tend to sell faster than surrounding areas.
"If you are a firefighter, teacher, EMT, in law-enforcement or single, you can't afford that," Foster said. "If you're chronically unhoused, how do you find your way into housing when the median is four hundred thousand?"
According to Foster, there is a lack of space to continue building in Wilmington. His proposed solution is mix-used development with a variety of housing options and costs to address people who are unhoused. If elected for Wilmington Council, Foster aims to cultivate an environment where "developers can develop" and bring skilled experts to the table, and work with the council to solve housing affordability.
Following his tour at the Good Shepherd Center in Wilmington, Foster expressed praise for the organization, as he was able to see first-hand community responses to the struggles with the lack of affordable housing.
Foster also indicates a desire for students to be involved in his campaign. His vision for Wilmington is to encourage an environment where graduates or people entering the work force can stay in town and walk into a job, while increasing affordable living to help the community, including college students.
"It [politics] is about the opportunity to change someone's life who will never know who you are, or your name and I think that is the most beautiful thing," Foster said. "You don't get much closer to home than Wilmington City Council if you live in the city of Wilmington, and that is why I want to focus on several issues locally that hopefully will change people's lives and make their lives better."
For students who are interested, there are opportunities to work alongside and help with the campaign. You can find him on Instagram @fosterforwilmington or find out more on his campaign website.