North Carolina's Medicaid expansion addresses youth mental health issues
Alyssa Alley, Contributing Writer
May 31, 2023
North Carolina has become the 40th state to expand Medicaid. The proposed plan from Roy Cooper addresses mental health, specifically in youths ages 10-18, as suicide attempts have doubled, increasing from 6% to 12% since the pandemic.
A UNCW teaching intern recalled an 8-year-old student's suicide plan as a result of the foster care system. While in the system, the student constantly moved from different homes which added to feelings of anxiety and abandonment. The intern expressed concern that the student faced additional mental health issues from the pandemic
"My 8-year-old student planned his suicide down to where he was going to do it, what he was going to take with him, and why he was going to do it," said the teaching intern, who preferred to remain anonymous for the sake of her students. "Being pulled in and out of foster care absolutely affects a child."
The intern primarily teaches young elementary-grade students. While working with students, the intern has identified third grade as being an integral time for a student's emotional health.
"I think third graders faced the most educational and social problems than any other elementary school grade level," said the intern. "They missed out on kindergarten, which literally teaches you the alphabet and introduces you to reading. These kids missed out on such an important year."
The COVID-19 pandemic and the instability of the foster care system affect many other adolescents, not just the 8-year-old student.
According to Krista Mooney, a former therapist, children who experience the constant instability of foster care end up with emotional difficulties which can include issues with attachment, self-worth, trust and more. The foster care system is one of the most important issues that should be addressed.
Alyssa Huff, a teen who also has had negative experiences in foster care, is a 19-year-old who was in the system from the ages of five to eight. While in the foster care system, she experienced neglectful homes, verbally abusive families and constant change at a young age. Huff grew up with her two brothers, but they were split while being in foster care due to the lack of resources in the system.
"I wish I could flush my brain and start over again," said Alyssa Huff. "All of the mental health problems I experience are because of foster care. I don't know if I would be the same person right now if my brothers and I got the lives we deserved."
After being split from her brothers during the duration of foster care, Huff lost contact completely with her younger brother. Her older brother later passed away in 2012. She wonders what her family would be like if they had never split up.
"I think that the added resources and money that this plan is proposing could really help the children," said Huff. "If the system used this money to provide better home assessments, hopefully, children won't have to move houses so often."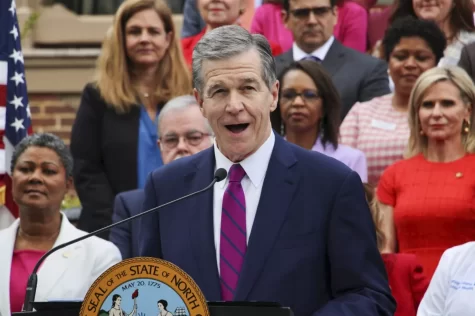 One proposal the N.C. governor proposed in his Medicaid expansion plan is the foster care system. The $1 billion proposal plans to focus on mental health and address mental health issues in youth. As of March 27, the bill has been signed by Governor Cooper and will become a law once the state budget is finalized.
Adolescent mental health has become a concern since the pandemic, according to Paula Bird, the VP of Behavioral Services at Novant Health. The evaluated the state's youth mental health at a letter grade of F. The report concluded that 43.3% of individuals from the ages 12-17 have major depressive episodes or have been treated for depression.
According to the CDC, adolescent suicides have doubled in the past decade. The increase in suicides among children could be caused by the COVID-19 pandemic. Bird believes COVID has affected children's mental health through several different factors, but isolation is a significant one. Stress can come from the fact that there was not a lot of socialization and kids were at home more around their families.
The pandemic also limited the number of healthcare workers. The American Hospital Association found that the U.S. will see a shortage of 124,000 physicians by 2033, which may not be enough professionals able to address the mental health crisis. Bird believed that there has been an exodus of healthcare workers nationwide, as a result of the pandemic, and mental health is no exception. to solve this healthcare shortage by expanding Medicaid services.
"The Medicaid expansion is impacting 600,000 new individuals," said Paula Bird. "We need to make sure that the network adequacy is there. Simply because people now have access to Medicaid doesn't mean that we have additional resources to provide that service".
Wayne Sasser, the House Representative for District 67, a member of the House health chair and the only pharmacist in the NC legislative offers a solution to this problem that may be addressed further in future efforts. He believes nurses, nurse practitioners and physician assistants should be allowed to work at the top of their scope of practice. This solution would allow patients to be treated quickly instead of waiting for extended periods, resolving mental health issues faster.
Bird suggested another problem that needs to be addressed–residential treatment facilities for adolescents. These are children that have often been in the system, and they end up in the emergency department because they have no safe place to go. The level of care that they need is not a hospital, but a residential treatment facility. We have a very limited number of those in our state.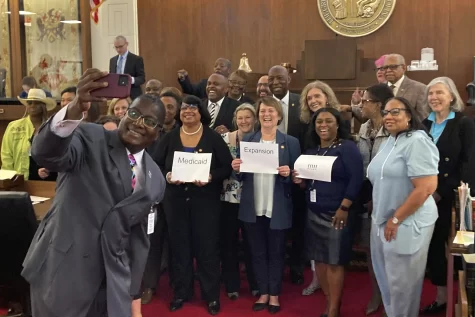 Medicaid expansion began in 2010 when Obama was in office. When Medicaid was first introduced, the federal government paid for 100% of the program, but over the past thirteen years, the government has required the states to pay for 10%. To cover this large amount of money, the states put an additional tax on special healthcare services. The new plan is to charge hospitals this 10% rate instead.
The expansion of Medicaid aims to help many Americans that are struggling both mentally and physically, but according to Sasser, there is a chance that this expansion could lead to other problems.
"We have already been paying for Medicaid expansion for 13 years and not receiving a dime of that money back," said Sasser. "Most people think that Medicaid expansion increases our national debt, but that's just not true."
Many red states that have already expanded Medicaid have stated that if the federal government requires the state to pay any amount over 10%, the state will make the program null and void. Sasser believes that NC may also adopt this in the future. If all states who participate in Medicaid expansion adopt this paid amount, the federal government is unlikely to raise the states' required contribution.
When asked if Sasser thinks that this plan will be effective, he stated, "Is a billion dollars enough to solve all of the problems? The answer is probably no."
Medicaid expansion is the first step in addressing mental health issues in our country. Support is available 24 hours a day by calling or texting 988, The Suicide and Crisis Lifeline. For mental health support, North Carolinians can call the Hope4NC Hotline at 1-855-587-3463 to reach a professional specifically trained for COVID-19 counseling.