New Disability Honors Society conducts first induction ceremony
On April 28, 2023, Delta Alpha Pi (DAPi), UNCW's Disability Honors Society, conducted its first induction ceremony on UNCW's campus. The society, currently led by Jennifer Uber from the Disability Resource Center, inducted its executive board including Shay Webb, Aurora Gregory, Jay Sumakeris and Morgan Brumfield, along with all of their new inductees. Chancellor Aswani Volety attended the event and spoke of his support for the new organization, specifically how this society will further disability inclusion and advocacy on campus.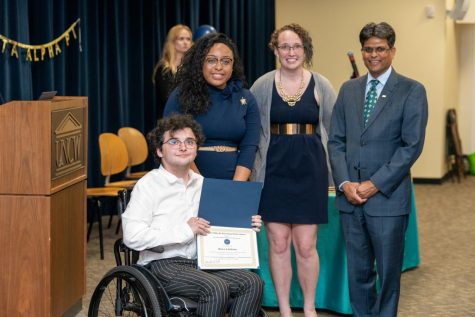 Delta Alpha Pi is an academic honor society founded to recognize high-achieving students with disabilities who are attending colleges, including community colleges and universities, as undergraduate or graduate students. This organization celebrates and supports academic achievement, advocacy and leadership for students with disabilities.
Delta Alpha Pi was recently established at UNCW in 2022. The mission of Delta Alpha Pi is to destigmatize disabilities, celebrate and champion diversity and inhabit a supportive community for high-achieving students with disabilities. Delta Alpha Pi aims to encourage conversations on disability and accessibility, promote self-advocacy and engage in community events on disability-related topics.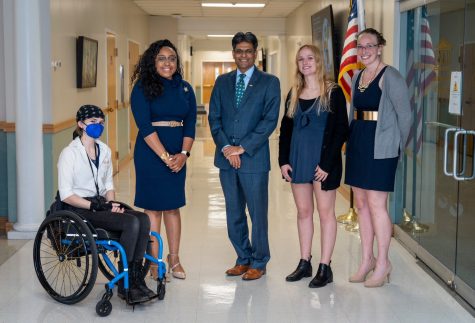 Shay Webb, President of Delta Alpha Pi, has been a part of the Diabetes advocacy space since she was eight and diagnosed with Diabetes. Since then, she has been passionate about disability advocacy. During the Covid-19 pandemic, she was appointed by Governor Roy Cooper to be on his council for the North Carolina Statewide Independent Living Council.
"Through this council, we help provide direction to resources for persons in North Carolina who have disabilities so that they can live independently," Shay explained.
Shay received a notification from the DRC about DAPi about a year ago and decided she wanted to join and add a new space for inclusion on campus.
"Honestly, I thought this was the perfect society," said Shay. "I thought it was an honor to just be able to honor those with disabilities and their academic success."
Shay began working with Jennifer to recruit people and jumpstart the society on campus. Soon afterward, UNCW received its charter for DAPi on Sept. 22, 2022, named the Theta Epsilon chapter.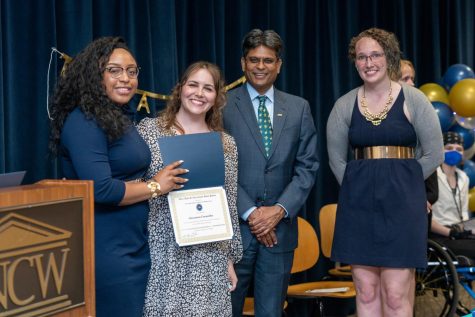 Aurora Gregory, a junior at UNCW and Vice President of DAPi, heard about DAPi through Jennifer at one of the volunteer projects they do every year. Aurora had not previously had a great experience with the DRC and accommodations on campus and figured through this society, she could not only honor those with disabilities but also help advocate for them. After becoming the vice president of DAPi and working with Jennifer, she helped encourage changes in the DRC based on student needs.
"It's a lot better," said Aurora. "Now it's a lot easier. They've taken a lot of the feedback that we get from students and have helped turn it around and make it a lot easier."
Aurora worried about starting a new organization on campus because it involves a lot of ongoing work. She wanted to make sure she could commit fully to the process and give it her all. Aurora aims to spread as much awareness as possible because she believes that disability can come at any time. She explained that everyone at some point needs accommodations and deserves them.
"I would love to get more people aware of the fact that anyone can become disabled, and how big of a population disabled students are on campus," Aurora explained.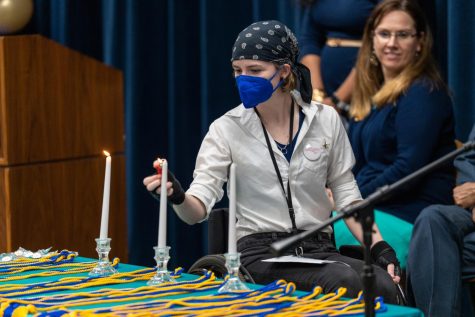 Jay Sumakeris, a senior at UNCW and treasurer of DAPi found out about the opportunity to become a member of DAPi through the disability center. Jay always loved math in high school, and has also always seen the treasurer as the least desired position to many around them.
"I personally really enjoy it," Jay explained. "I think it's an area that I'm decent at, I wanted to help in any way that I could, and it seemed like that was a position that needed filling."
Jay is also a part of some other resource centers on campus, such as the LGBTQIA, gender studies and some ethnicity resource centers. Jay believes these communities and support systems are vital to making students feel seen and valued.
"When you belong to some marginalized identity, it can make it a lot harder to find community at the school, and to meet other people who can empathize with you and can support you," Jay said. "For other identities, having those spaces and having an area to connect with people who can share your experiences and who can kind of guide you and mentor you are really powerful…it helps a lot of students succeed and feel more welcome."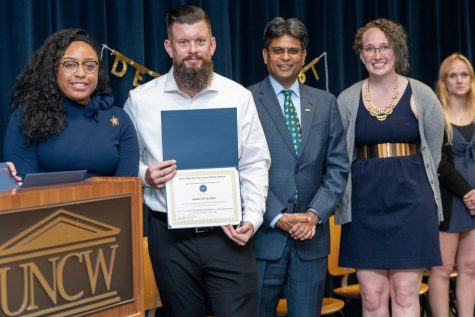 Since UNCW did not have an organization for disabled students, other than the DRC, Jay was excited that something like DAPi could become a new space to promote support and inclusion for students with disabilities.
"What's powerful about Delta Alpha Pi is that it offers an opportunity for disabled students to come together and meet each other, and support each other, especially in an honor society where they can inspire each other to be academically successful," said Jay.