From acting to journalism: The life and career of Rachel Lewis Hilburn
A click of a button springs a recording of a guitar into action. A simple but delightful melody plays. A woman approaches the microphone as an audio slider is moved downward. The music fades into the background.
"From WHQR Public Media in Wilmington, North Carolina, this is Coastline. I'm Rachel Lewis Hilburn."
The first thing Lewis Hilburn told me when I approached her about this article is that she's "not a very interesting person," which to me sounded absurd.
I listen to her show "Coastline" almost every week—in the car on the way to work, walking to class or making my morning coffee. The show covers an expansive array of topics. From being queer in Wilmington to escaping from Nazi Germany, Lewis Hilburn never ceases to find interesting people and stories to highlight.
Though the show is always centered around her ever-fascinating guests, the relaxed precision in her voice invites listeners in. She has a particular talent for allowing people to become great storytellers. As someone who regularly conducts interviews, I wondered, how does she do it?
Who is the Woman Behind the Microphone?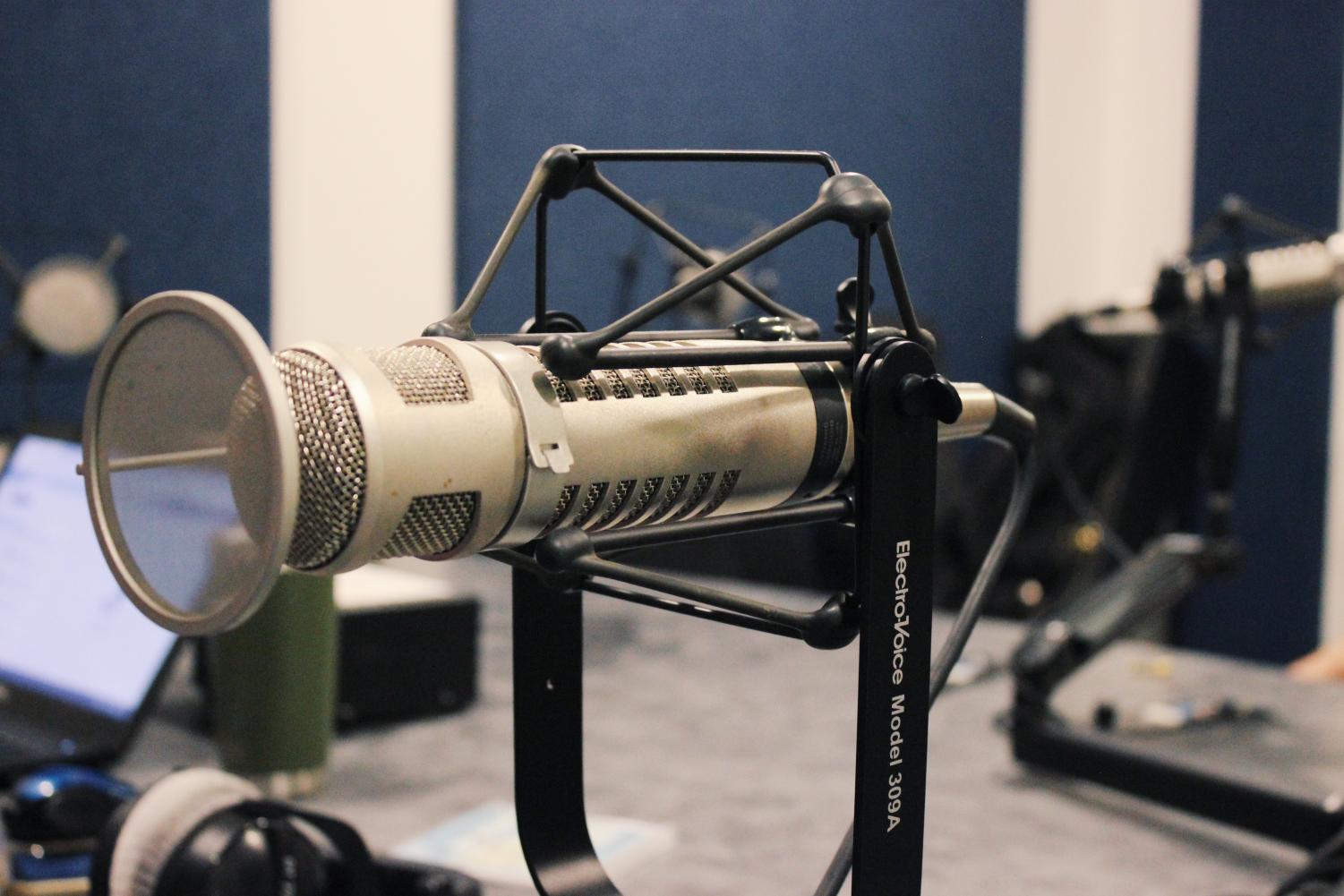 Before coming into the world of journalism, Lewis Hilburn was working in Los Angeles as a financial advisor for Morgan Stanley.
"I guess I was trying figure out if I could do something that was just off the charts not me," Lewis Hilburn explained. "I guess I was thinking 'It's time to grow up, be responsible, put on my big girl pants and have a real job.' So, I did that, and then I was just not happy."
Lewis Hilburn later transferred to a job with Morgan Stanley on the East Coast. Part of the reason she decided to return is because she had family in North Carolina and grew to miss the torrential rainfall and towering Long Leaf Pines.
"I was feeling very isolated, and not connected," Lewis Hilburn said. "It was a big deal when it rained in LA, and I just wanted to stand outside and get rained on for a while and see green, natural green. It was almost atmospheric in a way."
One day, a coworker with connections to a Wilmington TV news station asked her "Have you ever thought about news?"
"Sure, but I'm not trained in journalism," Lewis Hilburn replied.
When she spoke with one of the producers at WWAY, they told her if she was willing to learn "from the ground up," then she had the job. Lewis Hilburn took the chance and moved to Wilmington in 2003.
Lewis Hilburn spent the next couple of years learning how reporters cover a story, edit video packages and eventually, how to arrange an entire newscast. She stayed at WWAY until 2005, when she left news for the next six years. During that time she worked as the executive director for Bald Head Island's Home Owners Association until 2011, when she decided she wanted a change of pace and began working at WHQR. She always had an affinity for public radio and its ability to dive deep into its stories.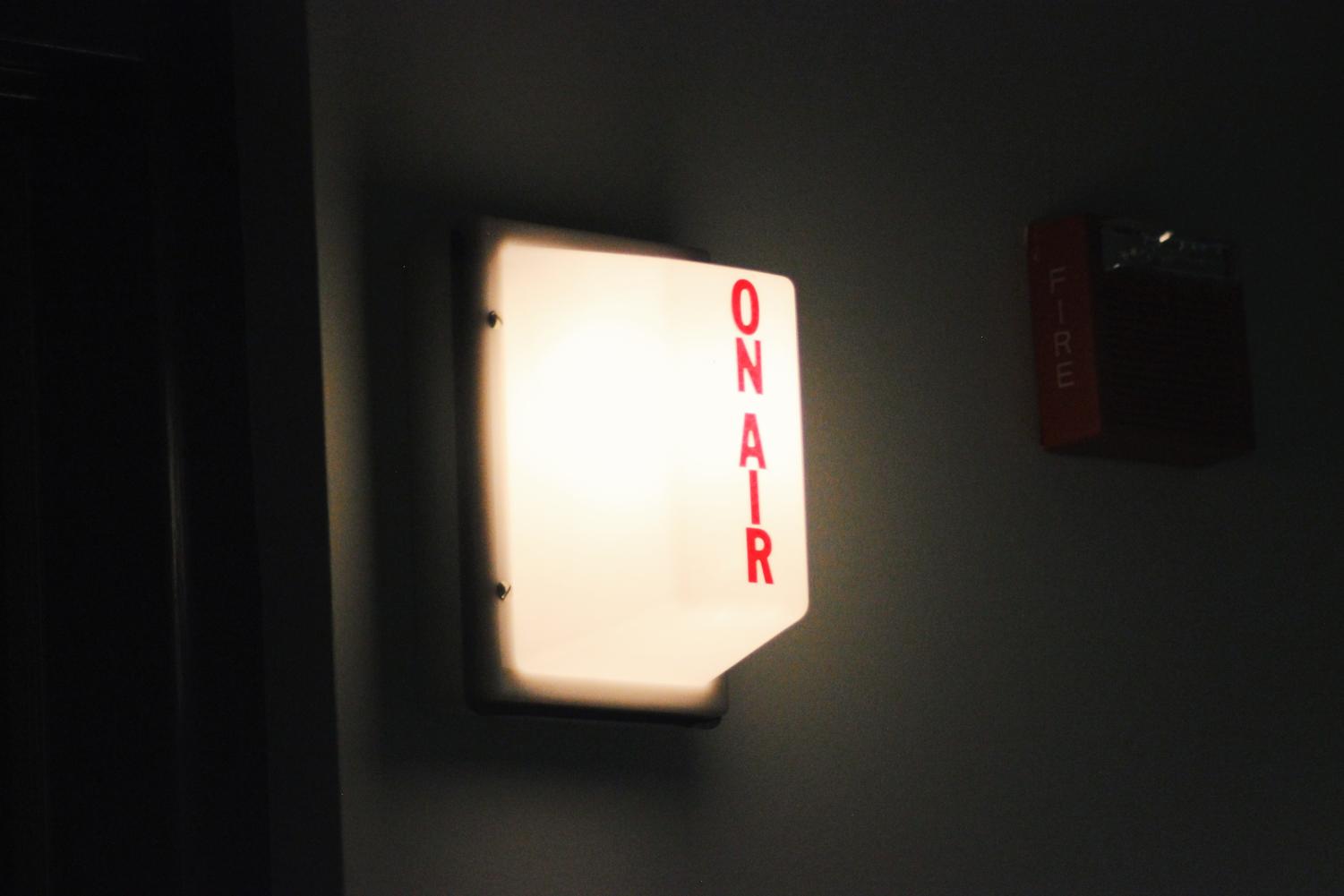 "It wasn't necessarily the difference between TV and radio," Lewis Hilburn said. "It was the luxury of the depth of the stories. It was also the fact that there was so much focus on understanding people, understanding cultures. I always felt like I learned something when I listened to stories on NPR."
A year after starting at WHQR as interim news director, Lewis Hilburn was named news director in July 2012.
An Actor Turned Journalist
Growing up in a Virginia suburb outside of Washington, DC, Lewis Hilburn's childhood dream was to be an actor. Before moving to Los Angeles, she lived in New York City for a time and earned a degree in theater from the North Carolina School of the Arts. Somehow, that didn't seem out of character to me. Although she undoubtedly thrives in the studio, Lewis Hilburn is adept at communicating and understanding the perspective of others, something incredibly important in journalism, but also when portraying a character on stage.
"Part of being an actor is inhabiting a person, a whole human being," Lewis Hilburn said. "I don't know that journalism is so different in that sense, because when you're an actor it really is about putting yourself aside and trying to understand who that human is and what they want, what they need, why they do what they do."
It's partially because of that—not only a want, but a willingness to understand other people—that made her the perfect choice to host a new show envisioned by Station Manager Cleve Callison. Lewis Hilburn began hosting "Coastline" in 2014.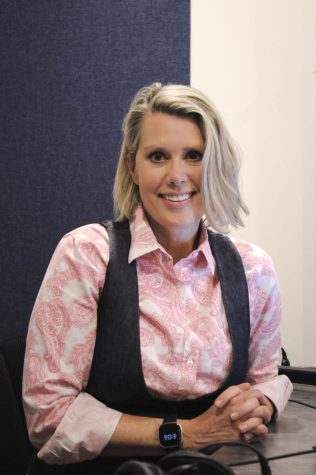 "When I understand someone else, I feel very connected," Lewis Hilburn explained. "I like feeling connection to humans. I also hope that people who hear those stories, even if they've never experienced what that person has experienced, there's some part of them that can enter that and appreciate, for a minute, being in someone else's shoes."
In the Studio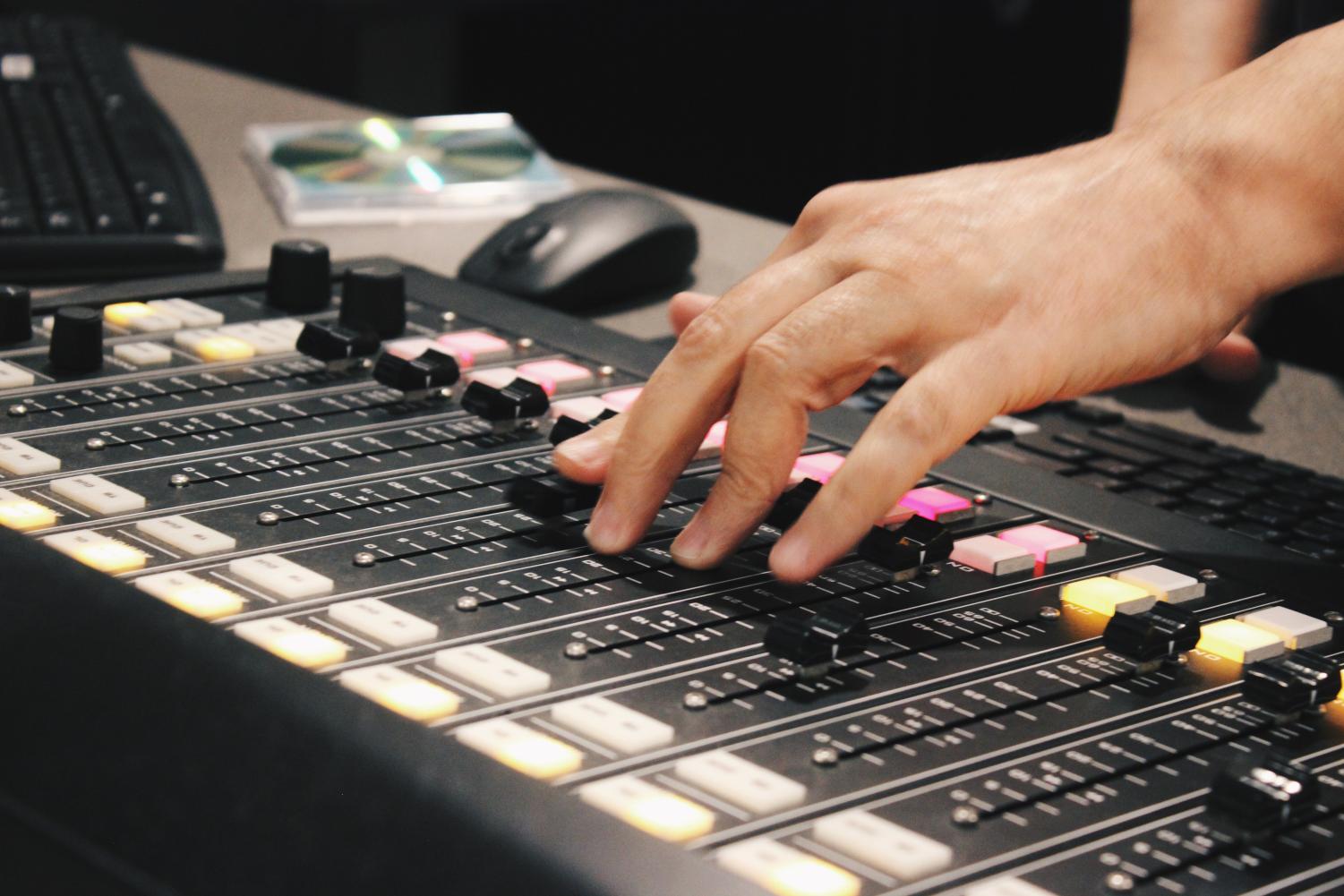 When I came to visit Lewis Hilburn at the studios of WHQR, her guest of the week was Robert Lighthouse, a Swedish-born blues musician who had recently returned from a tour in Ukraine. He traversed the war-torn county, performing at various stops along his way, hoping to bring some sense of joy or normalcy to the lives of Ukrainian citizens. Like all of Lewis Hilburn's guests, he was an interesting character that spoke with abundant passion and tenacity for his work.
Once we were properly introduced, Lewis Hilburn guided us down a long hallway leading away from the lobby and into the recording studio. It's a smaller room with a rounded table accompanied by four microphones. Acoustic foam covers each of the four walls, and a thick glass window looks into the adjacent control room. I had heard this room countless times before, but that moment was my first time seeing it.
Lewis Hilburn ran through a few questions before the start of the interview, working out the general direction of their conversation in each of the show's three segments.
Lighthouse requested to play his guitar and sing live during the episode–a first for "Coastline."
"Wait, this is all live?" I thought.
As a journalist, one of the greatest luxuries we have is the ability to edit and revise our work before publication, but in the "Coastline" studio, what you hear is exactly how they record it. After a quick soundcheck of Lighthouse playing the guitar, I was led into the control room with Technical Director Ken Campbell.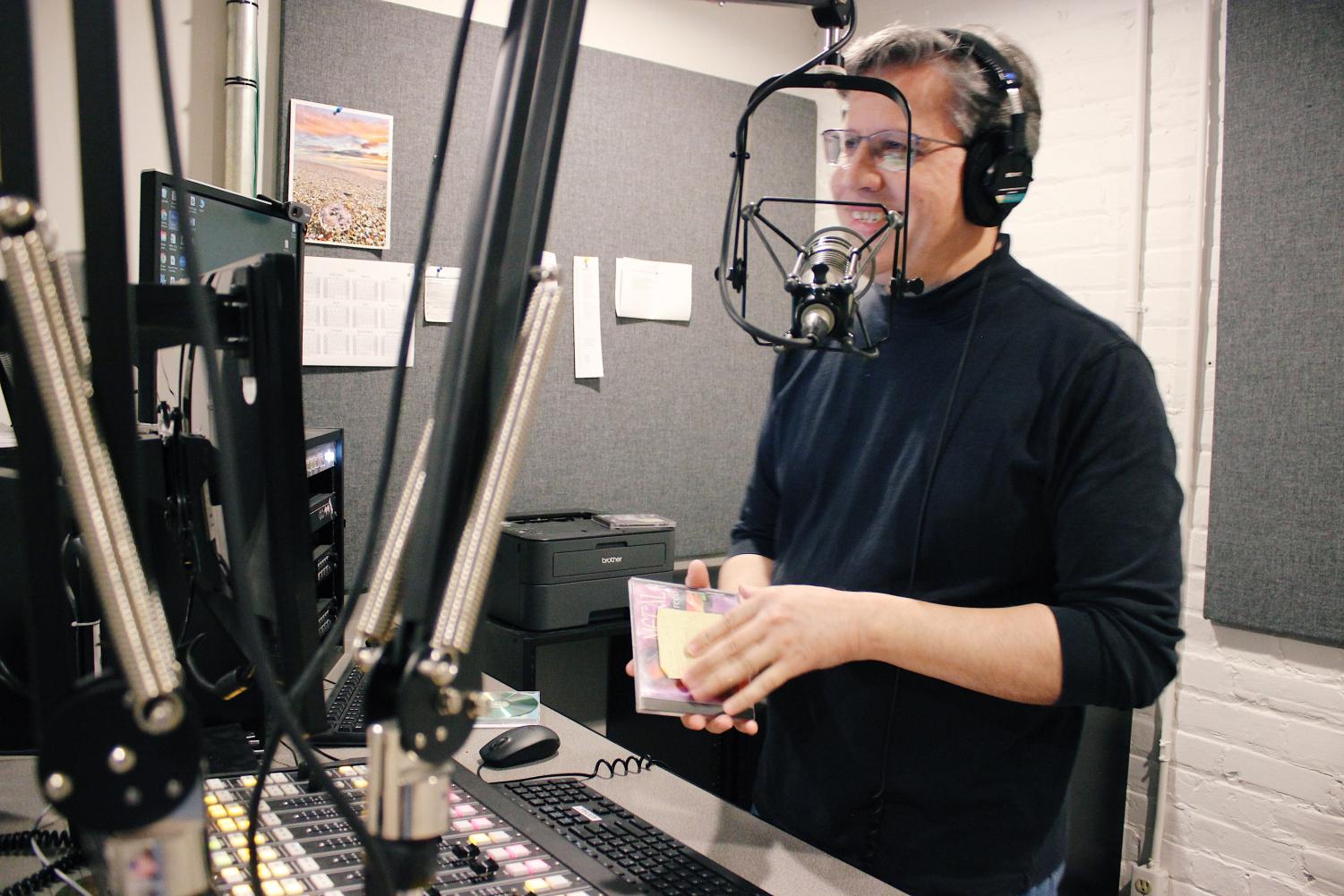 Campbell has been with Lewis Hilburn since the inception of "Coastline." He handles the mixing of various audio tracks during the show and keeps Lewis Hilburn on track with the amount of time left before each commercial break. When I asked him what his initial impressions of Lewis Hilbrun were, he said he was struck by how inquisitive she was.
"The first couple of days we were working together, she was peppering me with questions," Campbell recalled. "I said 'It's great we're doing an interview show together because you're clearly a very curious person.'"
A decade later, Campbell is still behind the mixer, counting down the minutes they have until break.
Although it may seem odd that Lewis Hilburn has had such a diverse career before her time in radio journalism, the lessons she learned along the way have proved invaluable to her craft. From understanding the analytical during her time at Morgan Stanley, to finding humanity during her time as an actor, her life has been an unorthodox series of events that prepared her perfectly for a career in radio.
"It sounds so hokey, maybe, but the universe knows better than I do about where I need to land," Lewis Hilburn remarked. "I feel like my life has been a series of happy accidents."
Toward the end of my time with Lewis Hilburn, we began talking about her "Coastline" series "Queer in the Cape Fear," where she explores what it's like to be a part of the LGBTQ+ community in Wilmington. In one episode, a guest talks about being afraid to hold her partner's hand downtown.
I told her that that—as a gay man—that episode resonated with me. I told her how I often avoided holding my partner's hand in certain spaces, just to stay out of trouble. Suddenly, her demeanor shifted. She moved forward slightly and rested her elbow on the desk as her hand reached her chin.
"Do you feel that it's safe on campus?" she asked.
"I feel more safe on campus than in downtown Wilmington," I said.
She continued to ask me questions about living as a gay man in Wilmington, and what it was like growing up. Before I knew it, the roles had reversed. My subject was now asking me questions. It seems I had fallen victim to Lewis Hilburn's ability to care. Her insatiable hunger to learn, to connect and to understand had gotten the better of me.
She asked me another question.
I answered, and she listened.