OPINION: Dear Campus Community, are we overcoming adversity or enabling it?
Dear Campus Community,
It's difficult for me to express myself thoroughly sometimes. As Editor-in-Chief, that may be strange to hear, but anger, disbelief and disappointment come easy when spoken or written off-handedly in a journal. However, to emulate those emotions in writing for you all is a whole different matter.
Anger, disbelief and disappointment. How else can I describe the feeling of knowing my own university celebrated a bigot?
In a dimly lit Burney Center, fronted with grilled beef tenderloin, piano and perfunctory pleasantries, hearing the yells of indignation through two sets of closed doors, I stood and mourned the integrity of an institution.
If you don't know what I'm referring to, it's probably because UNCW does a better job of advertising chemistry experiments than the events that actually matter; in this case, our lovely leadership chose to honor Senator Michael Lee, the sponsor of North Carolina's "Don't Say Gay" bill, with a Razor Walker Award for public policy in education.
The annual Razor Walker Awards, presented by the Watson College of Education, are meant to recognize "those that walk the razor's edge." This year's award ceremony, held on April 25, intended to highlight leaders and organizations who tore down barriers to children's education and learning, such as poverty, home life and health. The recipients were the North Carolina Foundation for Public School Children, LeeAnne Quattrucci, Willie E. Sloan Sr. and of course, Michael Lee.
His "Don't Gay Bill," more formally known as SB 49, aims to eliminate any instruction on topics of sexual orientation or gender identity from kindergarten through the fourth grade. The bill also requires transgender students to be forcibly outed to their parents, with no regard for the wishes of the child. Although claiming to protect "parent's rights" and children from "inappropriate" discussions, because the bill wrongfully equates conversations about gender with the physical act of sex, SB 49 targets any inclusive lesson plans that are even remotely related to the queer community, thereby denying K-4 students the safe space they need to comfortably make sense of their personal identity.
These lessons are vital to the development of an inclusive culture in schools, which reduces the levels of bullying and discrimination that children experience in schools. This will then lead to positive health outcomes among children, according to Fraser Health Authority, a publicly funded health authority in Canada.
Important to note are the mental health considerations involved with bills such as Senator Lee's. According to The Trevor Project, a nationwide nonprofit organization devoted to suicide prevention among LGBTQ+ youth, "policies that require schools to tell a student's parent or guardian if they request to use a different name or pronoun at school make 67 percent of trans youth feel angry, 54 percent feel stressed, 51 percent feel scared, 46 percent feel nervous and 43 percent feel sad."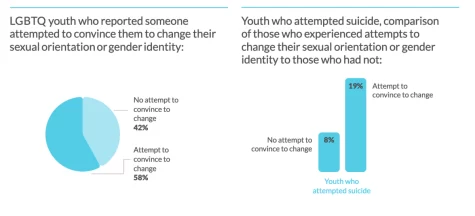 So why is Senator Lee receiving an award for public policy in education? Well, for advocating for the construction of a new Isaac Bear Early College High School on UNCW's campus. Interesting.
In the program, teens participate in an accelerated education program through which they earn both a high school degree and up to 60 college credits over the course of four years. And while it's great that UNCW is looking to expand this program and the educational opportunities that it offers, Lee supporting the construction of Isaac Bear does not cancel out the harm that he will cause with SB 49.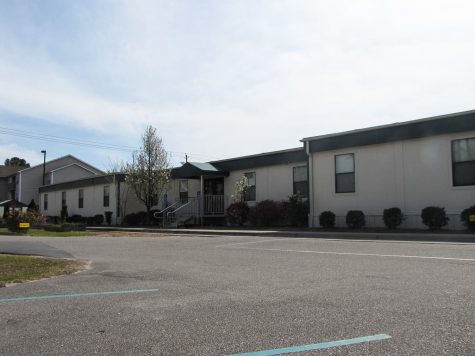 Also interesting is how just one day after the award ceremony, SB 406, also supported by Lee, continued to make its way through the North Carolina General Assembly. This bill, which if passed would substantially expand the state's private school voucher program, has the potential to take funding away from NC's public schools.
So, the same Senator Lee that sat alongside a representative from the literal North Carolina Foundation for Public School Children is now passing a law that will take money away from public schools. Cool.
If our administration isn't embarrassed, then that speaks volumes as to the values we hold as a university. Not to mention, by selecting Senator Lee as the recipient of one of this year's Razor Walker Awards and placing him alongside the other honorees, the university disrespected LeeAnne Quattrucci, Willie E. Sloan Sr. and the NC Foundation, and eclipsed them of the recognition that they deserve.
In his introduction speech at the ceremony, Watson College's Dean Van Dempsey spoke about overcoming barriers to learning.
"Why do we create the barriers, and what can we do to stop creating them?"
Ask Chancellor Volety, I suppose, as he came in with a platform based on values of diversity and a student-centered approach, only to disregard diversity and student opinion by shaking hands with a miniature Ron DeSantis.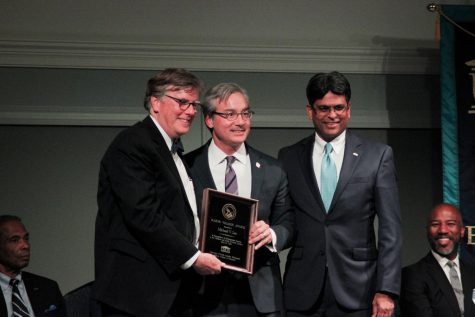 I could argue that censorship is a barrier to learning. I could also argue that cutting a whole group of people out of education is a barrier to learning. Dempsey spoke too about Joseph McNeil, a member of the Greensboro Four, and explained the privilege that children in North Carolina must have to read about someone who didn't deny history, but rather, defied it. By erasing the queer community from elementary education, I could argue a third time that Lee is straying from McNeil's example, and yes, denying history.
What's old is new again.
Not teaching children about gender identity and queer people isn't going to result in less queer children. It's just going to reinforce the same heteronormativity that drives so many members of the LGBTQ+ community into depression, anxiety and loneliness. No one is trying to teach children about sex. What they are trying to do is raise our younger generations to be thoughtful, caring and honest individuals, and they can't do this if masses of vital information are removed from the students' school books.
Those who cannot remember the past are condemned to repeat it. How does McNeil feel about Lee and SB 49?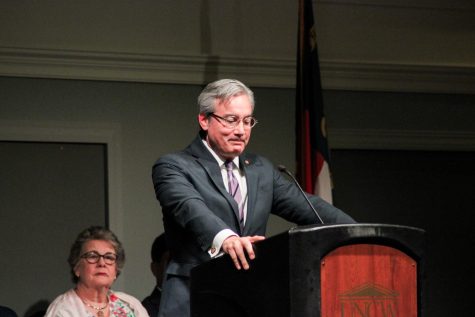 With the doors shut and a quarter of the room gone in protest, Senator Lee stepped in front of the microphone and pronounced probably the most ridiculous and hypocritical sentence I've heard in a while: "We don't learn until we talk to people who are different from us."
Now don't get me wrong–I'd normally agree with this sentence if basically anyone else had said it. But through the loud and clear shouts of protestors outside, I stood and listened as the same man working to interfere with diversity and free expression in public schools condescendingly explained how "happy" he was to know that UNCW students were using their voices in dissent, but that he maintained his rationale for SB 49.
American writer Harlan Ellison said it best: "You are not entitled to your opinion. You are entitled to your informed opinion. No one is entitled to be ignorant."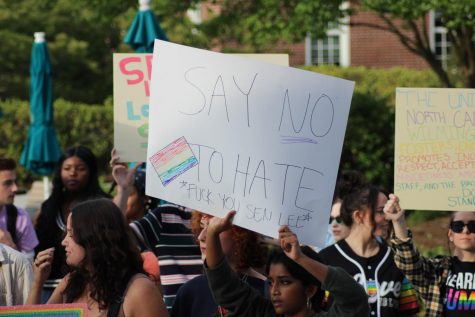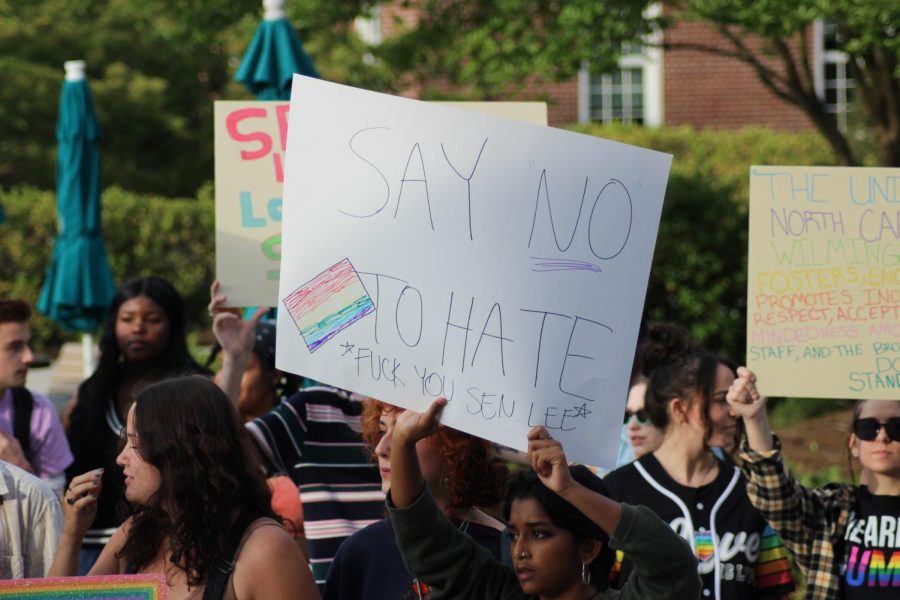 It's necessary for us to return to Chancellor Volety. When he first started his position as Chancellor, stepping into the shoes of Jose "All Lives Matter" Sartarelli, Volety truly provided a breath of fresh air. In my interview with him early last semester, I was exhilarated to learn about what brought him to UNCW: his commitment to students, research and service. We spoke about the importance of education, and acting as an advocate and connecting with our community. I developed an immense respect for Chancellor Volety for the barriers he himself had to tear down in his journey to educational excellence and success.
But to invite and support a senator who is decidedly not an advocate for education or learning, and who's sponsoring a bill based on prejudice and not research or service? To say this is a step away from Chancellor Volety's earlier tenets is an understatement.
Why? To what purpose do you shake hands with Senator Lee? Is he not the antithesis of your values, of our values? Chancellor Volety, are you overcoming adversity or enabling it?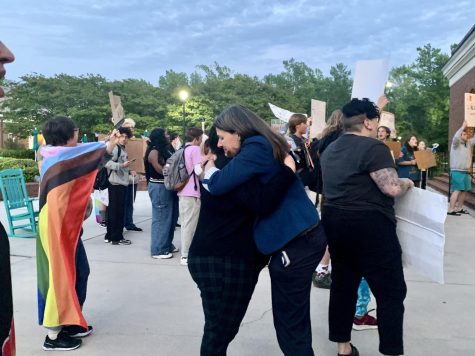 Senator Lee, you are not welcome at UNCW. Rethink the laws you are trying to pass, or accept your fate as a villain in our children's history books.
Students, don't stop here. We are the base of this ecosystem. Continue making your voices heard, and we will create a better future.
Chancellor Volety, please consider the legacy you want to leave behind. Are the 2023 Razor Walker Awards what you want to be remembered for?
I look forward to hearing back.
Regards,
Hannah