Sen. Michael Lee receives Razor Walker Award for Public Policy despite protests
On Tuesday, April 25, North Carolina Senator Michael Lee (R) received the Razor Walker Award for Public Policy from UNCW's Watson College of Education. The award is to distinguish those who overcome barriers and take professional risks to support childrens' education, and "walk the razor's edge" alongside students. 
Senator Lee was nominated by Dr. Charles Foust, Superintendent of the New Hanover County Board of Education, for recognition of his work during the constitution of Isaac Bear Early College. A petition, signed by more than 800 students, staff, faculty and alumni, expressed opposition on campus due to his sponsoring of Senate Bill 49, dubbed the "Don't Say Gay Bill" by LGBTQ+ activists.
SB 49—which passed on Feb. 7 of this year—requires teachers to notify parents if a student is questioning their gender identity, or asks to use different pronouns in the classroom. The bill also prohibits the inclusion of gender identity or sexual orientation in K-4 curricula.
Proponents of the bill argue that it would allow parents to have more control over their kid's education in public schools. Critics of the bill argue that it would neglect and harm students who are LGBTQ+ or have same-sex parents. 
Dozens of protesters gathered outside of the Burney Center during the awards ceremony Tuesday night. Demonstrators repeatedly chanted "gay is not a bad word," "we say gay" and "gay rights, gay pride, no to SB 49," among other chants. In the ballroom, when Sen. Lee's name was announced to accept the award, UNCW faculty walked out of the room, some wearing LGBTQ+ flags and emblems. 
Jana Carver, a student protester, expressed concern about Lee's nomination. 
"I think that it is ridiculous that someone who supports a bill that will exclude LGBTQ+ kids and deprive them of the support they need is getting an award from our school right now," Carver said. "I expect better and I hope we get better moving forward."
Lee's nomination earlier this month blindsided students and active faculty at Watson, none of whom were invited to vote on or discuss the nomination, according to Dr. Kathy Fox, a professor at Watson.
Dr. Fox has been with the university for more than 20 years and teaches Elementary Literacy Education in Watson's MAT graduate program. Like many faculty members, she was shocked to hear of Lee's nomination.
"I just could not believe it," Fox said. "I immediately began messaging other faculty members, 'Have you read the post from the dean's office?' We were stunned. Absolutely stunned. I immediately started taking action to protest this." 
Fox was among numerous faculty members to sign the petition calling for the retraction of Lee's award nomination.
"Our slogan when you open up the website is 'We Are Watson,''' Fox said. "When you say 'We Are Watson' and then he [Sen. Lee] gets this award, I'm no longer Watson. You've just excluded me."
 Fox notes that SB 49 excludes some students from the classroom, particularly those who might be questioning their gender identity, or have same-sex parents.
"Even during my internship at UNCG in the late 1970s, I had students with two mommies or two daddies in my kindergarten class," said Fox. "We're not indoctrinating, we're not trying to change anybody. That is the opposite of what we're trying to do. We're trying to embrace who you are, not change who you are. That bill is trying to change who you are. That's not what we're working for in Watson."
Dr. Amy Senta, an assistant professor in the Department of Early Childhood, Elementary, Middle Grades, Language & Literacy and Special Education at Watson, said the Razor Walker Award is not a direct function of the Watson College, despite the college being named as the primary presenter. Senta teaches a class dedicated to equity and diversity for the senior elementary education majors at Watson. She and her fellow colleagues expressed concern over Lee's nomination. 
"We started asking about Senate Bill 49's role in the decision-making process right as the award was announced," Senta said. "We have not been able to get a clear rationale from the committee who took in the applications and reviewed them, and selected him."
To be nominated for the award, a form is released on the Watson website for the public to vote on who they would like to be considered. A petition was created by unnamed faculty and obtained 887 signatures as of April 25. The faculty created the petition without the use of campus resources, but rather, as citizens of North Carolina. 
After Sen. Lee's name was called to accept the award, some faculty walked out of the room and joined the student protestors to clap and celebrate. A majority of attendees did stay in the room. Faculty and staff that did walk out were seen clapping, cheering and standing with student protestors. Students continued to protest and faculty nodded in support of the message.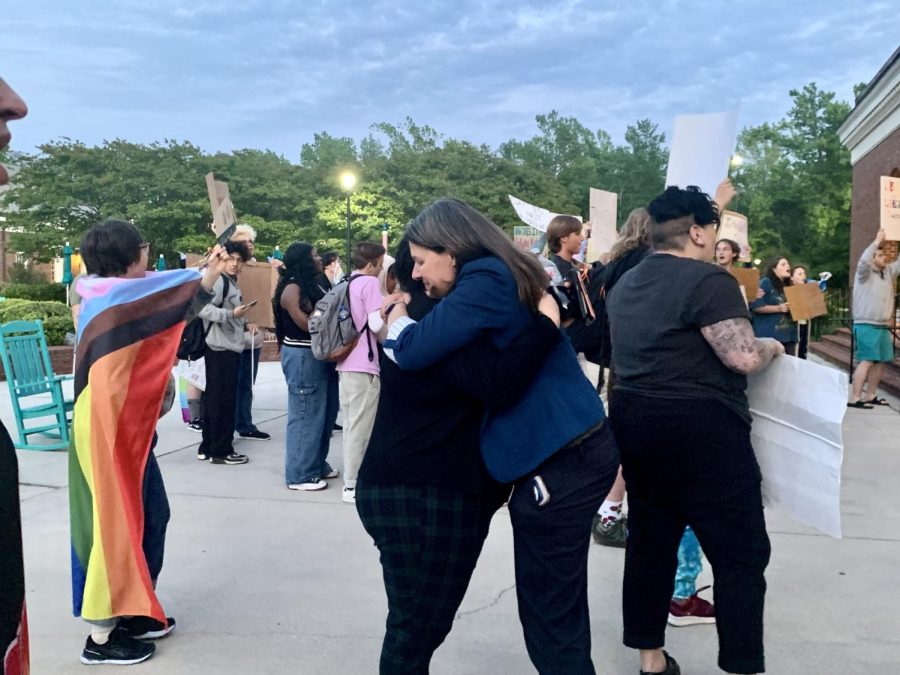 In a statement released by the Office of University Relations, the university explained that the Razor Walker Award is meant to honor those who go above and beyond in championing education.
"As the Razor Walker Awards convey, recipients come from different backgrounds, walks of life, areas of the state, and professions. Because of that, they advocate for and support our children, families and communities in different ways, and sometimes as unique commitments that stand out from their other work and efforts. Sen. Michael Lee is receiving the award for his work with the educational community, most specifically his advocacy and support of the early college partnership between the university and the New Hanover County schools, support that without his direct engagement and sustained commitment the community would not have realized," the Office of University relations stated.
While at the awards ceremony, Dr. Caitlin Ryan, a professor that teaches literacy courses at Watson and a former elementary school teacher, expressed concern about how nominating Lee reflected on UNCW's values.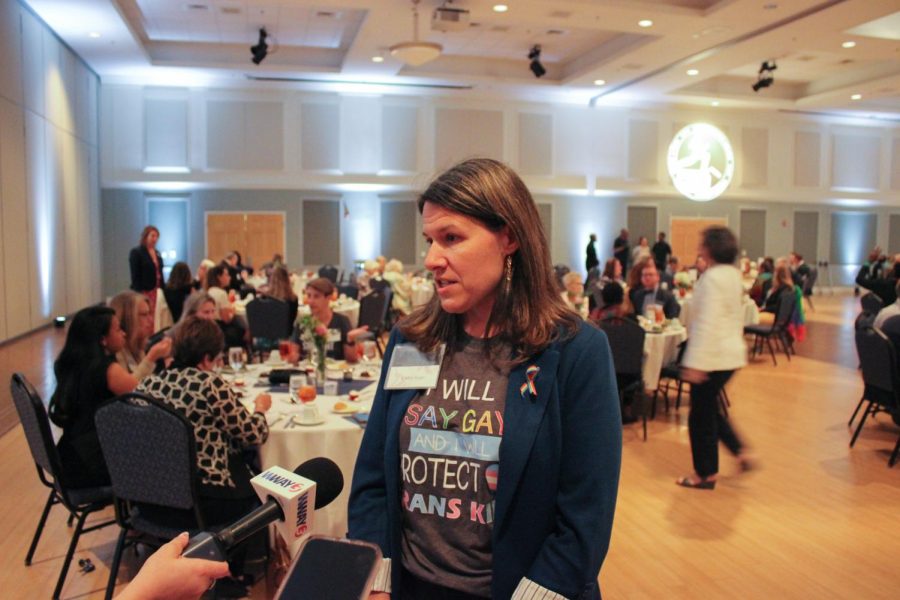 "I don't disagree that he has done some good things–I would never make such a blanket statement," Ryan said. "But again, when we're saying four people tonight are being honored and that he would be one of the four people that we want to hold up to say that as a college of education, this is something we are following, this is someone we are honoring. That does not seem right to me given the values we have around equity, advocacy and diversity."
Dr. Ryan also shared that having conversations about LGBTQ+ people does not correlate with sexual conversations, and nor does she believe kids should be exposed to sexual conversations.
"No one would advocate for talking about sex with kids. I don't want to do that, no one is advocating for that," said Ryan. "The fact is, you can talk about straight people without talking about sex; you can talk about gay people and trans people and queer people without talking about sex."
During his speech at the ceremony, Sen. Lee acknowledged the petition and protesters outside the building while defending his stance on policy.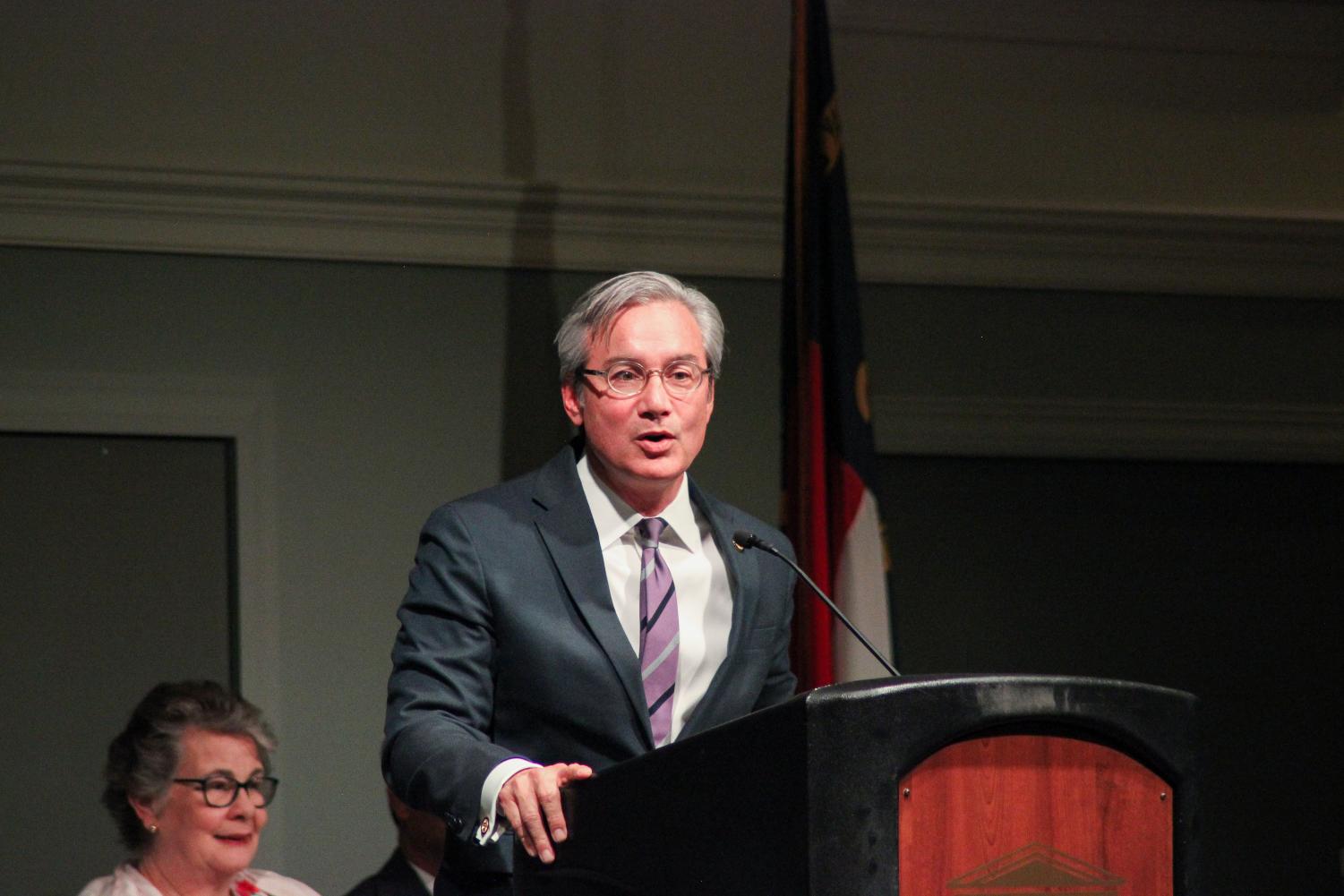 "For the protesters tonight I have respect, 100%, for their right to be heard," Sen. Lee said. "The world has become so incredibly divisive. I hope that universities, UNC Wilmington in particular, can be one of those places where we can have civil, respectful, professional debate … As I leave tonight, I hope you will walk the razor's edge, and you will embrace viewpoint diversity and talk to those people you disagree with. You'll learn something, they'll learn something, and we'll all be better off."
Dr. Ryan expressed support for faculty and students that protested to have their voices heard as freedom of expression. Her wish is to have Sen. Lee listen to concerns and reconsider aspects of the bill, but not to completely remove the bill, and for this event to be an educational moment.