REVIEW: The hype around 'I'm Glad My Mom Died' is definitely deserved
Unless you've been living under a rock for the past nine months, it's unlikely that you haven't heard of "iCarly" star Jennette McCurdy's recent memoir, "I'm Glad My Mom Died." Eight months since its release, the book still sparks excitement and conversation in literary and non-literary circles alike. I bought my own copy in Dec. 2022 from the Strand Book Store. While fighting streams of people for a look at the shelves, I found myself standing in front of a wall above the customer service desk, which displayed the Strand's top ten picks. "I'm Glad My Mom Died" was one of them.
I don't find myself reading nonfiction often, but with all that I had heard about it from friends and other reviewers, this is one I had to own. And, to my excitement, it did not disappoint.
McCurdy splits her memoir into two sections—"before" and "after" her mother's death. The "before" section takes readers through her formative years as a young background actress, her rise to fame with Nickelodeon and the results of an unwanted stardom in her early twenties. The "after" section tackles the following spiral as McCurdy falls deeper into disillusionment and her eating disorders. Her road to recovery is a long one, spanning 304 pages and almost thirty years of her life.
"I'm Glad My Mom Died" is not popular due to McCurdy's celebrity status, though her fame certainly informs the book's content. In fact, many have come to view celebrity literature as something to avoid. The influx of YouTuber books in the 2010s—including the infamous "poetry collections" by Gabbie Hanna—popularized this idea. Readers gradually saw celebrity memoirs as vanity projects, rather than works of passion.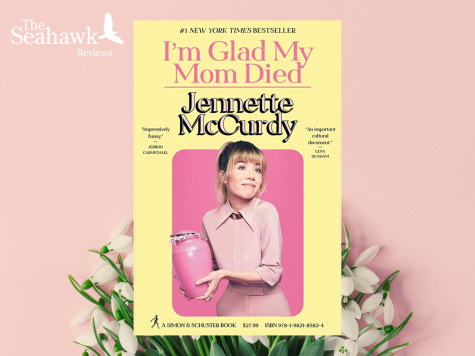 However, "I'm Glad My Mom Died" provided something of a reset to the public perception around celebrity memoirs. This book is no vanity project for McCurdy. Rather, it serves as an artistic avenue for her to reclaim her life and share her experiences. The startling authenticity with which she discusses her past makes it an indisputable fact—she is committed to the memoir's excellence.
This seems like a result of both the sensitive subject matter—her own life—and a passion for the craft. One heartbreaking chapter in the beginning of the book divulges McCurdy's earliest attempt at writing, which her mother discouraged. It's an interesting and encouraging fourth wall break to read the chapter in the context of the book's success.
Unfortunately, though, little else about the book incites cheer. The title's intensity parallels that of the subject matter. McCurdy dives into this instantly in her opening, recounting what she told her then-comatose mother in the hopes of waking her. When I first read this scene—in which McCurdy announced she had reached her mother's frighteningly low goal weight for her—my stomach turned. I put the book away for about a month before opening it again.
The ex-actress holds back very little—potentially nothing—from the reader. Her memoir details years of physical, verbal and emotional abuse at the hands of her mother, whom McCurdy worships for much of the book's "before" section. Capturing a harrowing life in a readable memoir is no easy task. That the book not only sold well but received praise for its writing testifies to McCurdy's skill. What makes this traumatic narrative so successful is how McCurdy frames it from the start.
She begins the memoir by introducing readers to six-year-old Jennette on her birthday. After receiving a dress she pretends to like for her mother's benefit, she contemplates her birthday wish. This is when the first example of her mother's narcissism surfaces. She made her four children regularly rewatch a tape in which she revealed her cancer diagnosis, leaving young McCurdy feeling guilty and responsible. Her birthday wish becomes a powerful ability to keep her mother alive and in remission.
While this scene is heart-wrenching, the way in which it's told is what sets this memoir apart. Rather than writing about this event from a present perspective—a common approach in nonfiction—McCurdy presents information from the perspective of that chapter's age. In fact, she does not try to reconcile then and now until the end of the memoir, when she did so through real-life therapy.
This allows the reader to witness the progression of her mother's abuse and the cascading effects it had on McCurdy's life in a recreation of real time. Her innocence comes across in the youth she spent trying to please her mother. Then, in her adolescence, readers experience her yearning for freedom and subsequent guilt toward these independent desires. Speaking from the voice of each age allows McCurdy to make this memoir into something more than a life story. It is an intimate artistic mimicry of her life.
One of the blurbs on the front cover—"Impressively funny," declares Jerrod Carmichael—may be shocking to hear in spite of all I just described. And yet, it's true. McCurdy contributes to the memoir's readability with touches of sarcasm. Such moments appear as she grows older on the book's pages, showcasing a witty and changing personality that is often applied to people and situations besides her mother. McCurdy balances this natural humor and the memoir's generally heavier tone to create an engaging authorial voice.
Despite all the ways it could upset, it is essential for memoirs like "I'm Glad My Mom Died" to exist. Today's celebrity culture, chock-full of parasocial relationships, is often detrimental to celebrities themselves. It places an extreme amount of pressure on the star, leading them to perform constantly in the public eye. This can often strip them of humanity in the eyes of fans and non-fans alike. While celebrities should be held accountable for heinous actions, of course, fame does not equate to a perfect or even enjoyable life.
"I'm Glad My Mom Died" speaks to this modern problem. While McCurdy did reach a certain level of success in the industry, her psychological reality did not match the smile she plastered on for fans. This memoir bridges the "status" divide between an ordinary reader and McCurdy, showing that "celebrity" is not everything—in fact, it is often nothing.
In light of this, the memoir's end is a touching one. McCurdy, healing and removed from the acting world, turns down another invitation to star in the recent "iCarly" reboot. She is making her own choices now, free of her mother's abuse.
For those that waited as long as I have to read this memoir, I recommend committing to the purchase. "I'm Glad My Mom Died" is a testament to what good nonfiction can do.