UNCW Theatre Department brings satire to the stage with 'A Murder of Crows'
Bailey Arnold, Staff Writer
April 19, 2023
The UNCW Theatre Department is ending their 2022-2023 season with a thought-provoking and unconventional play, "A Murder of Crows," written by Mac Wellman and directed by Professor Paul Castagno. The show follows Susannah as she learns to understand and deal with family relationships, survival, and life and death.
"The play is a satire with a lot of relevant themes for today," Castagno said, "like toxic waste, climate change, and some darker themes like racism and bigotry, although as a satire it is meant to be comic and over the top."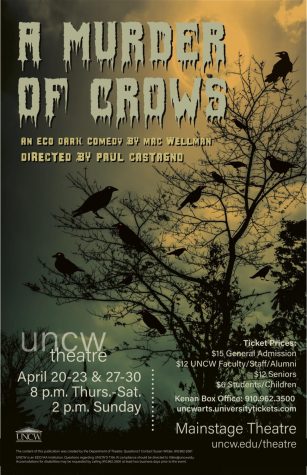 Set in the future, "A Murder of Crows" follows a family as they explore a world that appears to be on the edge of ecological devastation and explores the themes of family, famine and survival. It leads the audience to ponder on their own ecological lifestyle and how that can affect and even change the environment in the next ten or fifteen years.
Katherine Montwieler, the Interim Chair of the Theatre Department, said of the production, "'A Murder of Crows' is almost eerily prescient, anticipating the increasingly dire climate crisis, rise in xenophobia, and seemingly ubiquitous isolation of our current moment. How, Wellman asks, can we hold these huge global catastrophes and individual crises in our hearts and heads at the same time? How can humans respond?"
Along with his inclusion of relevant sociopolitical topics, Mac Wellman encapsulates audiences by avoiding traditional syntax and using instead what the director likes to call "radioactive fields of language"—meaning that the language clashes and overlaps so that its meaning cannot be determined exactly. This effect, in combination with satire and subject matter of the play, showcases the darkest parts of humanity and their effect on humankind.
"I've known Mac Wellman since the 90s but had not directed any of his works," Castagno said, "and so directing this show gives me a deeper dive into his work, while availing our actors and production team of one of America's most innovative playwrights. Our theatre major actors and crews and 'crows' are more than up to the challenge in bringing this dark comedy to fruition."
The cast and crew consist entirely of UNCW students within the Theatre Department. The cast, eleven in total, features five debut actors—Megan Brown, Bailey Delp, Russ Garlinghouse, Olivia James and Kendall Tew—who, according to the playbill, are all excited for the opportunity to be on stage.
"A Murder of Crows" is set to debut on April 20 at 8 p.m. Following the premier, the play will be showing April 21-23 and 27-30. All Thursday, Friday and Saturday shows will be held at 8 p.m., and the Sunday matinee will be shown at 2 p.m. Tickets are five dollars for UNCW students; 11 dollars for senior citizens, alumni and military; and 14 dollars for the general public. Tickets can be bought at the Cultural Arts Building box office or the Arts at UNCW website.