An interview with the new 2023-2024 SGA Presidents
Beginning in the fall of 2023, Cody Brandon and Skyler Stein will lead the Student Government Association (SGA). By casting a ballot in the SGA presidential election, which finished on March 23, 2023, students elected new leaders for their respective classes. Stein and Brandon agreed to an interview about their vision and hopes to improve initiatives around UNCW's campus.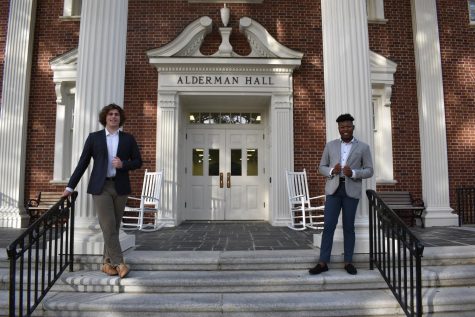 Tell me a little bit about yourselves.
Brandon: "My name is Cody Brandon, I am a third-year student here at UNCW Honors College from Clinton, North Carolina majoring in Sociology with four minors in Africana Studies, English, Leadership Studies, and Women and Gender Studies. My pronouns are he/him/his and a fun fact about myself is that I am extremely afraid of frogs."
Stein: "I am Skyler Stein from Apex, and I am a freshman majoring in Political Science and minoring in Pre-law. Just a fun fact, I used to play on the lacrosse team in school."
Besides SGA, what other extracurriculars are you involved in on campus?
Brandon: "In my first year here, I was in Reaching and Inspiring Student Excellence [RISE] and I truly credit RISE for all that I have been able to get involved in and for showing me the ropes when it comes to what it means to be an engaged student here on campus. So, after RISE, I was an orientation leader, Seahawk resident assistant, and student ambassador. Besides student leadership, I am also involved in several academic honors societies including Phi Sigma Pi [National Honor Fraternity], Appa Kappa Delta [National Honor Society for Sociology], Sigma Tau Delta [International Honor Society for English], and I was recently inducted into Omicron Delta Kappa [Student Leadership Honor Society]. And, SGA, where I serve as the officer for diversity and inclusion."
Stein: "I am a part of SGA as a Freshman class senator and transitioned into a new role, treasury outreach liaison. I also play in the lacrosse club. Off-campus, I am a board member of a nonprofit where we provide sports and athletic opportunities for kids with special needs and disabilities."
Why did you want to join SGA?
Brandon: "SGA was something I wanted to do since my first year on campus, but I was a little nervous and hesitant. I knew the SGA in college was going to be a lot different than it was in high school and I just didn't know how to bite the bullet and just say 'You know what Cody, just go for it.' I knew that being involved in SGA was a pretty prestigious organization and I wanted to make sure that before I joined, I had enough leadership experience under my belt, especially being that I jumped straight into being on the executive board. In the current role I have as director of diversity and inclusion, being a black, queer man, I definitely wanted to provide a voice and representation, along with leadership for other marginalized communities around UNCW. I think being in this role has not only helped me amplify the voices of those who are commonly unheard but also opened up my eyes to new lives besides my marginalized identities."
Stein: "After college, I want to go to law school and then serve in the government, so I have always been interested in this, even in high school, so it was something that already interested me. Being in SGA this past year has really shown me what it is all about and I love everything it entails."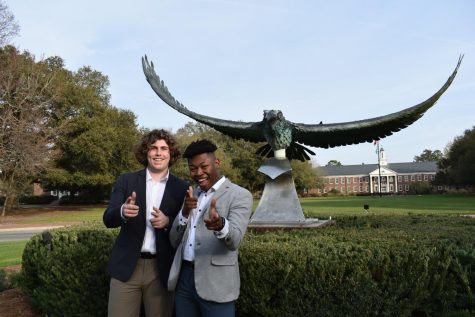 What do you hope to accomplish in the next year?
Brandon: "We ran on four pillars: advocacy, evolution, community and welfare. I have a couple of passion projects: we have a lot of food insecurity on campus, but we also have a lot of food waste and I feel that is contradictory. I want to see some improvement and innovation there [excessive food waste and food insecurity]. As a former resident assistant and someone who knows what it is like and has seen the good, the bad, and the ugly when it comes to that role, I feel passionate about restructuring expectations from HR to have a better idea of what it means to be a resident assistant. Some more tangible things I would like to see on campus are better lighting, more street exposure, sleeping domes that can be provided in the library and the SGA office, more composting services and more services that allow our catering services to not be so wasteful. For example, having a broadcast system where whenever we have food delivered for an event that we can let students know they can come to get leftover food, so it is not being wasted. Of course, continuing on the foundation that Hannah and Sadie left for us and continuing our partnerships with that."
Stein: "Community engagement is a big issue as well; I feel like our weekend life at school is lacking. To have more students engaged on campus during the weekends, as well as events during the week to boost morale and school spirit. Alongside that, a focus on mental health with students. I would like to push for mental health days throughout the year."
Why did you want to come to UNCW?
Brandon: "Elon University was my dream school, I got in and I had a half tuition reduction scholarship. I loved Elon and I loved the campus, the programs, and everything and I was in group chats for both Elon and UNCW. Decision day was coming up faster than I thought it was and I had no idea where I wanted to go. Two times throughout different weeks, my dad and I logged into the Elon University Portal to pay the non-refundable enrollment fee and as soon as he almost hit submit, I said, 'Hold on, Dad, I am just not ready yet,' and I am so glad I decided to wait. I chose UNCW because of the people. The people who were at UNCW made me feel at home and brought me a sense of belonging and community and being at home. It felt calming and relaxing, and I did not think that I was transitioning in life or thinking I was going through such a tumultuous change from figuring out high school senior year with COVID to a university campus still dealing with COVID. It was a seamless, easy transition and looking back I am glad I chose UNCW because of the people, programs, opportunities, faculty, staff and professors which opened my eyes to a much broader experience."
Stein: "I did not start looking into schools or touring schools until the summer before my senior year and UNCW was the first school I toured. It felt like home, and I knew it was where I wanted to go."
This coming school year, both will lead the SGA to identify and fix issues on campus. To submit feedback for changes you want to see, you can submit a form on the SGA website. If you are interested in joining, you can find out more on the SGA website.