Extra, Extra! Highlighting student background acting in local productions
Anna Ford, Assistant Culture Editor
April 16, 2023
Sometimes referred to as "the Hollywood of the East Coast," Wilmington, North Carolina has served as the center of film production in North Carolina. Acting as the filming hub for popular television shows like "Dawson's Creek" (1997-2003) and "One Tree Hill" (2003-2011), as well as blockbuster movies such as "Iron Man 3" (2012) and "Scream" (2020), Wilmington became well-known among industry participants as a place to be part of monumental productions.
The once-booming film industry experienced a lull between 2015 and 2020 due to changes in tax incentives for production companies. The North Carolina Film and Entertainment Grant, which went into effect in 2015, offered less enticements to film in-state.
The North Carolina film industry is now experiencing a period of growth following the COVID-19 pandemic, with film productions returning to Wilmington and bringing the industry back to life. This increase follows a change to the NC budget lowering the requirements to receive help from the North Carolina Film and Entertainment Grant.
This increase in filming led to a higher demand for background actors, with many people—including UNCW's own students—in the Wilmington area eager and willing to be part of Wilmington's film legacy.
The Summer I Was an Extra
Since filming began in 2021, many students participated as an extra for the tv show "The Summer I Turned Pretty." An adaptation of Jenny Han's hit book series, the show follows teen Belly Conklin (Lola Tung) as she navigates first love and heartbreak during a summer spent at the fictional town of Cousins Beach. The production showcases many locations in the Wilmington-Wrightsville Beach area as part of the setting.
The unreleased season two of "The Summer I Turned Pretty," which wrapped production on Nov. 8, served as freshman Jane Hilts' first experience as an extra.
"My favorite part of being an extra was being able to see how the show was filmed," she said. "Being behind the scenes and going through the filming process was a one-of-a-kind experience."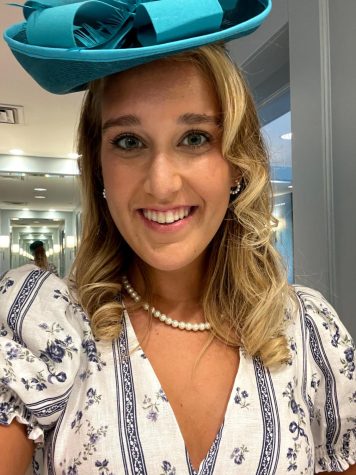 Reilee Linner, the Campus Visit Coordinator for UNCW's Office of Admissions, also acted in "The Summer I Turned Pretty" before graduating from UNCW in 2022.
"I didn't read the books—I really had no idea what the production was—but my roommate was a film major, and she told me about the opportunity because she also worked on the production for a little bit," said Linner.
Reflecting on the experience, Linner noted, "I was very open to talking to everybody, so it made everybody more open to talking to me. It made it overall a more positive experience, just showing you are happy to be there. If you are radiating positive, other people will too."
Linner recommends background acting to film students looking to be involved in their prospective careers.
Cameron Blake, a UNC-Charlotte graduate who worked as an extra in the Wilmington area, acted as a feature background actor in the show. He is a recurring escort for the debutante ball and spent a month practicing the dance moves, going through costume fittings and working with several cast members. Blake's favorite part of the experience was being around different cast members.
"During the filming…we got to practice ballroom dancing with the cast [Lola Tung, Gavin Casalegno, Christopher Briney] along with the rest of the supporting cast," he said. "I felt like I was a part of this community of talent getting to see behind the scenes of how they film a scene. I would say watching the fight scene between Jeremiah and Conrad that involved different angles, sound effects, and zoom effects, that was amazing to see.
"The filming locations were also a fun part of working as some days would be at the beach or at a church—one time at a city hall in downtown Wilmington," Blake added. "It allowed me to meet and experience the greater Wilmington area."
For Blake, background acting also provides a source of income. "Now that I understand the hierarchy of background roles, I am for higher paying and consistent recurring roles in order to maximize my time and energy," he said. "I do it part time, but at the peak of the season it was my main income temporarily."
Blake also acted in background roles for "Our Kind of People," "Echoes," "One True Loves," "Alone for the Ride," "George and Tammy" and "Electric Love," all of which filmed in Wilmington.
The first season of "The Summer I Turned Pretty" is currently streaming via Amazon Prime.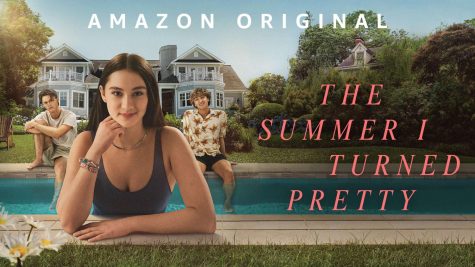 Putting the "Campus" in "Campus Cop"
Also filming in the past year is the on-campus student-let production "Campus Cop." Starring first-year student Carter Godwin as Kyle Jefferson, a junior campus security guard, "Campus Cop" began production in the fall of 2022 and incorporates many students and locations from around UNCW.
French and film studies major Caleb Herron participated as an extra at the request of Hannah Silber, an active member of the production staff. The show was his first experience as an extra.
"I would love to participate as an extra again," said Herron. "["Campus Cop"] was a really fun set to be on and I loved getting to work with members of the crew who were clearly enjoying what they were doing."
"Campus Cop" has wrapped production and does not currently have a release date. For updates, follow @campuscop_tv on Instagram.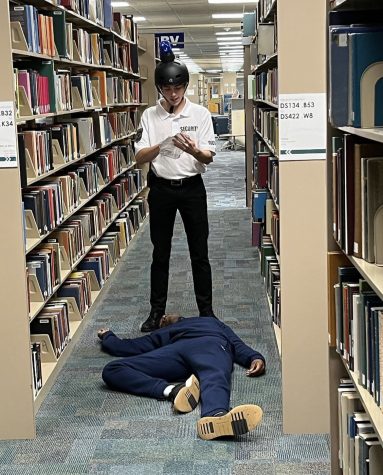 Getting Involved
Those looking to get involved in extra work have several different venues through which to contact casting agents. Linner and Flicker Film Society president Katharine Chapin used Everyset (formerly Castifi)—an online platform for background actors—to apply to work as an extra.
"It took about 20 minutes to set up a profile, but once you have once, you can quickly apply for whatever roles you qualify for," Chapin said.
"[It's] basically like a dating profile for extra work," Linner added.
Another option is emailing casting agents or contacting companies through social media. TW Cast and Recruit and Kimmie Stewart Casting are prominent Wilmington casting agents and can be reached through their respective Facebook pages.
To become an extra in student-led productions, film graduate student Brian Hutchins recommends joining Flicker Film Society or checking out NC Filmmakers and Actors for information about upcoming opportunities.
Though there are several avenues in which to apply, many of the requirements are the same. Prospective actors are expected to provide physical descriptions of themselves and a headshot, along with optional information such as vaccination status. Accepted extras are typically contacted shortly before filming begins.
Advice for Future Background Actors
Being a background actor requires patience and stamina. Extras may only work for a couple of hours or be required to stay late into the night and often do not know the time requirements until they are on set.
"It can be an extremely tedious and time-consuming process to get a very small part of the bigger picture, but seeing it finished is such a cool thing," said Abbey Spiva, a junior theater major minoring in business and musical theatre.
For Spiva, background acting is an opportunity to get involved in the local acting community and learn from experienced actors. After transferring to UNCW her sophomore year, she worked as an extra in Wilmington for "Our Kind of People," "Echoes," "One True Loves," "Hightown," "The Summer I Turned Pretty" and Jonah Pate's untitled project. She also participated in a project with SNL group Please Don't Destroy in Charlotte, North Carolina.
Linner also noted the unpredictable work hours, saying, "You never know what you're walking in to, so I would suggest assuming you're going to be there longer."
She kept busy by playing cards with fellow extras during lulls in production.
Hilts recommended bringing food and work to do to stay occupied during filming breaks, while Blake recommended bringing a phone charger in case long hours led to a low battery.
"There is a lot of waiting around," Blake said. "This is an opportunity to network and interact with different backgrounds and casts."
To Act or Not to Act
Whether majoring in film or interested in the behind-the-scenes production of upcoming shows, acting as a background extra is a great way to get involved in the local Wilmington film community.
"College is all about trying new things," Hilts said. "This was an amazing experience that I am so glad I did, and I definitely would recommend that people step out of their comfort zone and take part in experiences or activities like this."
Chapin recommends background acting to anyone interested in film.
"If you think you want to go into large-scale, on-set production(s), this is a great way to see if you're cut out for the late nights, early mornings, and high-stress environment," she said.
"The people of film make the experience worthwhile and bring out all kinds of creative talent that makes our area so special," said Blake. "You feel part of something bigger. Seeing yourself in the background makes it worthwhile."