The impact of the Russo-Ukrainian war on UNCW students
Following months of unusual Russian troop movements, threats and shellfire along the border, Russia launched a full-scale invasion of Ukraine on Feb. 24, 2022. For over a year now, the whole world has watched as countless lives have been lost, families torn apart and cities destroyed. But behind each photograph and headline, number and statistic, video and dispatch, are real people with real stories to tell, often lost to the desensitization and chaos of war. A few such people are students in Wilmington and UNCW, specifically.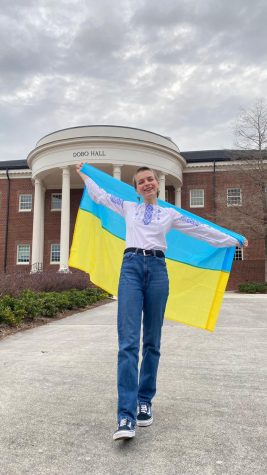 Olha Novikova is a senior graphic design student who came to the United States from Ukraine as part of Global UGRAD, an exchange program sponsored by both the U.S. government and governments of other countries. Each year, the program selects two to 15 students from each country to send to a random university in the U.S. for a single semester. Due to the invasion, Novikova has now been here for three.
"My family lives not far from the capital [of Ukraine], so it was literally dangerous to come back, so I decided to stay here," Novikova said. "I really wanted to come back. I had many plans, my family, I had a boyfriend in Ukraine, you know? I would love to return, but rationally I understand that I might need to make money for my family from here and send it to them there."
Before the war, Novikova recalled how heartening it was to live in Ukraine, where everyone was constantly trying to learn, grow and better themselves. She would participate in summer camps and community service projects, along with regular teen activities like going to bars and spending time with friends.
"That's what I miss a lot: the people with great values and a huge love for nature, nature itself, and just my whole family, because since I came here I haven't returned back," Novikova said. "I haven't seen my family in like a year and a half, and I kind of don't know when I'll see them, which makes me more homesick."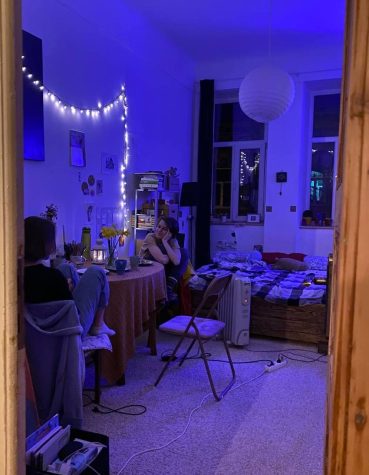 Novikova is originally from Cherkasy, a city about three hours from the capital of Ukraine, Kyiv. However, she spent the last four years before the United States living in Lviv. 
In high school, she had refugees in her class from Crimea, who were forced to flee due to the occupation in 2014. Novikova's grandparents also had to leave their home there for several months until it was safe for them to return back.
Prior to coming to the United States, Novikova went through a lecture with representatives from Global UGRAD about homesickness, with one of the proposed solutions being making Ukrainian food and eating it. And although this may have worked a few times, when the full-scale invasion began, the homesickness began to hit differently.
"Whenever I think about home, I think about my mother; I think about the home I grew up in," Novikova explained. "Sometimes I just lay in bed here and think about my room and the books that are sitting on the shelf. I'm trying to walk around inside of my head and touch things, like books from high school and clothes. Sometimes I go on Google Maps and just walk around and look at the places I lived and walked by."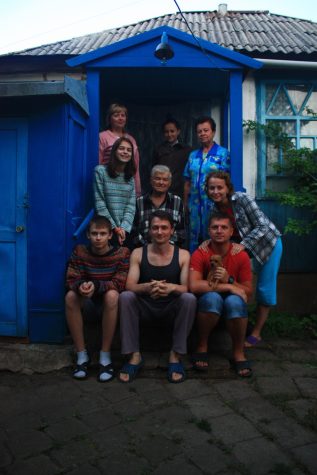 After all this time in the United States, Novikova almost feels as though she's stuck here. Though all her needs are being met, UNCW isn't home—Ukraine is.
"Ukraine is the fundamentals of my stability," Novikova said. "Once it's destroyed, nothing else can be built on top of it."
Novikova is the current president of UNCW's Ukrainian Culture Club, which was restarted by fourth-year student Kyle Dowling. She is graduating in a few months and had originally considered returning to Ukraine to join the military, like many of her friends. Instead, she has decided to stay in the United States and is set on attending NC State for her graduate degree in Graphic and Experience Design, a program that focuses on the connection between the human brain and designing graphics to fit its needs. She made this decision in order to provide for herself and get a degree which she hopes to use to make a positive impact.
Kyle Dowling is a transfer student at UNCW who is majoring in history with a minor in international studies. He is also a third-generation American whose great grandparents came to the United States from what was the Russian Empire and Galicia, but is now Ukraine and Austria. Due to the lack of proximity between him and his grandparents, Dowling himself did not grow up in the culture. He has since begun to educate himself on his family history.
"I still have family there, but I don't really know them at all," Dowling explained. "I did a DNA test recently and a lot of my cousins popped up who are still in Ukraine."
Dowling restarted the Ukrainian Culture Club at UNCW following the university's closure for COVID, and served as its president before handing the position off to Novikova. The club hosts movie and pizza nights, Ukrainian food events and other opportunities for people to meet and get to know each other. On Feb. 24, for the one-year commemoration of the occupation, the club also coordinated an event downtown with the Wilmington City Council. 
During club fairs, Dowling recalled how their table often received a lot of sympathetic looks from passersby, but doesn't blame them given the circumstances.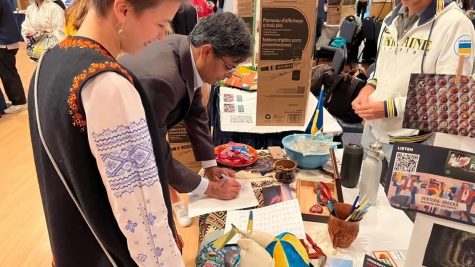 "When the war first started, I didn't get sleep for over 24 hours," Dowling said. "I was just awake on my phone, constantly, seeing the updates, seeing the carnage. For the first couple of months even, I was running on like five hours of sleep a day, cause I'm in all these Ukrainian groups and I kept getting notifications about incoming airstrikes. So I'm sitting here in America and thinking about my friends in Ukraine."
Dowling met his friends through video games, as well as the neighborhood he grew up in, in which many Ukrainian families live.
A popular app that Dowling and Slavic Heath, a senior at UNCW who is originally from Ukraine, use to get updates about the country is Telegram. As described by Dowling, Telegram's setup is "Twitter meets Whatsapp." The app is a common method used by Ukrainians to get news out about the war, as it manages to circumvent the censorship that many news sites struggle with.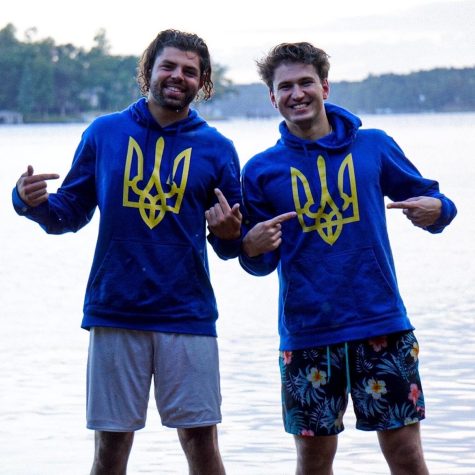 Slavic Heath is a computer science major. He was adopted into an American family and left Bilhorod-Dnistrovskyi—a small city near Odessa known for its 2500-year-old fort—when he was 14 years old. Heath is now 25. He is not in touch with and doesn't know of any family still in Ukraine, and the family he was adopted into has no connections to the country or culture. He remembers how the initial conflict in the early 2010's put a major strain on schools and his education.
"When I was leaving and I went to school there, they were basically telling us that they were gonna stop teaching Ukrainian," Heath said. "There was a lot of conflict in classes, specifically."
Heath, similarly to Dowling, believes that the Russian people are not as much to blame for the war as the Russian government itself. He has friends who have moved to Russia and been a part of protests there, as well as friends still in Ukraine and all across Europe.
"I have one friend who's in the military and he's been pretty much telling me what's going on, if anything looks like it's gonna be over or not," Heath said. "I have another friend who was there when the whole thing started, and she just didn't leave. She would send me videos of bombings and stuff like that. I've lost touch with her, though, so I'm not sure if she's still there."
From what his friend in the military has told him, Heath explained that because of Ukrainians' pride, there's less of a feeling of pain, and more so a want to just "destroy the Russians." Heath's friend regularly communicates which regions have been taken over and which regions haven't been, and what advances are happening on various fronts. He also sends pictures of the destruction.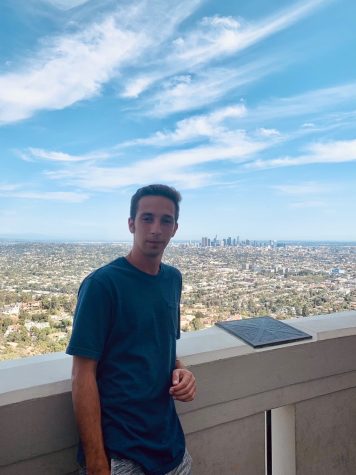 Another member of the Ukrainian Culture Club is Nikita Miroslav, a junior studying economics, and double minoring in pre-law and international affairs. Miroslav is the treasurer of the Ukrainian Culture Club. He was born in the United States but has regularly traveled back and forth from here and Kharkiv, Ukraine, where his family is from and grandparents currently live. He and his family would spend months there at a time. Their last visit was in 2015.
Miroslav recalls his and his parents' first phone call to his grandparents when the war began last February, and the anxiety that his grandparents were feeling at the time.
"In life, we have a status quo," Miroslav explained. "We wake up, have breakfast, go to classes, go to work, make sure we have Instagram and Snapchat. I still remember distinctly when we first called them, the panic of the status quo being broken and knowing that it's never going to go back."
Miroslav stays in touch with his grandparents through Whatsapp. He described how impactful it is to hear from them, learn about the war and watch them adapt to a completely new life. His grandparents' perception of normality has changed greatly, to the point that their current situation has become habitual and ordinary.
"They've definitely had to process the idea of fear, life and death, and this new kind of reality that they live in," Miroslav said. "Now it's kind of fluctuated back to normal. Now it's, 'Yeah, there's bombings. Yeah, there's blackouts. Yeah, we can't get water. But we find new ways to keep living.' They live like that as much as they can manage."
Miroslav believes that this is something that future children will learn about in school and in their history textbooks. And, although he feels that UNCW students are pretty accepting and fairly informed about the war, he also urges students to recognize the globality of it, as it is easy to feel detached.
"Be aware of how global this conflict truly is," Miroslav said. "It's easy to sit back and think, 'Oh it's happening 6000 miles away and somewhere in the news there's all these weird names that I can't pronounce' and all that, but just understand how many countries are involved; Israel, Iran, China, Germany, all of the EU, and the financial implications of that. Moving forward in life, we're definitely gonna feel the [impact]."
The Ukrainian Culture Club meets biweekly on Wednesday evenings. More information can be found on their Wavelink page and social media, such as Instagram. The club welcomes everyone, Ukrainian or not, in order to learn more about the country's history and culture.
"Glory to Ukraine, glory to the heroes," Dowling said. "Slava Ukraini, heroyam slava."