Dr. Aswani K. Volety installed as Chancellor of UNCW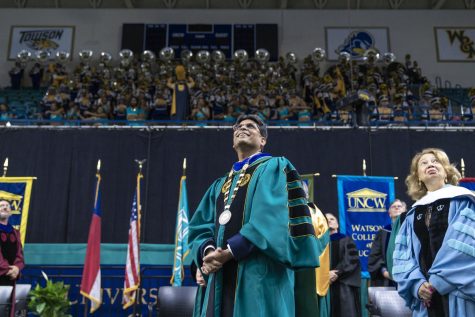 On March 31, Dr. Aswani K. Volety was installed as the seventh Chancellor of UNCW in Trask Coliseum. Volety was announced as Chancellor-Elect by the university in May of last year. His installation serves as a formal ceremony to signify the start of his term, though he has already been working as head of the university since the start of the fall 2022 semester.
In a speech he delivered at the ceremony, Chancellor Volety outlined the accomplishments of his first year in office, and the goals he has for the university moving forward.
"As I stand here, less than a year into my service as chancellor, I have to say that I am pleased with UNCW's excellence," Volety said to an audience of students, faculty, staff, alumni and government leaders. "Pleased, but not satisfied. I want all of you to help me dream about what this university could become. I want all of us to dream together to see how we can help our students, faculty and staff, our region, and nation."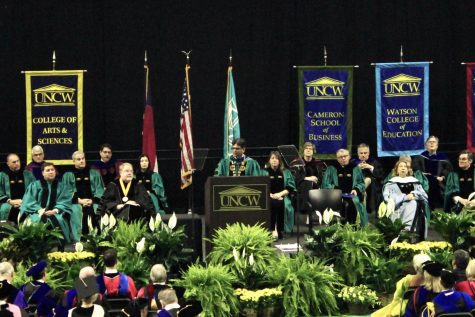 During the past year, Chancellor Volety has overseen the continual expansion of UNCW facilities. He attended the ribbon-cutting ceremonies of the Fraternity and Sorority Life Village and Multipurpose Room and The Asian Heritage Cultural Center. Volety is expected to attend the ribbon cutting of the new Randall Library extension, which is planned to be completed in the fall of 2024.
As a first-generation college graduate from India, Volety has overcome countless challenges to be where he is today, maintaining education as his most profound motivator. Volety graduated from high school at 15 years old. By 20, he received his master's in marine biology from Andhra University in India. He later moved to the U.S., where he earned his PH.D. in Marine Science from William & Mary in Virginia.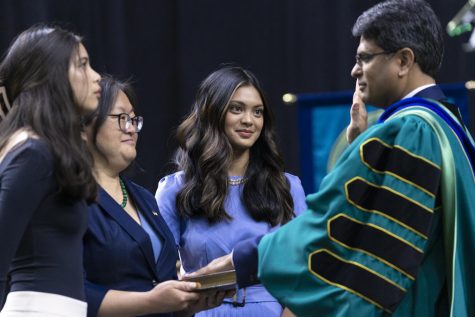 As someone who has always benefited from the power of higher education, Volety is uniquely positioned as chancellor to uplift students during their time at UNCW. His goal is to help students achieve their highest potential, regardless of where they came from.
"UNCW's story isn't represented by one narrative, one dream, or even one idea," said Volety. "Our story is a collection of movements, memories and adventures—some past, some present, and some yet to come."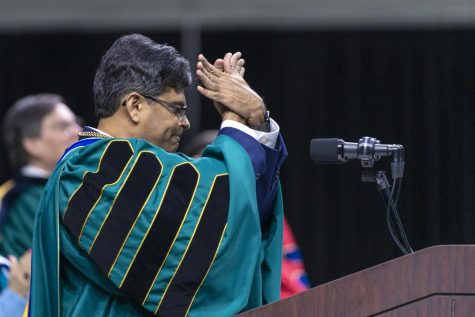 Volety ended his speech by thanking the UNCW community and expressing his ambition for the university moving forward.
"I look forward to traveling miles of opportunity with you and for you as your chancellor of the University of North Carolina Wilmington," said Volety. "I hope you will join me on this most exciting journey. Let's soar high, soar far, and soar together Seahawks."