Amari Kelly: Student, athlete, and father
Amari Kelly can be found in the gym, in the classroom or in Trask Coliseum during some of the greatest Seahawk basketball games ever. What most people don't know about Amari is his responsibility of being a father, and his one-year-old son, Amir.
"In the beginning, it was definitely scary," Amari says. "It was just kinda nerve-wracking because I feel like a lot of the weight was on me and it is, but I think I was just overthinking it and stressing myself out, but now I love it…when he got here and I held him it was nothing but joy…he just brings so much happiness to my life, my family's life."
When Amir was born, Amari and the Seahawks were on a three game road trip, which required Amari to take a flight from Boston to Charlotte, then Charlotte to Atlanta, then drive another two hours to Alabama to see his son. 
"When I finally got to him and got to hold him I think that's when the lightbulb clicked like I really have to step it up," Amari says. "I got to hold him and see him in my hands and it was real."
That lightbulb has certainly clicked for Amari, as he is having the best season of his career, doubling his points, rebounds and assists from last season.
"On and off the court, I've just been taking things more serious like it's a business," Amari says. "I want to make this my job one day, and now that I have a son I want to be able to provide for him…"
Amir may reside in Atlanta with his mother, but that doesn't stop him from making the trip to Wilmington to see his father play.
"When I look over and I see him there, it just makes me wanna go 100 times harder," Amari says when asked about his son. "I mean he doesn't really know what's going on on the court, but it makes me wanna go out there and play even harder knowing that he's sitting in the stands…I don't want him to see his dad getting blocked or pushed on the ground or anything, so even though he might not know, I'm still consciously thinking like that."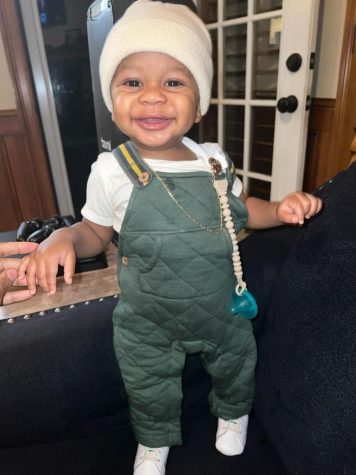 Amari explains that when Amir is in town, he tries to get everything done earlier in the day. After finishing his work, Amari enjoys the rest of the time with his son, and maybe even getting Amir into some hoops.
"I try to be as hands-on as possible," Amari says, "so when he is here I'm up all night with him doing whatever, changing diapers, making bottles…He kinda already likes basketball, I got him a ball now and he keeps it in his hands so its like a natural thing, but yeah for sure I hope he does grow up to love the game."
Amari hints later that his son Amir may have better handles than UNCW point guard Jamarii Thomas. Thomas just scored 26 points in a game against Stony Brook on Thursday night, so college coaches should probably be on the lookout for this 2040 prospect out of Atlanta.
Outside of basketball, Amari says he looks forward to taking Amir to the beach when he gets a little bit older.
"I took him when he was a baby and he did not like it, sand was blowing in his face…when he's actually able to run around and play and stuff, I really want to take him to the beach and just different places."
Amari has learned a lot about how to be a father and a man very early in his life. He credits all of the women in his life and says that they are his true inspiration. Amari had to learn how to be a parent without either of his being around, due to losing his mother back in 2017, murdered by his own father.
"That was my main thing once I found out I was gonna be a dad," Amari says. "I vowed to be nothing like mine…I see my dad as my wrongs and what not to do and how to avoid them, and I use him as that."
Not only can Amari be a role model for young basketball players, but he can be a role model for everyone. After losing his parents, Amari did not turn hateful or down the wrong road, but he stayed on a path of becoming not only a better player, but a better man.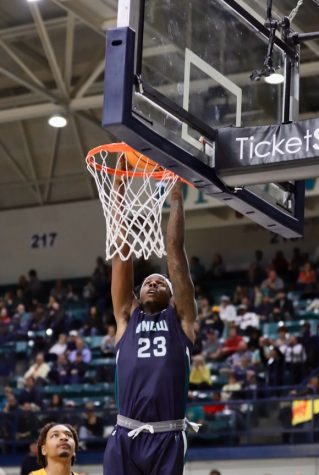 "You can see him becoming a leader," Coach Takayo Siddle says when asked about Amari. "He's more positive. His body language is better. He's grown tremendously off the court and I know it's a direct correlation to his on-court production."
Siddle also says that the team may have more discussion about non-basketball related topics, such as family, than they do about basketball itself. Amari credits Siddle for laying a lot of gems on him about being a man as well.
"Coach Siddle has taught me so much, he's dropped so many gems on me," Amari says. "I think most importantly he's just kind of talking about how to be a man and being able to provide for my son no matter what. There's certain things like in basketball drills, I keep missing a screen, he's telling me I have to do my job no matter what and I can translate that in real life. I have a son I have to be able to provide for him and make sure he's straight no matter what, I can't make excuses, I can't just not get the job done…that's like a small thing of some of the things he's taught me, but he's definitely dropped a lot of gems on my life."
Finally, Amari takes a few minutes to reflect on what he's gotten out of fatherhood so far, and decides that the most rewarding part is just watching his son grow.
"Knowing that my son is looking up to me all the time and it just gives me a good feeling," Amari says. "Just little stuff like he'll copy me, if I make little noises he'll copy my noises. He's starting to say daddy now and just watching him evolve is so rewarding…just watching him be able to grow each and every day, watching the new things he's learning about himself is just such a rewarding thing."
Amari plans on getting Amir back to the beach and eventually to some fun places like Disney World, but right now he is focused on navigating life as a student-athlete and father.
Amari and the Seahawks will be trying to win the CAA tournament in Washington D.C. from March 3-7. To find out more on Amari or UNCW basketball, visit UNCWSports.com.