UNCW Theatre Department to present 'Electra' as first spring production
Olivia Vizethann, Staff Writer
February 16, 2023
UNCW's Theatre Department gears up for their debut production of the spring semester. Sophocles' Greek tragedy "Electra," directed by Christopher Marino, will be the first of two performances this spring and will kick off this Friday. The show will run on Feb. 16-19 and 23-26 at the Mainstage Theatre in the UNCW Cultural Arts Building.
Sophocles' tragedy follows Electra, a young woman out for revenge against her mother Clytemnestra, who murdered Electra's father King Agamemnon for his infidelity.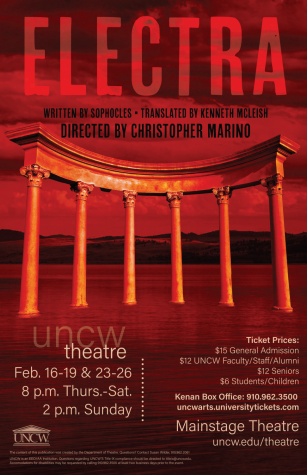 "[Electra's] attachment to her father is intensely loyal before his death, and the grief only pushed it into obsession," said Lily Ferguson, who plays Electra. "Electra's passion creates the energy for the story. [She] is excessively cruel to those around her. She is ruthless in getting what she wants, and her loyalty only pushes her to further limits."
In true Greek fashion, this production will use an on-stage chorus to follow the events and embellish emotions, without becoming a musical. Sarah Stultz, a member of the chorus and first-woman understudy also comments on how Electra's passion is a critical role.
"Without Electra's passion, loyalty, and love this would not be the same show in the slightest," Stultz said. "If she had given up hope…it would have been so different. [The play] would not have the drive it does and would just be a story about this sad girl who gave up hope. Hope is what drives this story."
Director Christopher Marino invited vocal coach Melissa Cross to assist in training the actors for this production. Allison Garrett, who plays Clytemnestra, stated her favorite aspect of the play is the inclusion of live music on stage which underscores the performance. Choruses on stage are a typical feature of Greek theatre, intended to highlight major themes and characters and emphasize the overall story.
"I just think that it is such a cool idea to add music to a production that isn't a musical and then see how it affects the play as a whole," she said. "I hope audiences enjoy this addition as much as I do because I can guarantee that it is ten times cooler from the audience than it already is on stage!"
"Electra" stands out because it blurs the moral right and wrong by revealing the hero's bad side and the villain's good side. Sophocles' manipulation of the typical moral code invests audience members in the minds of each character.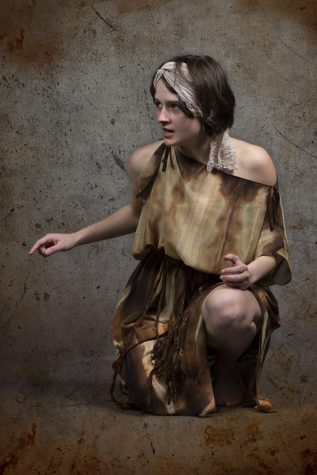 "The fact that each of these characters can be viewed as morally grey is so incredibly important to this show," Garrett says. "Clytemnestra, at face-value, she is a murderer and a queen that has seemingly walked free after committing an unthinkable act. But, as you dig deeper and start to get into her mindset, the motive for killing is clear and even though you think it is impossible to side with her, you start to come around and root for her in a sense."
"How can you say one is right or wrong?" asked Ferguson. "This makes for such interesting character dynamics in the show that are so very true. They reflect how life and humans are."
The constant thirst for revenge against Electra's mother, originally caused by Clytemnestra's vengeance against her husband, creates a never-ending cycle that plagues the house of Atreus.
"In this show, there is not a true decisive point of view on what the ending should have been," said Stultz. "It makes the audience think who is wrong here. Most stories just include the hero's point of view so it's easier to have a happy ever after."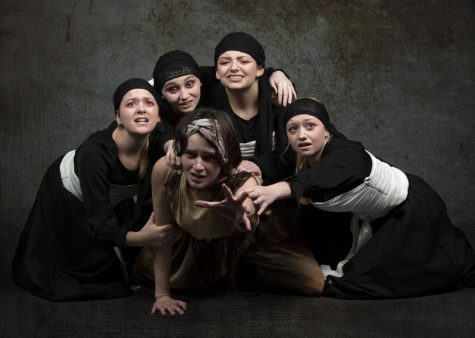 The opening night of "Electra" will be extra special, as the UNCW Theatre Department will be receiving the 2022 North Carolina Theatre Conference College/University Award. The award acknowledges community engagement, excellent productions, outstanding academic programs and mentoring of students.
"I hope audiences walk away with a new perspective on Greek theatre," Ferguson said. "Because all in all, they are just people experiencing horrible, tragic things. They react the same, have similar family dynamics, and I think the nature of the language makes us forget that."
Tickets for "Electra" can be purchased online through the Kenan Box Office online or in person, an hour before showtime. The play will begin each night at 8 p.m., with matinees on Sunday starting at 2 p.m.