UNCW's 2023 Studio Art Faculty Biennial provides a glimpse into the honed skill and expertise of university faculty
Skye Dlugy-Hegwer, Staff Writer
January 22, 2023
UNCW's Studio Art Faculty Biennial opened Thursday, Jan. 12, giving visitors a view into the creative process and creations of some of the university's studio art faculty. The sixteen exhibiting artists display artworks pondering personal themes as well as global ones in a multitude of different artistic mediums including quilting, metalsmithing, painting, photography and ceramics.  
On view at the CAB Gallery until Feb. 17, this exhibition is a perfect example of the honed skills, talent and expertise that studio art faculty have to offer to current and future studio art students. 
Andi Steele, who creates site-specific interactive installations, exhibits two pieces in the show entitled "Twisted Shield" and "It's a Trap", respectively. Unlike the rest of the show, these pieces were physically interacted with during the opening reception. In fact, interaction is essential to grasping the depth of their meaning. Steele placed "Twisted Shield" on the heads of select viewers to demonstrate its function. 
"All of my work right now is playing with this idea of being trapped, or being restricted, and balancing that with being in a protective place," Steele said.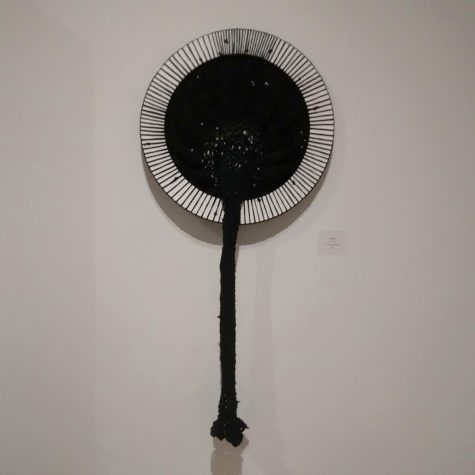 "It's a Trap", a knotless netting tube made from recycled materials, is reminiscent of the finger traps that we all played with as children. Opening night visitors were welcomed to place their arms in the tube to experience the juxtaposing feelings of being trapped with that of being comforted by the soft recycled t-shirt material. The reactions varied but there was an overall sense of excitement for the ability to interact with the pieces in such a personal way. 
Adjacent to Steele's piece are a set of vibrant, playful quilts entitled "High Score". The quilts, made collaboratively by Madison Creech and Matthew Creech, depict the scene of two figures playing an arcade game excitedly with a pop art style light-heartedness. The scene is replicated on each quilt with the only difference being the age of the players. On the left quilt, the figures are children, and on the other, they are elderly. Both artists spoke about taking pride in aging and all that comes with it, and recognizing that we never lose our playful side.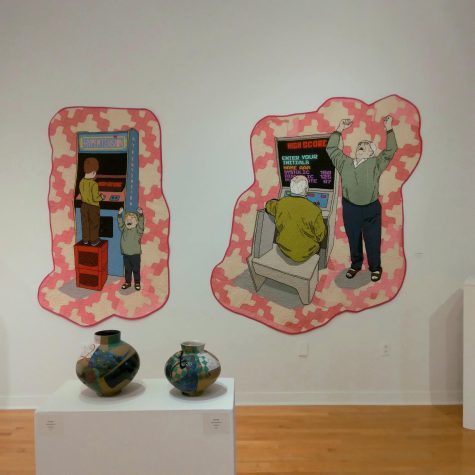 As the illustrator of these quilts, Matthew Creech gets back to the basics in his illustrating process, using pencil and printer paper. At the opening, he discussed his inspiration for his designs and his interest in depicting elderly people.  
"I'm interested in senior citizens, the aging process. It can be funny- I think it should be funny. I know that our bodies fall apart and our mind goes, but I think we should enjoy it while we can," Matthew Creech explained. "That stems from my grandma, who passed away, but she was the best. She was so funny, and she was still a kid when the grandkids got together, and just a joy, all the time. She never complained about hurting or being sick. She would do these really off the wall things to make us laugh and so I think I've drawn a lot of inspiration from her."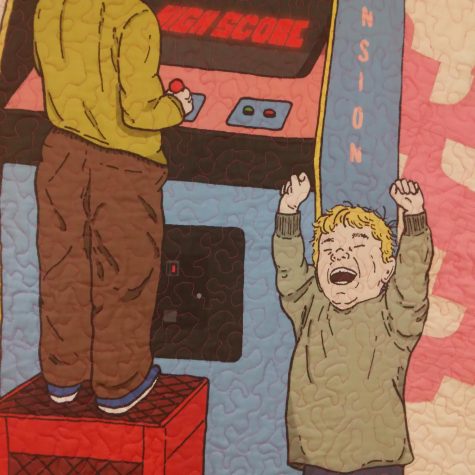 After Matthew Creech completed the illustration, Madison Creech took the print, emphasizing certain elements and stylizing them in the quilting process using color and pattern to add her own voice to the piece. Madison Creech, as the artist making the final quilts, spoke about inserting her voice in the final object using a medium that is typically thought of as a secondary to the subject matter.  
"I think of textiles as an artform and even if it is quieter, it is still an artform … A lot of the work and the concept can be embedded in the process as opposed to the end final product," Madison Creech said.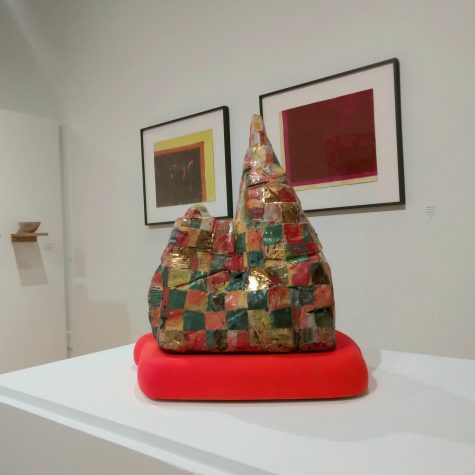 Steve Kelly's ceramic and carved wood sculpture, "Sacrifice Mountain", equally catches the eye of the viewer with its bright, neon colors.  
"It's from a series called 'Objectified Earth', which is a series I've been doing that deals with the intersection of property and climate change, and the way in which we subdivide up mountains and pieces of property into grids and into rotation crops," Kelly explained.   
Kelly approaches the visual representation of this serious subject matter with a certain playfulness in his use of bright color and bubbly forms, making it more approachable. 
"I think a lot about toys and games so those are things that are currents through my work but when I make these things, I'm really tapping into that thing when you're a kid making things out of mud," Kelly said. 
He explores a universal theme, one that impacts us all, in such a way that we can all approach the conversation. Other artists such as Jeremy Millard explore more personal themes with equally beautiful delicacy. In his linoleum print "Age of Aquarius", Millard depicts his daughter's coming of age under the full Aquarius moon. "She's going through a lot of changes and she's in that sort of expanse of youth and young adulthood so she's emerging out of the water," Millard explained.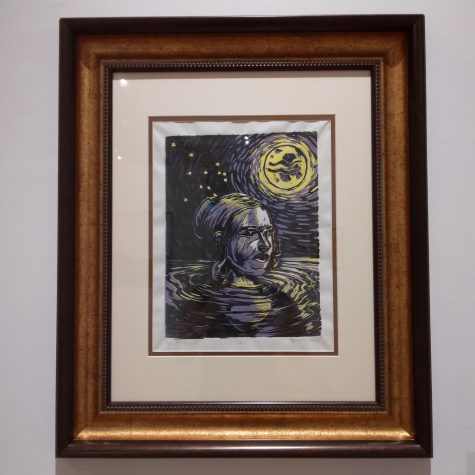 Millard spoke affectionately about witnessing his daughter's growth and the symbolism in creating a piece to commemorate this stage in her life.  
"It wasn't necessarily meant to be that way but when I finished," Millard said. "It was quite literally a full moon, age of Aquarius." 
The process of making the piece, a reduction linoleum cut print, requires that material be cut away from the same block to create the different fields of color. The process is one of a kind because the prints can never be made with the same block again, nor can the prints be reproduced exactly. This parallels the beautiful symbolism of the piece – his daughter's process of growing and becoming a woman is equally ephemeral. 
This exhibition includes many other pieces to explore and dive into, to ponder just as the artists have done through the meditative process of creation. Themes of protection, parenthood, aging, and interaction with nature seem to be strong among these artists. However, the beauty of the exhibition is seeing how differently their minds grasp their topics of exploration in their chosen mediums.  
On view until Feb. 17 at the CAB Gallery, the Studio Art Faculty Biennial is worth seeing for a chance to glimpse into the creative minds of some of UNCW's Art Department creatives.