BOOK CLUB: 'Bigger Than Bravery' proclaims the persisting joy in the Black experience
The Seahawk closes out its book club with our December pick, "Bigger Than Bravery: Black Resilience and Reclamation in a Time of Pandemic." Fans of both nonfiction and poetry will marvel at this genre-integrated read. Exploring both the pandemics of COVID-19 and systemic racism, "Bigger Than Bravery" is a thorough portrait of a perilous year.
Lookout Books, a small, independent publishing house affiliated with UNCW, released "Bigger Than Bravery" on Nov. 15, 2022. It was the focus of several Writers' Week events, with contributors Josina Guess and Imani Perry hosting separate craft talks. The book has already received widespread acclaim, being named one of the Best Books of 2022 by Library Journal and the Big Indie Book of Fall by Publishers Weekly.
The book's editor, Valerie Boyd, was a lauded writer, editor and scholar. She was the author of award-winning biography "Wrapped in Rainbows: The Life of Zora Neale Hurston" and editor of "Gathering Blossoms Under Fire: The Journals of Alice Walker," among other achievements. During her time as a writer in residence at the University of Georgia, Boyd founded and directed the narrative nonfiction MFA program, a position she carried with pride. "Bigger Than Bravery" was her last project before she passed away on Feb. 12, 2022.
As Boyd described it in the book's blurb, this collection serves as a "first draft of history." It is a combination of essays and poems written by 32 Black contributors that address the dual pandemics of COVID-19 and systemic racism. Progressing through a loose timeline of the COVID-19 outbreak, each work in "Bigger Than Bravery" tackles a topic that was close to the writer during that time. "Bigger Than Bravery" showcases the perseverance of its Black writers despite the various challenges 2020 presented to them.
"Bigger Than Bravery" is a remarkable contribution to the literature working to fill a hole in book publishing. Within the industry is a long history of supporting books that speak only of Black suffering, which then simultaneously reduces the lived experiences of Black people and makes a spectacle of their trauma. As implied in the subtitle, "Bigger Than Bravery" combats this issue. It accomplishes its mission of being "an essential record of how Black people in America insist on joy as an act of resistance" by giving its writers a space to express both joy and resistance.
On the resistance front, many of the book's essays and poems address systemic racism directly. Whether by mention of the countless murders of Black people pre- and mid-pandemic, the author's personal encounters with racism or its systemic effects on our country, each account presents truth on the subject.
Imani Perry's essay, "Racism Is Terrible. Blackness Is Not," most directly addresses this intersection. She rejects the sympathy that extends to Blackness in statements against racism, describing the beauty of being Black. Her celebratory tone extends to the rest of the book, as its writers stand tall despite the ongoing dual pandemics.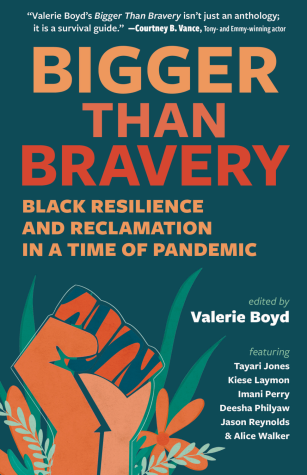 Lolis Eric Elie's "A Survivor Looks Back" begins with an address to his son, describing the outbreak of a virus that readers might first assume to be COVID. As the essay continues, Elie reveals that he is in fact discussing racism. His extended metaphor becomes more and more compelling as he incorporates countless examples of Black persecution. By incorporating fears for his son's safety, as well, Elie challenges readers to confront the dangerous reality of systemic racism.
On the joy front, however, many of the contributors choose subjects apart from racism as the focus of their essays or poems. In "The Quarantine Album: Liner Notes," Deesha Philyaw grapples with loneliness—particularly in a romantic sense—and the stigma around discussing it. In "Joyride," Karen Good Marable recounts blasting music with her daughter during quarantine bonding drives. In "Mine," B. Brian Foster examines his mother's breakaway from a controlling life to one that is her own. These themes of family, relationships and personhood give readers glimpses into not just the subject of the work, but the writer themself, developing emotional investment at every turn.
It is clear that COVID affected each contributor differently. Several works tackle the rejuvenation in nature—Opal Moore's "Spring Mix" and Alexis Pauline Gumbs' "Sky Study"—and in food—Jason Reynolds' "Char" and Shay Youngblood's "Feasting on Bread and Dry Bones"—that comforted the authors during this time. Some discuss the slowness of quarantine life, such as Honorée Fanonne Jeffers' "Lockdown Prayer," while others like Ida Harris' "Who to Tell?" depict the stress felt during the strenuous time.
The commonality between them all, however, is the respect around the subject. The impact of COVID-19 is portrayed with the gravity it demands, even for those writers who did not personally encounter the virus. The notes of peace around quarantine that some essays discuss—the beginning of Rosalind Bentley's essay, "Iron and Brass," for example—are never far from an acknowledgement of the fear and chaos worldwide. This consciousness reflects the character and investment each contributor shows toward this time, building trust with the reader.
The book's structure lends itself perfectly to its own stated goals. The poems break up sections of chronologically related essays, providing a thoughtful pause after heavier reading. They don't just serve as a break, though, as each poem is well-crafted and reflective, providing a different kind of commentary on the dual pandemics. Some, like Sharan Strange's "Poem Beginning in the Market as a Meditation on Hope and Fear," blur the lines between nonfiction and poetry, giving readers the full effect of this genre collision.
Not a single work in this collection feels out of place. While the core subjects of each work vary, readers are able to make thematic connections aside from the recurring discussions around COVID and racism. "Bigger Than Bravery" does not just discuss community but also creates one among its contributors. With so much variety in its pages, it has the capacity to touch readers of any race through both relatability and distinctiveness.
A collection unlike any other, "Bigger Than Bravery: Black Resilience and Reclamation in a Time of Pandemic" reflects the beauty and indefinability of the Black experience.
This review is the last entry in The Seahawk's run of our monthly book club. We will be transitioning to individual book reviews for the new year. We thank you for reading alongside us throughout 2022 and hope you enjoyed our picks for the year.