Upperman stands out with awards at annual conference for cultural centers
Just two months ago, UNCW's Upperman African American Cultural Center was awarded "Center of the Year" by the Association for Black Culture Centers (ABCC) at their annual conference from Nov. 3-5. The center also received the "Kuumba Innovative Program of the Year" award for its "Juneteenth Teach-in" event, and program coordinator Ashlee Fleming was named the "New Professional of the Year," as well.
ABCC as an organization is over 30 years old. Its annual conference, which is in its 33rd year, is designed to both bring cultural centers around the country together, and to honor the centers and people that have stood out with their creative, educational and successful programming for their respective university communities. Every year the conference is held in a different location; this year's host city was Albuquerque, New Mexico. One of the goals in moving the location each year is to bring together cultural centers across the entire US. Upperman has hosted the conference twice thus far–once virtually due to the pandemic, and the second time in a hybrid fashion.
"This one [Center of the Year] is really special because it is an award based on the national association that would be the closest fit for our African American cultural center," said Sean Palmer, director of Upperman African American Cultural Center. "We are grateful because this is the first time we won a major award from the association."
The "Kuumba Innovative Program of the Year" award is based on the Swahili word, kuumba, which is the sixth principle of the African American holiday of Kwanzaa. Emphasizing values of community and togetherness, kuumba encourages people to leave their community better, stronger and more beautiful than they had originally found it. In order to be considered for the award itself, cultural centers across the country submit programs or events that have moved their spaces forward and provide metrics for those programs. The "Juneteenth Teach-in" was hosted on June 15 in collaboration with various community groups and facilitated conversations on a variety of topics including education, activism and justice, among others.
"Juneteenth became more popular when it became a federal holiday a few years ago, but we were already doing this particular program, which brings together colleagues from around the city and folks on the university campus, and leveraging that as a way to bring teaching as a part of the Juneteenth experience," Palmer said. "It's not just a celebration, but also a preparation for the future. I think our colleagues saw it as something that other schools could learn from."
Ashlee Fleming, ABCC's "New Professional of the Year," has been a member of Upperman Center's community since before her time as program coordinator. Fleming, who was grateful to see an award representing the hard work that she had put in, described winning it as a "full circle moment." She first began her journey at UNCW as an undergraduate student and student leader at Upperman Center. After graduating in December 2021, she worked as a temporary staff member for Upperman, before finally entering her now permanent role as one of the center's two program coordinators, alongside Renee Clauson-Rivera.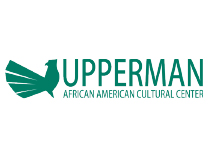 Fleming's position is inward-facing and primarily focused on mentorship and coordination with student leaders. Conversely, Clauson-Rivera's work is more outward-facing to people within Upperman and the rest of the UNCW community.
"Each year Upperman has a theme that we go with–this year's theme is 'A is for Activism', and it also ties into our 60th anniversary of Black student life [on campus], which is this year as well," Fleming said, in regards to the 2022-23 year's programming. "A lot of what we're doing is classic stuff, vintage, throwback and things like that. [For example] our art exhibit is all about student leadership and engagement, our Black student unions and also Wantu Wazuri, which is what the group of students or activists were called before it started being called 'Black Student Union.'"
This year, Upperman Center, and Clauson-Rivera specifically, planned and hosted an event called the "Wilmington 10 Symposium" in order to educate UNCW and Wilmington about the wrongful conviction of 10 community members (nine men of color and one white woman) who had allegedly committed arson against Mike's Grocery, a local white-owned business, in February of 1971. Although their convictions were a direct result of the high racial tensions in Wilmington at the time, the Wilmington 10 weren't pardoned until 2012, almost 42 years after their initial arrests. The symposium, which took place last month, aimed to educate attendees and encourage them to reflect on the decades worth of civil rights issues in Wilmington.
"That was just a really impactful event for me, because growing up in Wilmington, that's another part of our history that we never learn about," Clauson-Rivera said. "I think that because of the times that we're in in America and politically, that it's important for the students on campus to learn about that pervasive racial history in Wilmington, but also for the community to get a better understanding of the role that Wilmington plays in history, as well."
Despite the success and positive results that the Wilmington 10 Symposium yielded, however, Clauson-Rivera believes that the Wilmington community hasn't truly reckoned with its racist underbelly and maintains a certain level of apathy to that part of its history. The city has continued to bypass educating students about the Wilmington 10, as well as the 1898 riots, thus indicating overall indifference to the former events and their modern impact on the Wilmington community. Because of this, one of Upperman's primary goals has been making up for the shortfalls in people's knowledge of Black history and culture.
Upperman's main priority going into 2023 is maintaining the level of Black excellence that they have established thus far, as well as ensuring that their programs and actions have a far reaching positive impact throughout UNCW's campus. A central issue that the center has faced over the years has been lack of support for the initiatives that they were trying to organize, which often required students to have to play a role as leaders that they were not compensated for. However, Palmer, Fleming and Clauson-Rivera all have faith in the center's ability to elevate the Black student experience at UNCW, as well as the practical influence that attending Upperman events can have on the general student body as a whole.
"The center is a powerhouse in design, development and intentionality," Palmer said. "There are so many things to be proud of in terms of the work, as we continue to make a dent in how we expand culture on campus. We want to elevate joy."