UNCW's Fall 2022 Senior Art Exhibition is an ode to identity, experiences and moments in time
Twelve graduating senior Studio Art majors debuted their artworks at the opening reception for the Senior Art Exhibition on Nov. 18. As a graduation requirement for majors, many of the included artists used this show to ponder themes of personal trauma, forgiveness and capturing moments in time. Multiple exhibiting artists expressed interest in the female body that, in part, relates to recent political events that impact women's bodily autonomy. This striking show is now on public view at the CAB Gallery until Dec. 14, the end of the semester.
The artists used a variety of mediums such as ceramics, painting, printmaking, charcoal, 3D printing and animation. The subject matter ranges from realistic self-portraits to abstracted sculptures and literary references, yet most of the graduating seniors chose to explore themes important to their experiences.
Like in previous semesters, the seniors were responsible for the installation process for the entire exhibition, with guidance from professor Anne Lindberg. They collectively designed the exhibition layout, giving each artist an opportunity to shine. Inserted walls divide the gallery space to provide each artist with an area to display their work. As viewers walk around the space, new ideas confront them at every turn.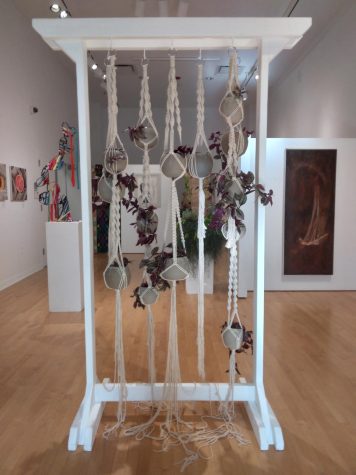 Upon entering the gallery, the first piece in the center of the room is entitled "Vessel for Life," a ceramic installation by Amanda Heitchue. Using ceramic vessels and silver inch plants, Heitchue explores her pregnancy and the growth of her and her son.
"The silver inch plant is symbolic of fertility, and in ancient times, it was actually used as an antioxidant and anti-inflammatory medicine, which are all essential elements in pregnancy," she said. "Not only are the vessels getting larger, but the plant, the organism inside, is also growing too."
Heitchue uses the plant in different stages of its blooming process to represent organic growth.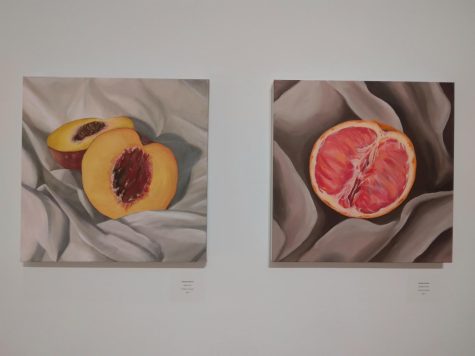 In her paintings "Peach Fuzz" and "Grapefruit Juice," Hannah Iovanna also explores the female body through non-human subject matter by using still-life imagery of cut fruit, on what she describes as "sensual-looking fabric."
"My work is discussing the visual similarities between the female form and objects in still life," Iovanna said. "I love the idea of elevating the ordinary into something that is accessible in the art world because, oftentimes, art feels inaccessible or out of reach. So, using subject matters that everyone is familiar with allows the viewer to connect more with the work."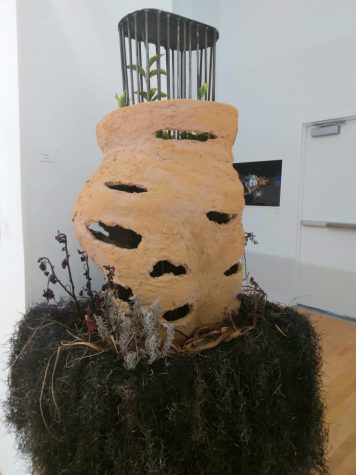 Karis Finn, another graduating senior, presents three sculptures in the exhibition considering the themes of love, forgiveness and unity. However, she explores a particular kind of love defined by ancient Greeks.
"The Greeks had many conceptual words for love," Finn said. "There was a love for God, a love for people, a friendship love, a romantic love. My pieces reflect agape love, which is love for God and love for each other."
In her pieces "To Forgive" and "To Not," Finn explores how forgiveness and holding onto the pains that others have caused affects us. Using clay and other organic materials, Finn creates human forms surrounded by plants and taxidermized butterflies. "To Forgive" depicts a whole human body while "To Not" depicts a human form perforated with the holes that symbolize how pain bores through the soul.
"It's almost like taking love but to a deeper level and not keeping it in its stereotypical form and really understanding what the Greeks were after," Finn said.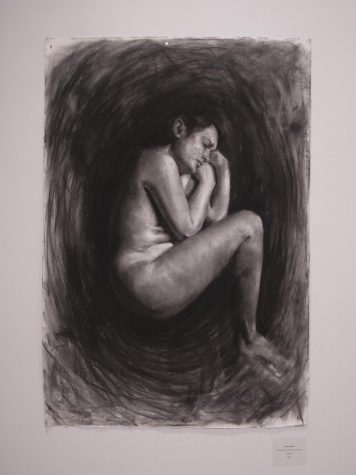 Olivia Froelich uses art—specifically the creative process of her charcoal drawings—as a form of confrontational therapy to deal with her own sexual trauma. In her emotionally evocative trio of nude self-portraits entitled "And I Was One of the Lucky Ones," Froelich portrays herself in vulnerable ways that are typically kept behind closed doors. In one of the drawings, she presents herself on the floor, screaming with anger and pain. In another, she lies in fetal position, her face devoid of emotion. The darkness of the charcoal adds more intensity to the feelings of anguish.
"It's more about the process than the final outcome," said Froelich. "[It's about] sitting there and drawing and having to face the emotion that's on the page, developing it for hours. I used charcoal and sandpaper, and the sandpaper grinds away layers of the really thick printmaking paper that I used, so that process in itself was therapeutic."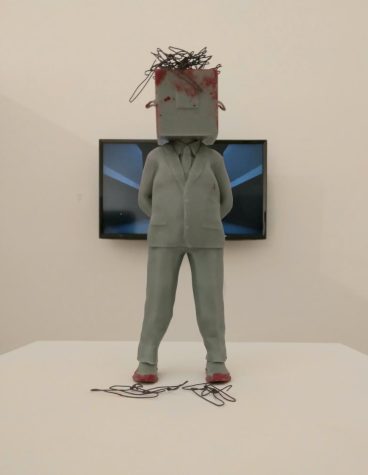 In a space at the back of the gallery, Kevin Paradis exhibits his surrealist pieces made through 3D printing, animation and still imagery. One of Paradis' most striking pieces, garnering visceral responses from viewers, is his 3D sculpture entitled "Too Far." This sculpture, standing at the size of an action figurine, depicts a gray-suited man with a ballot box for a head full of bloodied hangers that overflow to fall at his feet. This piece is mirrored in one of his still imagery works, "My Body; No Choice," which depicts a lone ballot box covered in blood, full of hangers.
These pieces call on recent political events, most notably the overturning of Roe v. Wade, to get viewers thinking. Ultimately, he is successful in jarring viewers. Multiple attendees at the opening reception had strong reactions, one person stating that they just couldn't look at the figure's head.
"Overall, my artist statement is to just bring controversy to each person's subconscious and whenever they look at it, it just really opens their mind," Paradis said. "I'm not trying to step on anybody's toes or offend anybody. I just want people to open up and explore."
One artist, Claire Golden, uses literary inspiration in her works to capture the moment before a major event. Her piece "Bargains in the City of Dust" comes from a short story that she intends to write, while "Until the Earth is Free" is a literary and cinematic reference to "Les Misérables."
"For each of my pieces, my intention was to tell a story, and it just so happened to work out that I decided to create a moment of the pregnant pause, like a moment right before change is going to happen," Golden said.
This intention to capture the "pregnant pause"—a moment of suspense before a major event—is relevant to the moment that each artist exists in currently. This show marks one of the final steps before a major change in their lives, their graduation and the start of their artistic careers beyond UNCW.
On view until Dec. 14 at the Cultural Arts Building Gallery, the Fall 2022 Senior Exhibit is worth experiencing for its beauty, its creativity and its striking subject matter.