Jessica Clark unveils Indigenous artworks in partnership with UNCW
The Honoring Southeastern NC Indigenous Peoples Celebration, held on Thursday, Nov. 3, served to commemorate the lives and culture of Indigenous peoples. The day featured many Indigenous performances in the amphitheater, celebrating both traditional Indigenous practices and modern life. Cheers filled the air of the Clock Tower Longue as three paintings recognizing Southeastern Indigenous cultures were revealed to the public. Artist Jessica Clark focused specifically on contemporary Indigenous peoples when creating her paintings.
"So often when native people are talked about, they're talked about in the past tense, and I wanted to include images that were present day, that put us in the here and now, because we're still here," said Clark. "A lot of people don't know a lot about native histories and native cultures, so I wanted to present that in a way that was contemporary and that they could relate to."
Clark's three paintings were commissioned by UNCW following the Office of the Arts' open call for art honoring the Southeast Indigenous people living in North Carolina. This comes as part of the university's concerted effort to increase discussions about social injustice and celebrate diverse communities. The selection process was led by a committee featuring UNCW staff and local members of the Southeastern Indigenous community.
Clark is a member of the Lumbee Tribe of NC. She earned her bachelor's in studio art from the University of North Carolina at Pembroke and her master's in painting from the Savannah College of Art and Design. Her work has been featured in numerous installations, including those at the Museum of the Southeast American Indian and the Savannah College of Art and Design.
"The selection was so hard. Seeing these in person, this is what it was supposed to be. I'm being overwhelmed by how fantastic it is," said Nancy Strickland Fields, member of the Lumbee Tribe of North Carolina. Strickland Fields, an alumna of UNCW, serves as a trustee for the North Carolina Humanities Council and spoke as the keynote speaker for the art unveiling.
Each painting features a collection of images depicting various themes related to the lives contemporary Southeast Indigenous people. Clark took inspiration from both personal and loaned photographs to create her paintings, referring to her pieces as "collages recreated in paint."
"We Are Protectors" centers on the connection between native people and the landscape of North Carolina. Depicting basket weaving and the sweetgrass important to the Waccamaw-Siouan community, it promotes sustainability and collaboration.
"We Are the Seeds" is another painting focusing on agriculture and features Pamela Young-Jacobs, the first elected female Vice-Chief of the Waccamaw-Siouan tribe. The painting portrays the importance of corn and the crucial role of women in indigenous communities.
"Diversity is someone inviting you to the party. Inclusion is asking you to dance," said UNCW alumna Alexis Raeana. Raeana performed the opening song during the ceremony.
Raeana features prominently in "We Are Advocates," a work dedicated to native activism. Raeana protested the racist depiction of Indigenous people in Halloween costumes in 2015 for three days on Chancellor's Walk. At the time, she also served as the reigning Miss Lumbee, a representative of the Lumbee Tribe.
"Just to see it on campus, frozen in time, was full-circle for me," said Raeana.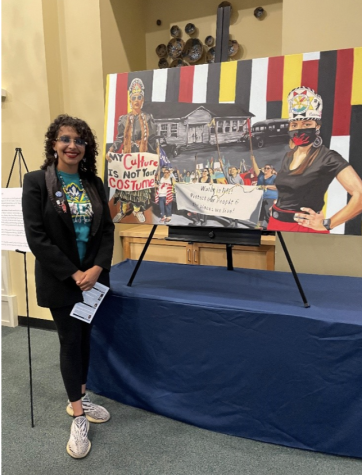 Retired North Carolina educator Eustacia Lowry-Jones attended the unveiling with Raeana, her daughter. "It [was] an honor for the community as a whole to be here, not just as a university but as a community of Indigenous people, supporting education and supporting a bright community," said Lowry-Jones of the unveiling.
Clark hopes people from all backgrounds can relate to her artwork while also honoring the lives of Southeastern Indigenous people in both the past and present.
"I want them to take away…that we're still here, we're still fighting some of the same struggles we've been fighting for two [to] three hundred years," she said. "But we're still here, we're still resilient, still living in this contemporary world. And we're not going anywhere."
Clark can be contacted at jessicaclark.com. She is also active on Instagram under @jessicaclark.art and Facebook at Jessica Clark Art.
"We Are Advocates," "We Are Protectors" and "We Are the Seeds" will remain on display on the second floor of Fisher Student Center near the UNCW bookstore. Additional artwork by Clark is also available for viewing in Randall Library.