UNCW Theatre Department to present 'Fight Girl Battle World'
Olivia Vizethann, Staff Writer
November 9, 2022
UNCW's Theatre Department prepares to share their final production of the fall semester. This story tells a witty version of the Biblical story of Adam and Eve through a sci-fi lens in their upcoming production "Fight Girl Battle World." Fans of "Star Wars" and "Star Trek" will enjoy this action-packed tale that indeed takes place in a galaxy far, far away.
In the playbill, director Elizabeth Wellman states, "It's chock-full of pop culture references and allusions to the Hebrew Torah and Nevi'im, also known in Christian traditions as the Biblical Old Testament. It offers us many intriguing possibilities to discuss—theological, philosophical, and cultural. It has offered to our designers, directors, dramaturgs, actors, and technicians just as many creative possibilities."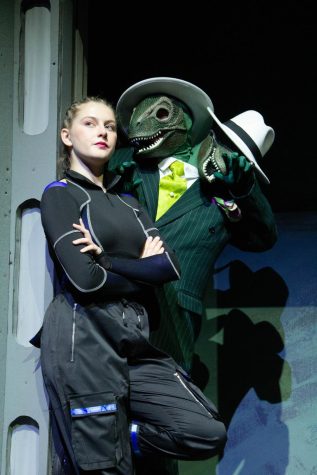 Qui Nguyen's epic tale tells the story of E-V, a sassy insurgent and the last human female in Battle World, which is run by a two-headed lizard named Zimlek. E-V also happens to be the last female human in the universe—a fact she keeps to herself, since the human race developed a reputation of being cruel and cannibalistic in the aftermath of the Human Wars.
Twenty actors will be taking part in this production, playing the parts of robots, blue-haired androids, red-headed beauties with hamster ears and a handful of other alien species unknown to this world. Three of these actors are international students from Rose Bruford College in the U.K. Rose Bruford and UNCW have had a long-standing relationship, and the Theatre Department is happy to have so many talented international students participate in the program.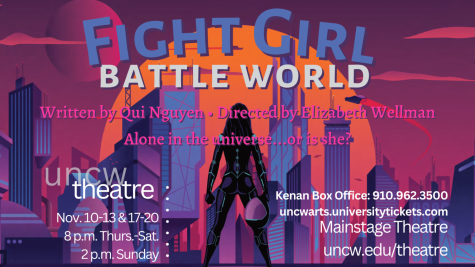 In addition to this production offering so many different roles, it also provided the Theatre Department with opportunities to use their imagination through set design. "Wowed by the aliens, robots, rocket ships, and ray guns—all designed and built right here in our very own Cultural Arts Building!" said Katherine Montwieler, Interim Department Chair, in her excerpt in the playbill. "Fight Girl Battle World addresses, I think, the problems of being human today and probably every day."
Woven throughout the colorful imagination of this story, "Fight Girl Battle World" touches on topics of environmental destruction, existential loneliness, the idea of souls and seeing past physical differences.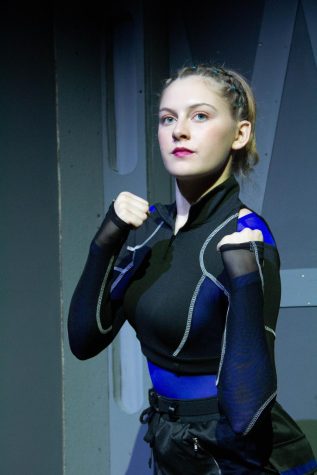 "We see these connections in the arch names of E-V, Adon-Ra, and LC-4, which allusively recall some famous figures from Genesis and Isaiah, and in the sharp and clever dialogue that nods to George Lucas, Steven Spielberg, and Gene Roddenberry," stated Montwieler. "Perhaps, Qui Nguyen suggests, that which connects us may ultimately be more powerful than that which divides us."
"Fight Girl Battle World" will be at the Cultural Arts Building Nov. 10-12 and Nov. 17-20. There will be no livestream for this production. Tickets can be purchased at the box office in the Cultural Arts Building or online. Take a step out of the normal world and get lost in an intergalactic story that may seem closer to home than we ever thought possible.