UNCW kicks off 2022's Writers' Week
Olivia Vizethann, Staff Writer
November 7, 2022
Nov. 7, 2022 kicks off the first day of UNCW's 2022 Writers' Week. This weeklong event is hosted annually by the Department of Creative Writing and is open to all students, staff and the general public.
The MFA and BFA students taking CRW 540, the Writers' Week Symposium class, created the itinerary for Writers' Week. This year is the first time since the pandemic that all events will be in person. Zoom options will be available for the Morning Pages as well as the Same River Alumni Reading.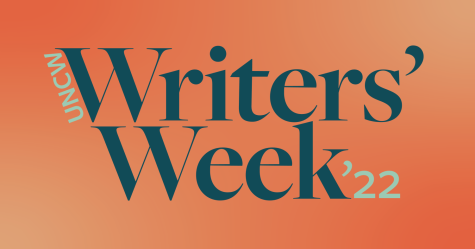 Each day begins with the 9:30 a.m. Morning Pages session. These are 45-minute writing exercises that will be hosted by: three different students from the 540 class; Rebecca Lee, whose short story collection Bobcat and Other Stories was an Oprah Book of the Week; and Sayantani Dasgupta, who is a recent winner of WILMA Magazine's 2022 Women to Watch Awards. Monday through Thursday, events will continue all day until 7 p.m., and the week rounds out at 2 p.m. on Friday with a song performance by The Heavy Hearts Community Group.
This year's Writers' Week stands out due to its launch of Lookout Books' "Bigger Than Bravery: Black Resilience and Reclamations in a Time of Pandemic" by Valerie Boyd.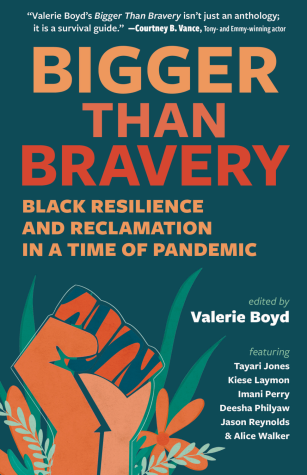 "It will be the first opportunity for readers to hear from multiple contributors, reading from their essays in the book, and in conversation with editor KaToya Ellis Fleming around the book's themes," said Emily Smith, the founder of Lookout. "I'm very much looking forward to sharing this vital, joyful anthology, so long in the making, with UNCW and the Wilmington community."
Lookout is an independent publishing house through UNCW's Creative Writing department. Their mission is to publish books written by underrepresented writers and shed light on lesser-known works by established writers.
"Both contributors to the anthology, Perry and Guess will read from their essays in 'Bigger Than Bravery' and will each give craft talks," said Smith. "We're thrilled that recent National Book Award finalist in nonfiction and Atlantic contributing writer Imani Perry will join us as the Katherine K. Buckner keynote reader."
Preceding the panel on Thursdays, Josina Guess will be giving a craft talk titled "Building a Writing Community," from 11-12 p.m. in the Azalea Coast Room at Fisher University Union. Guess is a contributing author to "Bitter Southerner." She will also read at the book release on Thursday as part of a South Arts funded grant. A book signing and reception, cosponsored by UNCW's Office of Institutional Diversity & Inclusion, will follow.
Imani Perry will be speaking Friday Nov. 11 also in the Azalea Coast Room at 10:30 a.m. A decorated author of six books and current professor of African American Studies at the University of Princeton, Perry will be sharing her notes on craft in "Tussling with My Sword in My Hand." Before the reading, faculty editor KaToya Flemming will be a part of the panel discussion, sharing her part in making 'Bigger Than Bravery.' Smith explains that "the panel will focus on preparing the next generation of publishers and nonprofit innovators to lead initiatives that support diverse perspectives and narratives."
"'Bigger Than Bravery' is very near and dear to my heart, particularly because our author Valerie Boyd passed away during the production of the book," said Flemming. "I hope people, particularly aspiring authors, walk away from the panel knowing what a labor of love the editorial process is. I hope that people come away from the launch able to find their own joy and resilience, even during these tumultuous and often sorrowful times. That's what Valerie would have wanted."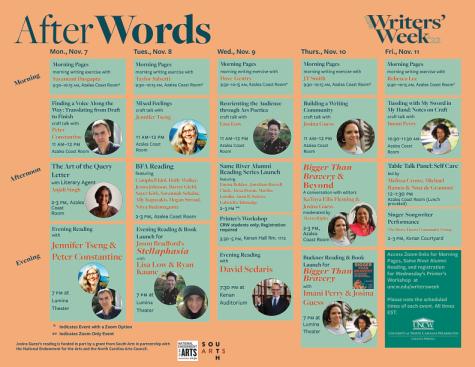 No Creative Writing classes will be held the week of Nov. 7-11 in lieu of Writers' Week. It is an excellent opportunity for students and staff of every department to learn about different aspects of the literary community, network, and see the behind the scenes of publication. The time taken to explore even one event, from the "Self-Care" panel to "The Art of The Query Letter," could provide a life-long literary pay-off.
"There are also going to be some great readings from our current students and alums and some fantastic literary guest speakers like Imani Perry and David Sedaris that you wouldn't want to miss no matter what your major is," said Flemming. "There's really something for everybody during Writers' Week."
All events will be held on UNCW's campus. The events are open to everyone, no sign-up required, with the exception of the Printer Workshop, Wednesday Nov. 9 at 3:30 p.m. Zoom Links for the Morning Pages as well as the link for registering for the workshop can be found on the UNCW Writers' Week page.