BOOK CLUB: 'Unlikely Animals' is a reminder that even the most lovable have quirks
The Seahawk's book club pick for October is the perfect pick for a cozy autumn read. Written by up-and-coming author Annie Hartnett, the novel presents a comedic mystery complete with a dysfunctional family situation. At first glance, the reader expects a lighthearted tale that, if done correctly, will leave the audience on the edge of their seats. Hartnett gives all that and more as the novel explores familial and friendship roles while also tackling issues like substance abuse and terminal illness. If you enjoy a classic small-town story with an underdog protagonist, this novel is for you.
Annie Hartnett is the up-and-coming author of two books: "Rabbit Cake" and her recent hit "Unlikely Animals," published on April 12, 2022. She also has two other Audible Original books, both keeping with her animal theme. Kirkus Reviews listed "Rabbit Cake" as one of the Best Books of 2017, as well as being named People Magazine's Book of the Week. With "Rabbit Cake"'s raving reviews, "Unlikely Animals" was a highly anticipated release amongst fans. Readers thoroughly enjoy the way that Harnett addresses raw topics while simultaneously keeping a lighthearted beat to the story from the beginning to the very end.
As Emma Starling reluctantly returns home from California following her evasion of med school, she is thrust into the role of caretaker for her sick father while also fighting her mother's disappointment. Heightened by the disappearance of her magical healing power that could potentially save her father, she must settle into a town that is haunted by the disappearance of her high school best friend Crystal. In a desperate attempt to please her mother, Emma takes a job as a permanent substitute for a class of fifth graders whose teacher is on indefinite leave. Emma immediately takes interest in knowing her students, including Leanne Hatfield, whose life becomes increasingly connected with her own as the secrets that lay behind the impenetrable gates of Corbin Mansion are exposed.
The cozy imagery depicted throughout the town is not far off from reality. In a small excerpt following the conclusion of the work, Hartnett tells of her inspiration for the multi-dimensional story and the way the pieces fell into place during her interview process. While visiting Newport, New Hampshire shortly after the release of "Rabbit Cake," the author became intrigued by the history surrounding the mansion known as Corbin Park, which sits in the middle of the small town. As a result, she scrapped most of her previous project and shaped a new story around the history of Newport—one complete with the ghost of Ernest Harold Baynes, a once-real naturalist that lived and worked in Corbin Park.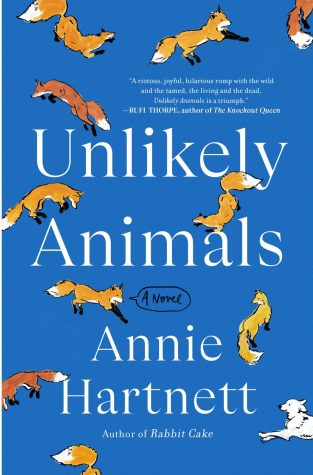 Bringing in animals from all over the world, Baynes' writings during his time at the mansion are sprinkled throughout the novel, opening each chapter with a lovely, sarcastic tale of his life as an animal whisperer. Baynes' character also becomes a close friend of Emma's father, making frequent spectral appearances throughout the story and complicating the lives of those around him. Sticking closely to the geography of the town in her shaping of the novel's fictional Everton, New Hampshire, Harnett created complex characters much in line with the actual inhabitants of Newport. Take Ralph Kelsey, owner of Corbin Mansion and beloved community elder, who coincidentally takes on many characteristics of the actual owner.
Unlike other works, Harnett writes as if no character has a background role. She intricately explores each character's life, even down to minor details like their favorite color. All admirably imperfect and complete with a comedic undertone, Hartnett craftily expresses the idea that even one's most picture-perfect counterparts have flaws. This adds another layer of dimension to the conflict that Emma must overcome as others interrupt her settling back into her small town. Although the story seems impossibly complicated at first glance, Hartnett expertly ties together each layer of conflict in such a way that does not overwhelm the reader by circling back to seemingly minute details.
However, the added detail pushes the climax too far into the story, leaving readers with a sense that it should have ended differently. The resolution of Crystal's disappearance feels like an afterthought with the attention to detail in all other small conflicts. The death of Emma's father in the closing chapter is also frustrating as various aspects of the story hint at his survival through the means of Emma's magical power. This is troublesome as the reader becomes attached due to the well-roundedness of each character.
In a redeeming vein, the story's unusual narrator intrigues readers up until the very end. An inhabitant of Maple Street Cemetery, the ghost frequently conversates with other residents, including multiple new arrivals, to add sarcastic commentary on the happenings of the town. This also gives each conflict an omniscient point of view and keeps each lovable character alive a little longer. Unlike other works in the genre, this addition builds the mystery by contributing a spooky undertone.
Throughout all of this, "Unlikely Animals" is a lighthearted yet sophisticated take on what it looks like to be a young person burdened by familial roles in a suffocatingly small town. The novel frequently addresses familiar topics such as clashing personalities in friendship, the burden of a mother's disappointment, and grief. It also includes strong themes such as drug use. Despite the weight of these topics, Hartnett takes a neutral stance on each subject as she empathetically navigates the impact on various characters. By letting each character speak for themselves on such issues, she adds a comedic yet equally respectful analysis that lifts the burden off of readers.
Hartnett also leaves each character with a redeemed storyline as the work closes. It is clear that Harnett not only wants her readers to find themselves in her characters, but loves them just as much as her audience. A work that readers won't want to put down until it's finished, the novel entices young people of all backgrounds, proving to be very deserving of its universal 4.5-star rating.