Chancellor Aswani Volety on his vision for UNCW
As students settle back into life on campus, so does UNCW's new Chancellor, Dr. Aswani Volety. On July 1, 2022, Dr. Volety returned to UNCW to serve as the university's seventh Chancellor. Volety, who previously served in the role of Dean of the College of Arts and Sciences and Executive Director of the Center for Marine Science, brings with him decades worth of education and research experience, particularly in the field of marine science.
"I always grew up being in a coastal town, going to the beach, picking up shells, walking on the rocks. It's something that's always fascinated me," said Volety on the start of his interest in marine science.
Dr. Volety completed his bachelor's degree in zoology and chemistry and his master's in marine biology at Andhra University in India. He then pursued his PhD in the marine science field at William and Mary, defining his expertise in shellfish, oyster populations and conservation. His postdoctoral studies focused on the balance between pathogens and host defense, as well as the effect of contamination on this balance.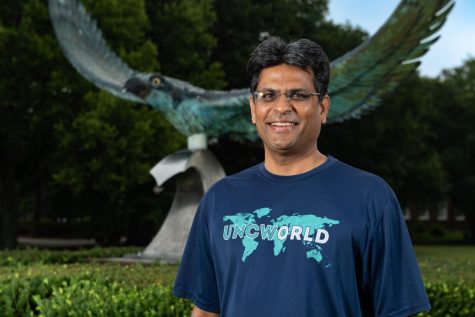 With these academic achievements behind him, Dr. Volety held several notable positions in the years following his schooling. He conducted research with the EPA, taught as a professor of marine science at Florida Gulf Coast University and worked on Everglades restoration. During his time with UNCW's College of Arts and Sciences from 2014 to 2019, Dr. Volety developed a variety of new educational programs, and in 2018 secured $5 million from Quality Chemical Laboratories. At the time, this was the most substantial philanthropic donation from a corporation in UNCW's history.
Prior to taking on the role of Chancellor, Dr. Volety served as the Chief Academic Officer and Chief Operating Officer at Elon University. Throughout his time at Elon, he oversaw many academic programs and colleges, such as the Elon University School of Law and the Elon University School of Health Sciences. Dr. Volety used the experience as an opportunity to learn the inner workings of a private institution and be a part of the decision-making process.
"You have to think through in the long-term, [adaptable] to the programs, where do the dollars come from before they get spent, the role of a strategic management, and how resources should be aligned," Volety detailed. "Those are some of the things I liked. It doesn't mean that we don't do some of those things, but the intentionality is something I appreciated at Elon."
On May 26, 2022, UNC System President Peter Hans nominated Dr. Volety for the role of Chancellor. In an interview with WECT News6, Volety described the offer to serve as Chancellor as "the opportunity of a lifetime". Along with his experience and connections to UNCW, it is his goals for the position that made him a stand-out candidate.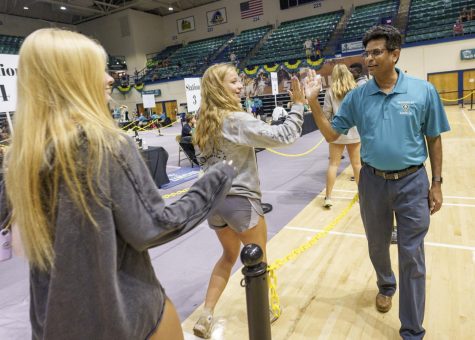 For his first year as Chancellor, Dr. Volety is prioritizing making a connection with the UNCW students, staff and faculty; wrapping up the $100 million goal, which is the largest campaign in UNCW history; and expanding programs that are undergoing growth in the Wilmington area, such as health sciences, arts, biopharma and hospitality.
"We need to make sure we are aligning the resources with priorities and creating an informed and educated citizen[ship]," said Volety. "Trying to balance supporting the programs that we created while creating new programs that meet student needs and that meet growing economic needs are some things to focus on. More importantly, really what I wanted to focus on is ensuring that students have hands-on learning opportunities, be it through internships and mentorship opportunities."
Dr. Volety is also looking forward to working with the university's students, staff and faculty to ensure that the student experience is the best possible as UNCW eases its COVID restrictions and returns to semi-normal proceedings. He emphasized that students are the "front and center" for UNCW experiences, and plans on ensuring that the collective student opinion factors into any major decisions that the university makes.
"Supporting the health and well-being of the campus community, which includes physical and mental health, will be the hallmark of UNCW for me," Volety noted. "Of course, it also includes mental health as well, as part of physical health and well-being, due to isolation and other factors. When I look at national surveys over the last few years, what a lot of students said is that when they were away from campus, working from their homes, the sense of belonging wasn't there."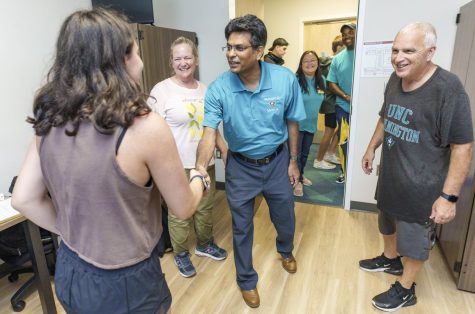 For those students who have only just left their homes for the first time, college can be a strenuous and anxiety-inducing transition. Even so, help is available to make this adjustment easier and to assist students with making friends, networking and preparing for classes.
"I'm glad they're here," said Volety of incoming students. "I want them to know that they're not alone. UNCW is a place like no other with a very familial atmosphere and unlimited resources to help students succeed. And it could be through campus programs, it could be through fraternities and sororities, it could be through faculty and staff members and it could be through advisors."
He emphasized that student and staff mentors and other support systems are available on campus to help new students find their way in UNCW. Additionally, he noted that the Career Center on campus would be worthwhile to visit for all students, rather than just juniors and students.
"The reason why you have so many options is not because everybody will do everything, but we have enough that somebody is going to be interested in a few things and find what they're passionate about through these ideas and connections," Volety explained. "So, I would encourage people to get out and get involved. If you need help, don't be afraid to seek help. It could be peer mentors, staff members, faculty members. It's a very caring community."
As part of his plan to place student success at the forefront of all UNCW's decisions, Dr. Volety outlined four concerns to assess for every decision he is asked to make: how the decision will help students; how the decision will help faculty and staff; whether or not it will push the university in a positive direction; and what the effect will be on the region or state.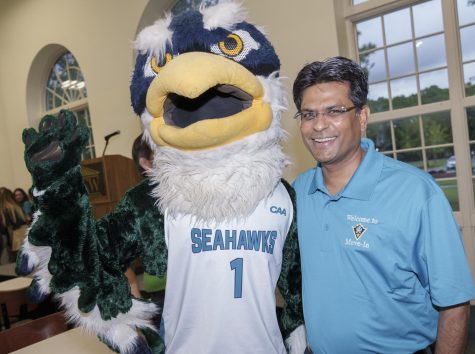 "As Chancellor, I should be the biggest advocate for UNCW," said Volety. "Connecting with the community, looking at what their needs and opportunities are, looking at faculty and staff and students and seeing what their hopes and dreams and aspirations are. My job is to make sure that the right resources are in the right place at the right time for faculty, staff and students so that you can do the best you can."
Education has always been incredibly important for Dr. Volety. The value of learning and school has remained a passion of his throughout his varied career in marine science, research and leadership.
"Education is the most important thing that we can invest in anybody, and I am an example of that," said Volety. "I'm a first-generation student, I'm from a low-income family and a third-world country. Really, my family's support, education, mentors, the opportunity to visit this great country and learn, that made a big difference in my life."
Volety wants to ensure that all students have a college experience as positive as his and plans on going out into the UNCW community to make the aforementioned connections and support everyone in their academic journeys.
"If the base of the ecosystem goes, so does the ecosystem," said Volety. "I used the same systems thinking in my Chancellor role. There's a lot of factors influencing the income, the stressors, the enrollment, and athletics, but the idea is how do we optimize the student outcomes. UNCW has always been a student-centered institution, and that is not going to change."