Former recon Marine swims at Wrightsville Beach to raise money for veterans struggling with addiction
On the morning of April 22, former recon Marine Keith Nelson completed a 13-mile open water swim around Wrightsville Beach in an effort to raise funds for a fellow recon Marine struggling with addiction.
"He has been swimming since he could walk," his wife Heidi Nelson said. "But I think his longest open water swim prior to this was around 5 miles."
Nelson started his aquatic pursuit at the public docks at Wynn Plaza. At around 6:20 AM, Nelson entered the water and headed south around the jetties located in Masonboro Inlet, continuing north about 5 miles parallel to Wrightsville Beach before turning west at the Mason Inlet. Nelson then headed back down the west side of the Intracoastal, finally cutting back east at Mots Channel so he could finish his trek back at Wynn Plaza. Support boats and paddlers provided him with gels, water or Gatorade every hour to assist the swim. 
"There was always someone swimming with him or on a board the whole time," Mrs. Nelson said. "He was never alone."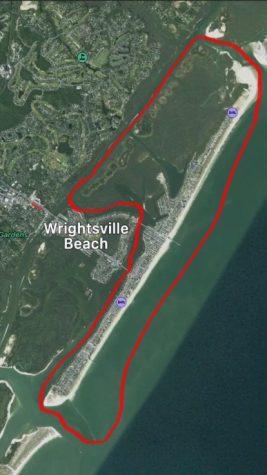 With no wetsuit, Nelson completed the swim against 12 mph winds, an incoming tide and 66 F ocean water with a total time of seven hours and four minutes. Wetsuits not only serve as a tool to warm the body in cold water temperatures, but also add a small amount of buoyancy which can greatly assist in open water swimming. All of these factors on top of the great distance Nelson covered in the water is hard to fathom, but Nelson simply said, "A recon Marine would rather die than quit."
"It was a little nerve-racking," Mrs. Nelson said. "It's a really long swim and he's never done that before. But it was honestly really inspiring and makes me very proud to know him and to love him. I got a little emotional at the end, I kept telling myself, 'don't cry, don't cry.'"
Though shaking with fatigue afterward, Nelson had nothing but smiles to share and expressed his gratitude to those who helped him complete this feat for a friend. 
"I feel really thankful for all the people that helped out and how much support we got so quickly," Nelson said, once finally on dry land. "Personally? I feel exhausted."
Nelson repeatedly thanked all those who came out to support him and was grateful to those who swam and paddled alongside him. 
"[My support swimmers] are all lifeguards, they're like my civilian recon friends," Nelson said of his support swimmers who took turns in the water. "They are all hardcore and I love it. They are all great."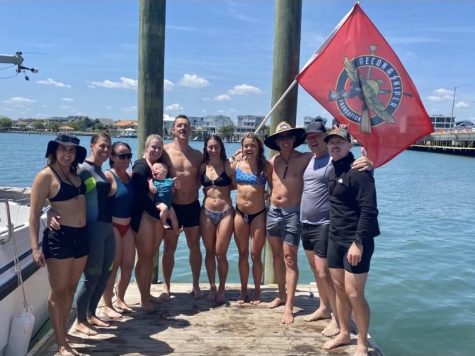 Having finished his career in the Marines back in 2008, Nelson now works at Wrightsville Beach as a lifeguard himself in the summertime and was greeted by celebratory sirens from his Wrightsville Beach Lifeguard team as he completed his swim.
"I wanted to do something that I wasn't sure I was able to do," Nelson said. "I've always been a swimmer and I've always liked a physical challenge. I'm a recon Marine—our skillset is amphibious, and we pride ourselves on pushing ourselves in the water."
Despite Nelson's incredible feat of athleticism and tenacity, none of this was done for his own glory.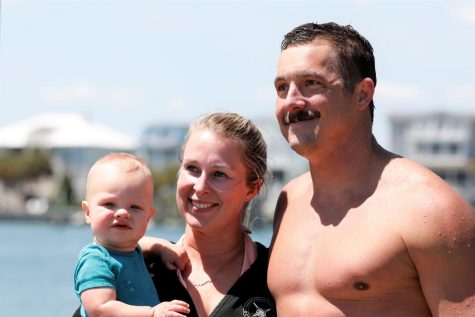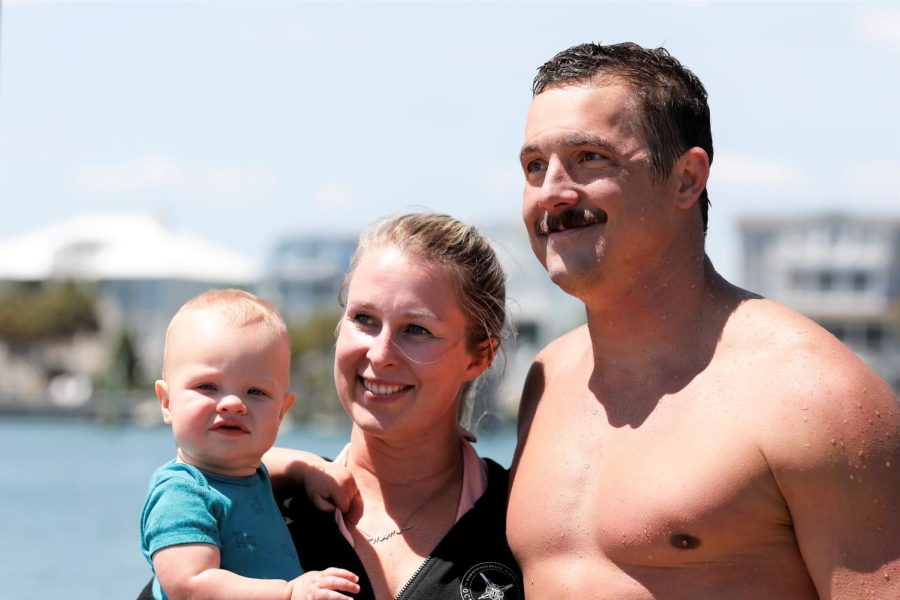 "I want to reiterate that today is not about me," Nelson said at the conclusion of his swim. "I just thought that if I did something crazy, people would notice and give money to the cause. There is a lot of stigma surrounding addiction- people turn away or look down on it. But the fact of the matter is, addiction is a disease. People need to be more open and understanding towards it if we're going to make a difference."
Due to the attention Nelson garnered through his swim, he reached his goal of $5,000 the night before he set off. However, the GoFundMe link remains open, and any remaining funds will be donated to organizations for veterans struggling in similar situations.