Wilmington struggles to combat homelessness
An ordinance was proposed in New Hanover County last month that aimed to deter homeless people from camping out on county property, including the Wilmington Public Library downtown. Sleeping would have been prohibited between 10 p.m. and 7 a.m., and items left for more than two hours would be discarded. The ordinance initially included a $50 fine for violations, but this was soon removed. Violators of the ordinance could have been removed by law enforcement and prosecuted for trespassing, although government officials did state that this would be used as a "last resort."
For years, the area around the library has been used by local groups such as soup kitchens and homeless shelters as a distribution site to provide resources for displaced individuals. However, in recent months, members of the unsheltered population have allegedly committed a few assaults, and accusations have been made of disruptions inside the library and of people using the outside of the library as a bathroom, all of which factored into the creation of this ordinance.
"It's not clear when the alleged assaults occurred or their extent," Emma Dill, local government reporter for StarNews said. "However, Vice Chair Deb Hays did mention that Wilmington Downtown Inc. [WDI] employees had to be taken to the hospital following an incident with the homeless in that area, so I think that was part of it."
Dill writes for the StarNews, a daily newspaper in Wilmington. Since joining in 2020, she has published numerous articles detailing legal actions taken by the NHC Board of Commissioners and the Wilmington City Council that affect the homeless and low income communities in Wilmington.
Not all commissioners agreed with the original ordinance, such as Jonathan Barfield. He especially took issue with the proposed $50 fine.
"If I'm homeless, where am I going to get $50 from is my first question," Barfield noted during the board meeting.
 Some providers also expressed unease that homeless individuals could be scattered throughout the city, making it harder for nonprofit organizations to find them and provide them with services.
The ordinance was initially approved 4-1 (with Barfield voting against it), but was eventually struck down at the board's next meeting on April 4 also by a 4-1 vote, with Vice Chair Deb Hayes as the only opponent.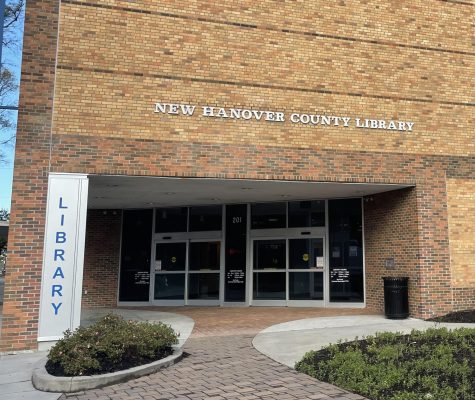 New Hanover County has had a lot of concerns about the homeless population downtown in recent years. Wilmington Downtown Inc. is a nonprofit organization that often partners with local government officials and manages downtown municipal services for the city of Wilmington. This past fall, the organization added a downtown street outreach specialist as part of a pilot program to form a relationship with the homeless community and connect them with local housing. This program was added to deal with the rise in panhandling and littering, which are sometimes attributed to the homeless community.
"This job is challenging, but fulfilling," Jack Morris, the downtown street outreach specialist, said in an interview with StarNews. "Working with all these agencies and great people to affect change makes it all worthwhile."
Jack Morris first began working as the downtown street outreach specialist in November. He is trained to work with individuals who have drug, alcohol and mental health issues, which make up a substantial percentage of the homeless population. Morris has coordinated work with various organizations serving the unsheltered Wilmington community, such as NC SOAR, Coastal Horizons and First Fruit Ministries. In the past month, he has tracked more than 300 interactions with the homeless people living downtown.
The Good Shepherd Center is another notable non-profit organization based in Wilmington. Located on Martin Street, it is dedicated to feeding people, providing housing and helping the homeless transition into permanent housing.
"Our motto is that anybody can keep somebody alive overnight, but what it's really about is how you can end that person's homelessness," Liz Carbone, community engagement coordinator said. Carbone has worked for the Good Shepherd Center for several years, organizing fundraisers and events that benefit the center's volunteer and community service efforts.
Included in the Good Shepherd Center's services is a free on-site medical clinic and a team of case management staff that help people identify the specific issues that have been keeping them out of housing. The center also works with people who can afford month-to-month rent but still struggle with other housing fees.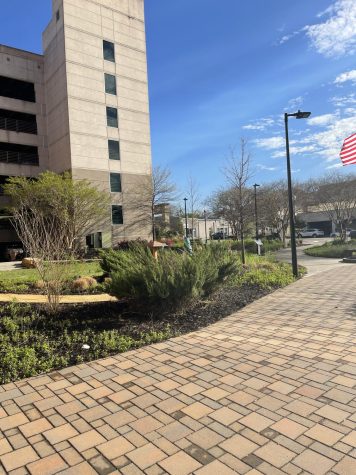 "The most visible few [homeless individuals] that people think are a problem don't represent the 100 invisible homeless people and all those people need our care and attention," Carbone said, in reference to the perception of the unsheltered population in Wilmington. "No person wakes up wanting to spend a day asking others on the street for money. We need to view them as people who need help, not as a problem to get rid of."
In Sept. 2021, the private security and event management company, Block by Block, completed a three day survey that showed an average of 30 homeless individuals in downtown Wilmington during the day, and an average of 20 homeless individuals sleeping overnight. In recent decades, the number of chronically unsheltered people in the Cape Fear region has dropped, in part due to efforts by the government to provide affordable housing. A study conducted by the Workforce Housing Advisory Committee indicated that the majority of renters in New Hanover County are cost-burdened, meaning that more than 30% of their monthly income is spent on rent prices. Last month, the Board of Commissioners had a joint meeting with the Wilmington City Council and unanimously voted to grant at least $15 million to affordable housing initiatives throughout the next five years. 
"The $15 million will be taken from 'existing growth' in the county's funds over the next five years," Dill said. "At a February meeting when the idea was first presented, county leaders said they hadn't identified a single source for the money, saying it could come from a range of sources in the county's budget."
Included in this plan is the formation of a new department that is specifically focused on addressing affordable housing issues in the Cape Fear region. The proposed investment will complete two tasks: First, it will fund the construction of new affordable living units. Second, it will be used to preserve affordable housing that is already in place. In addition, the WDI has also budgeted about $1500 to help provide transportation for homeless individuals, which can include the move from temporary to permanent housing.
Other factors contributing to homelessness are mental health issues, drug addiction, alcoholism and a variety of complications specific to veterans. There are also a significant number of unsheltered people that refuse services for a range of reasons, including attachment to the groups they formed on the street, as well as fear of abuse inside shelters.
"We don't have the infrastructure to provide intensive mental health services to people with no income," Carbone said, in an interview prior to the second hearing. "It's a really tricky situation. Our aim is always that our door feels open to people in need, and we hope that this ordinance will draw more folks to our shelter."