REVIEW: UNCW's 'The Tempest' is a modern commentary on Shakespeare's timelessness
Shakespeare's well-known, yet nearly impossible to untangle tongue-twister dialogue did not stop this cast from pulling their audience into the strange, comedic and magical world of "The Tempest."
This play was brought to life with modern costumes that relate heavily to each character's personality and a simple set that depicts trees and vines in a way that makes them appear to be right out of a nightmare. The plot is hard to follow, and the dialogue is beyond comprehension, unless Shakespeare's language comes easily to you. This show ponders what it is like to be taken by fear itself. It is a commentary on the connections that are built between characters who have nothing in common other than their proximity to one another while stranded on an island, or perhaps they are just under the mystical island's control.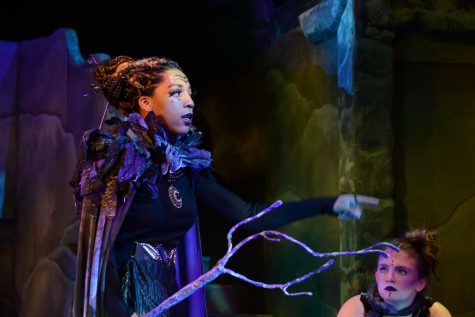 In the opening scene, a stranded Prospera, a sorceress who was betrayed by everyone she knew, stands on the top of a set piece as she uses her sorcery to conjure a tempest from the ocean's depths. She is on an island with her daughter, Miranda, and they have been stranded for twelve years. The island appears to be small and vacant of anything resembling life aside from the two women. That is until Prospera creates a storm causing more people to be stranded on the island from a nearby ship. On the mystical island, unexplained events begin to happen. Characters say things they don't remember and appear to be confused about why they said it in the first place, spirits lurk in the forests dancing between trees and wreaking havoc on the actors. Desperate to survive and unsure of the supernatural beings rustling at their feet and the horrors that lie in every corner under the manipulation of four spirits and their leader, Ariel. Prospera and Ariel are the only two who know the name of the evil within the island, a creature called Caliban with a deep gruff voice that would remind any "Lord of The Rings" fan of Gollum.
During the first half of the show, the audience gets to see Prospera's relationship with her daughter Miranda, as well as relationships between the people stranded on the island after the tempest occurred. This show is just as much about survival as it is navigating relationships that never quite make sense, until everyone on the island is set free.
The audience gets a clear idea of who these characters are and what their individual desires may be by the way they move, talk and use their bodies as they say their lines.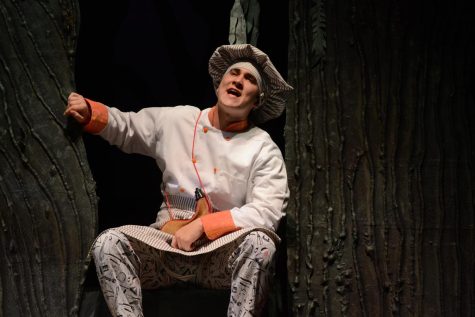 Stephano, portrayed by Zach Harris and Trinculo, portrayed by Malik Fowler are the heart of the comedic elements of the show. From their bouncy friendship to their call-response dialogue, the audience can't help but be invested. They're over the top and all-in at every moment; audience members don't have to understand their words to catch onto their comedic timing. Trinculo is dressed as a classic sailor and Stephano is a drunk sous chef, which only adds to their natural and visibly authentic investment in every scene they are in.
Many of the spooky happenings occur in the second half of the show. Ariel, portrayed by Elizabeth Montgomery, has haunting enchantments and mischievous facial expressions which create a character that the audience cannot help but dislike for all the right reasons. Her siren calls and a combination of creepy, hyper energy give Ariel her core values as a character.
Ariel and the spirits put on plague doctor masks, the lights turn to a deep blue-purple and Ariel proceeds to haunt the stage through a technologically distorted voice. Her siren songs of mischief turned into anthems of deceit.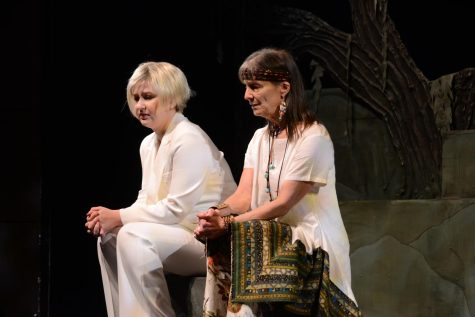 The island has taken these people captive, and each move they make is under the control of an entity they do not appear to be aware of. Alonza and Gonzala are opposite characters. Alonza, portrayed by Brenna Flanagan, appears to be trapped in sadness without a specific source, until it becomes known that she is searching for her son Ferdinand. Gonzala, portrayed by Joan Reilly, comparable to a modern hippie, is a character who is in touch with the earth and is constantly badgered and asked to be quiet.
The cast's performances appeared effortless at every moment. Theatre is a story, but it's never supposed to be pretend. These characters are believable and genuinely fun to watch solely based on their authenticity. Although, there were a couple of moments when actors who were not the focus of the scene were distractions from the current situation, but were still on stage. They play off the idea that this island is supposedly controlling them and there's something larger at play, which holds the audience right there with them in the scene.
"The Tempest," although a well-known piece of William Shakespeare's library of plays, is a modern tale of fear, mind control, isolation, redemption and love. The cast features characters who are true to their slightly misunderstood words and character relationships that grow out of an impossible situation, ending in a hug and renowned sense of freedom.
"The Tempest" runs from Feb.17-20 and Feb. 24-27. The show begins at 8 p.m. Thursday through Saturday and 2 p.m. on Sunday, with a livestream option.
Correction: A previous version of this article incorrectly spelled Zack Harris' last name as "Garris." The article has been updated.