Professor Deepak Rauniyar on short film 'Four Nights' showing at the Berlin International Film Festival
The 72nd Berlin International Film Festival came to a close Feb. 16 after an in-person run for the first time since its 70th anniversary in early 2020. Its earliest screenings commenced on Feb. 10, with the awards ceremony concluding the festival on Feb. 16, earlier than usual out of caution for COVID-19. Repeated screenings will continue through Feb. 20.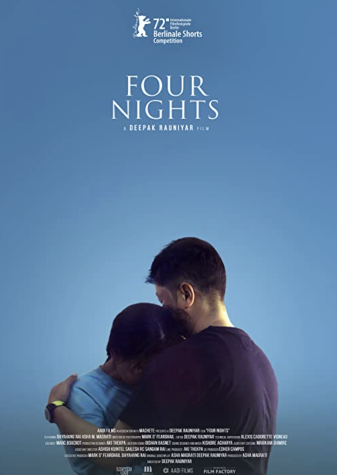 Among the films that were selected for screening at the Berlinale is a short written and directed by one of UNCW's very own film studies faculty. Professor Deepak Rauniyar makes his second Berlinale appearance this year with "Four Nights," a film based on his own life experiences as a Nepali filmmaker.
Rauniyar's career in film is built on a life-long pursuit. Through first visits to the theatre in his teenage years, he became interested in film as a means of expression. "I grew up in a society that was very racist," said Rauniyar. "At the time, Nepal was run by a lighter skinned group. At my school, I was alone; I didn't speak the local language; my classmates and teachers would bully me. I found that even in local films, lighter skinned actors would wear blackface to portray us on screen. No one like me was making these films. I wanted to change that."
Rauniyar worked his way up in the industry. He attended school in Kathmandu where he studied management while also working in local journalism and radio as a reporter. These experiences provided a foundation that he used to secure his first film job in a media house in India after he finished his schooling. In 2004, he served as an assistant director with that company, gaining hands-on experience in the film industry. Three years later, when the BBC sought a producer in Nepal to produce dramas, Rauniyar moved on to work for them. Through his own perseverance, Rauniyar established a strong foothold in the film industry.
In 2008, Rauniyar founded his own film company, Aadi Films, with his wife, an actor and writer herself. They quickly began to work on their first feature, "Highway," which was shot in Nepal. "We knew, to get exposure, we wanted it to get it into one of the top five film festivals, but we also knew there was no way we could do it alone," said Rauniyar. "We looked for producers outside of Nepal, and we connected with a company in New York called Louverture Films. They came on board to co-produce the film. In 2011, I flew to New York to screen the film with them, and then they helped us crowdfund it. It became our first feature. It ended up premiering in Berlin, at the 62nd Berlin International Film Festival. We worked again in 2016 with Louverture on our next feature."
Rauniyar's latest film, "Four Nights," is a loose follow-up of their second feature, "White Sun." The short is inspired by the time Rauniyar and his wife spent making the feature as freelancers in a new country. The film is set in New York and follows a filmmaking couple, the husband being a director and the wife an actress. It revolves around four scenes—four "nights"—that depict important moments in their life and the decisions they make as both creatives and a couple.
"[The characters] are inspired by our life in their struggles in adjusting to a new country and trying to find a voice," he said. "Film is something that brought them together, but also separates them in some ways. The wife is very grounded in reality. She knows that if they don't find a job, they will not have a place to live and she doesn't want to return to Nepal. The husband is more of a dreamer, lost in his world after creating the film. He now struggles with facing the reality outside of his creative process."
"For us, personal films matter a lot," said Rauniyar. "Most of our ideas are in some way inspired by our experiences, the places we've lived in. Like, for this one, we reflect on a life in New York, of an artist. As a filmmaker, when you go to [a] top film festival, you have a bit of a different life for a while, but then you come back to the same place. You struggle to return to the industry. You have to find a different job to survive through. And most times we don't talk about our struggles as filmmakers. In this film, we wanted to put a limelight on that."
The pandemic posed an interesting challenge to the filming of "Four Nights." Rauniyar had initially planned to shoot both indoor and outdoor scenes in New York, but the initial COVID-19 outbreak prevented them from filming outside. "We had to alter the story completely," he said. "We switched it to be entirely from the husband's perspective, all indoors. It still told the essential story while actually being more controllable. We let the world in through off-screen sounds." The situation provided an opportunity for Rauniyar to focus on new stylistic techniques with this emphasis on sound as well as static shooting.
Rauniyar is no stranger to film festivals. "Highway" appeared not only at the 62nd Berlinale, but also the Montreal World Film Festival and the Mill Valley Film Festival in 2012. "White Sun" appeared at 13 festivals in total, winning numerous awards as well. He also currently stands as the first Nepali filmmaker to compete at a major film festival, paving the way for other aspiring filmmakers from his country.
Even with these accolades, having another film shown at the Berlinale excites Rauniyar. It provides an opportunity to get the new film out. "A film festival is the best place to launch the film," said Rauniyar. "Every filmmaker dreams of being premiered at one of the biggest festivals. It's really exciting to us that it's not a one-time thing. With this film, it's in a different category, too. Having our film there gives us the chance of meeting a distributor, of getting the word out there to other festivals. It's possible that a general audience wouldn't relate to it, but those who know the life of an artist will be the ones to see it first."
Rauniyar's focus is far from relatability. His career has always exemplified his belief in the power that a filmmaker's voice holds, showing audiences a new perspective of the world. "Film is a powerful language," he said. "It gives anyone the power to convey what you are feeling, what you are experiencing. It's also powerful for me personally coming from a place where someone like me was not on the screen, was not making the film. I still fell in love with it, wanted to do it, and I did. Why make film? Our life experiences are different and exposing people to that allows us to understand one another."
"Four Nights," along with Rauniyar's other films, exemplifies this sentiment in its representation of his life experiences. He inspires his students to find their own voices in his classes at UNCW. All artists can take a page from his book, as he is a testament to the power and necessity of work that expresses the artist's perspective.
"Four Nights" showed at the Berlin International Film Festival as a part of the third round of Berlinale shorts. It premiered on Feb. 11, with following showings on Feb. 14 and 15. Repeated screenings are to occur on Feb. 19 and 20. Rauniyar's website contains information on where to find his films, both past and present.