UNCW Theatre Department to present 'The Tempest'
UNCW will present a modern rendition of "The Tempest" which adheres to William Shakespeare's original story with costumes reminiscent of modern fashion. The show will take place at the Mainstage Theatre in the Cultural Arts Building from Feb. 17 to Feb. 20 and from Feb. 24 to Feb. 27. The shows will be at 8 p.m. Thursday to Saturday and 2 p.m. on Sundays.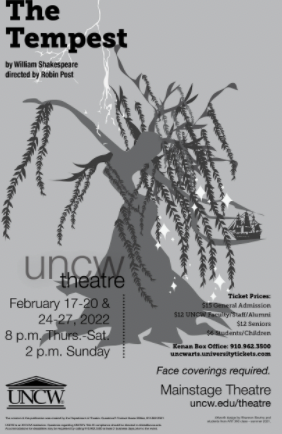 There is an in-person option as well as a Broadway on Demand streaming option. Masks are required in the theatre and tickets are available for purchase for faculty and staff members, students and general admissions. Purchase tickets using this link.
"This rendition of 'The Tempest' is different from the original in a few ways," said sophomore Julia Gambon, the stage manager for the play. "The first is that many of the original characters are different genders in this show, for example Prospero is Prospera."
The play is set on a spooky, mystical island. Prospera's, played by Addison Hamlet, throne has been taken away from her and she has set sail on the ocean with her daughter Miranda, played by Cierra Peterkin. They survive the tumultuous journey across an ocean and land on an island that is inhabited by supernatural entities and a creature, much like an amphibian in appearance, called Caliban, played by Jamie Lane. On the island for twelve years, Prospera becomes a sorceress and prisoner to the island's creatures. She sees a boat in the distance and realizes the passengers are no friends to her. With her new powers, she creates a violent tempest or windy storm, causing the ships to wreck and the passengers to become scattered around the island. Elizabeth Montgomery plays one of the four spirits in the show. "My character is a spirit of the elements. She is [a] servant to the powerful Prospera and is her side chick, playing tricks on people throughout the show," said Elizabeth Montgomery. "The most difficult part of being in this show was memorizing Shakespeare's text and translating it to a modern English that I could understand."
The set fully embodies the setting for this show. Somber colors and spooky happenings are represented throughout the set design. "Each piece that creates this set has been designed to represent the characters and the plot of the show," said Gambon.
"There are moments that are incredibly funny, which I think is missed sometimes in other renditions of this show," said Gambon. With a cast that constantly plays off each other's talent and characters, these comedic moments go unmissed in this production of "The Tempest."