UNCW professors share their experiences in band 'The Schoolboys'
Giancarlo Franzese, Contributing Writer
February 3, 2022
When it comes to talent at UNCW, The Schoolboys is one to consider, as this band continues to amaze both on and off campus. Members of the band including UNCW professors James Hunt, Rick Olsen and Bill Bolduc. Olsen, the chair of the communication studies department, is in charge of vocals, harmonica and the keyboard. Olsen's main responsibility involves singing lots of lead vocals for the band's catalog while Bolduc covers guitar and back-up vocals. Hunt's role is to provide the beat and vocals for The Schoolboys. 
According to Bolduc, it all started for the Schoolboys in 1998. "Rick and I were neighbors at that time playing outside of school for the most part," said Bolduc. They continued performing and enjoying each other's company, with their first performance together at the Faculty/Staff Exam Jam, a talent show during exam period in the spring semester of 1998, where the trio performed 3 to 4 songs at Hawk's Nest. "We had so much fun and just decided to keep going with it," said Bolduc. The Schoolboys achieved their first paid gig at a wedding, also held at Hawk's Nest, which later helped them start catching gigs at a variety of places in downtown Wilmington. "A couple places we performed at include The Shanachie, now The Copper Penny and The Ice House, an outdoor venue here in town," said Olsen.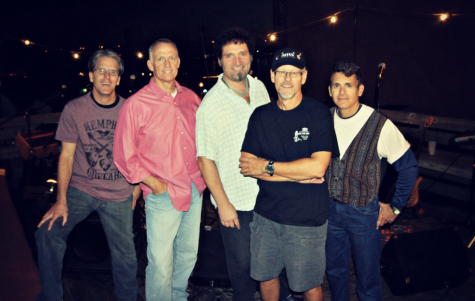 Olsen and Bolduc were heavily influenced by the classic rock music of their youth. Olsen grew up on popular bands including the Doobie and Allman Brothers, Three Dog Night, Journey and many others all carrying that signature harmony that the Schoolboys would use to create their own sound. "I really enjoy how much we try and enjoy harmony. Trust in each other, by moving from imitation to interpretation, is what has inspired The Schoolboys and I," said Olsen.
Bolduc started going to concerts fairly early in high school, seeing artists like Bob Seger, and even seeing Kiss back in 1976. "Seeing Kiss with all my friends was absolutely mind-blowing. It was very hard to see live bands and when you did, it was surreal and so much fun," says Bolduc. These concerts tie into what really inspired Bolduc with his love and passion for sound and music. "A group of us got together in high school helping form a band later in college, which is where my experience really started taking off with music." Through fun collaboration and the many experiences Bolduc and Olsen became involved with, took the Schoolboys on a path towards success.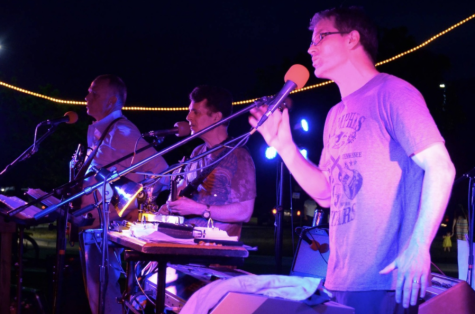 For each member of the Schoolboys, a typical show day together involves preparing for campus gigs. According to Bolduc and Olsen, these are usually the hardest performances. Olsen further stating that it is much easier to have a Saturday or Friday gig. This would help by slowing down transition time, allowing each member of the band to get there fairly early and not rush the setup. "A typical day involves setting aside the time to enjoy collaborating so that things may end up going smoothly, allowing us to snack, drink, and start performing without any issues," stated Bolduc. A day in the life of the trio is not always smooth sailing. "Switching gears from a professor job to mapping out how to start setting up gigs is never easy. There is a huge step up when it comes time to perform," said Bolduc. 
The Schoolboys are known for their incorporation of blues into cover songs. "We do a good job with covering songs by Joe Cocker. 'Feeling Alright' just works because Olsen carries a soulful and gritty voice nailing the pitch, voice tone and intention of the song," said Bolduc. Incorporating blues into their cover songs helps make those tunes their own. Southern rock blues is a style which influences the band's cover performances, allowing them to rework popular songs across genres to fit the blues sound. One of these songs includes the Bee Gees's "Staying Alive," which was transformed into a blues hit from its original disco version.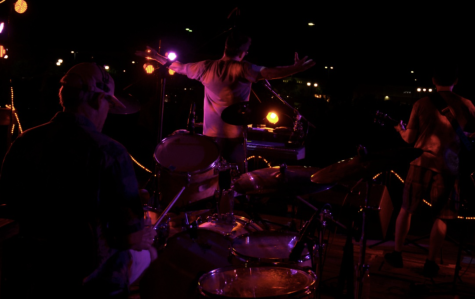 According to Olsen, there are two accomplishments the band takes pride in. One of Olsen's accomplishments involves two fundraising events, the first called Wing Fling which was held at Long Leaf Park. An event that involved games, music and other bands that performed for the thousands in attendance. The second was hosted by the communication studies department to support breast cancer research titled Rock for a Cure which was hosted on the rooftop of Reel Cafe. "I could not believe how many people attended this fundraiser, at least several thousand," said Olsen. Students, faculty, and alumni in the communication studies department were all invited to join in on all the fun. The second achievement, according to Olsen, was how the band was able to rock out at a few absurd gigs.
"In Sneads Ferry, nobody knew or even cared where we were from," said Olsen. "People were playing pool, doing their own thing, rocking and showing their love and support and it was such a good feeling to see." Bolduc felt proud when Rock for Cure came to an end. "Friends and family were there supporting a great cause, lots of money was raised, and most importantly, people were having so much fun making me very proud of what the 'Boys were doing," says Bolduc. The band is also known for playing for athletic events, including playing in Trask Auditorium during Midnight Madness.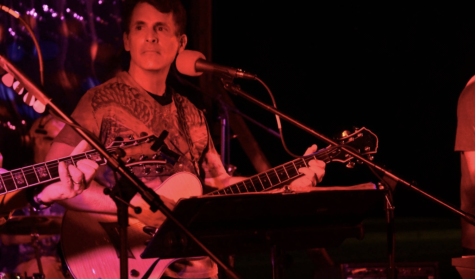 These past couple of years, COVID-19 made things difficult and forced the band to make some adjustments. According to Olsen, the Schoolboys is mostly a hobby and is used as a way for the members to enjoy one another's company. "We always carried an ethos in the band, 'family first, safety first,'" said Olsen. "We hosted one backyard concert allowing people to continue being safe and sitting an appropriate distance apart." 
 Bolduc believes that one thing COVID-19 did was kill momentum for the band. "COVID has forced us to try to narrow playlists, but we are now successfully starting to add to it again. We kept practicing in Olsen's garage keeping distance and playing it safe while also setting up backyard performances involving streaming for others to view on Facebook Live," stated Bolduc. This helped the trio stay motivated and continue stirring their passion for music in the right direction.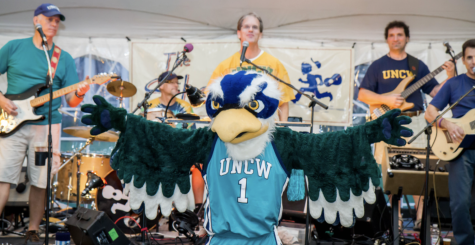 Playing music is essential to many, including Olsen and Bolduc. The best piece of advice the band carries with them includes just enjoying, relaxing, loosening up, and at times, turning down a bit. According to Olsen, anyone looking to pursue interests in music should be more global. "Only work out your best self within the community and take risks to find that inner voice. It took a 20-year journey for the 'Boys to find their voice and a 20-year collaboration for becoming better people and a better band. In music, if you love something then just stick with it," said Olsen. "We know who we are and know what we are capable of," said Bolduc. "Find your people, find the ones that do the things you like to do, and finally, go for what you love. For us, it's the Schoolboys."
*Correction: A previous version of this article stated that "it all started for the Schoolboys in 1988," which was incorrect. The article has been updated.