Jamie Lane on UNCW alumni project 'Birdies' and indie film production
On the upswing from the financial dip of 2014, Wilmington is regaining its status as a filmmaking hub. The year 2021 was a record-breaking year for Wilmington and North Carolina as a whole, with the post-pandemic demand for streaming content bolstering film production.
However, it is not just mainstream projects that contribute to this success. Indie film companies and festivals encourage innovation from filmmaking locals, along with UNCW's own film studies department. Both current students of UNCW and alumni find ways to produce their own passion projects amid industry activity. "Birdies," a newly produced golf comedy premiering Jan. 28, is one such film, with four of the six members of its production company being UNCW alumni. One of the members of the production, Jamie Lane, is a current student.
Lane, a non-traditional student majoring in theatre, is a local to the Wilmington area. He returned to Wilmington after many years of successful work in the acting field right before the pandemic's onset, which then gave him a chance to continue his degree and reconnect with old friends. It is one of those friends, Brandon Luck, that brought him onto the project.
"I came in [to the project] about 3 years ago, but the rest of the Tight Lies team has been working on this for about 12," said Lane. "It all started with a bunch of 'golf jokes' skits. That got them popular online and with the golf courses they went to, and then inspired one of our producers to write a full script. This is his baby that we all fell into."
Troy Carlton, the director, writer and editor of the film, loosely based "Birdies" on the life of Arthur "Arty" Scott, a golf pro and partier. He distributed different elements of the man's life into its central characters, resulting in the unique golf comedy. It is a slobs-versus-snobs story of a rivalry between two golf course owners, the run-down Twin Pines and the pretentious Magnolia Pointe. With their annual tournament approaching, the Twin Pines owner must find a way to win after betting his golf course on the outcome. Washed-up golf pro Jake Baxter might be the key to victory.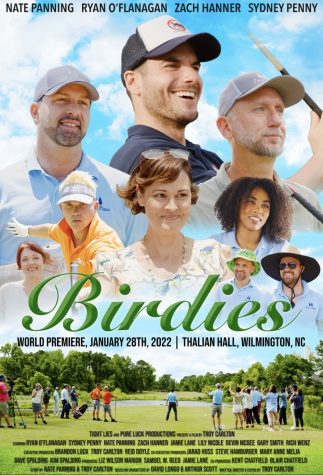 Carlton and other members of the Tight Lies team—Samuel Reed, Luck and Reid Doyle—had planned to transition from skits to the production of the film when the tax credit incentive program ended in North Carolina, grinding the film industry to a halt. Many filmmakers left the state to follow the industry money, and the team put "Birdies" on hold until midway into the pandemic.
"In a weird way, COVID provided us this opportunity," Lane said. "It's a movie that no one's doing, at a time that no one is making movies. We decided we had to just do it, or it would be years later without a movie made. Turns out, we couldn't have timed it better."
Being locals of Wilmington, the team had connections across the city that lent both equipment and encouragement to their film which allowed them to hit the ground running. "We rented the cameras and lighting equipment, but a lot was donated to us by Lighthouse Films in Wilmington, a local production company that Troy had connections with," said Lane. "Then, when it came time to find sets, the other guys had already established relationships with several golf courses through the skits. The owner of Beau Rivage was so supportive of us, he let us use his facilities for free."
"And then the other golf course we used for free as well, Ironclad, was in the process of renovations. It was serendipitous. We got to film while they were tearing down and rebuilding, so we were able to make it look run-down and then brand-new, at the exact time we needed it. None of that was on our part. It's all perfect-timing stuff."
"We all grew up here, so we know people that know people that know people," said Lane. "So, it's not just us—it's like the community made this movie, donating their stuff."
With such strong local support as a foundation, the Tight Lies team had only the production to worry about. However, as a five-man team, they had to take on more than average on a mainstream set. Lane and his partners jumped between several roles throughout the duration of the filmmaking process.
"Troy served as the director and main cinematographer, but the rest of us four did everything else," said Lane. "I would go from acting in a scene to holding the boom mike, getting my close-up and then helping somebody else. Everyone except Troy and Sam acted in the movie, but even they were extras when we needed it." With a team of five shooting an entire movie, "Birdies" is a testament to hard work.
Despite the greater responsibilities he took on, Lane favored the indie approach. "[Film is] a tough industry to break into," he said. "It's rare that anyone's let in—you've got to force your way in, a lot of the time. So, for us, making it indie was half necessity, but also, we get to own it this way. It is an opportunity for us to keep creative control, licensing, everything in our name. It's our project, and there's a lot of pride in it."
However, the work is never finished in an indie production. The team is in the process of devising its post-production marketing strategy. They also made the decision to keep control over the film's distribution to retain their ownership throughout the process. These together are a great deal to take on, but Lane is hopeful about the film's future. Without much word out, "Birdies" has already generated buzz.
Lane's experience in acting and film has taught him valuable lessons about the drive it takes to succeed in the industry. "Number one, with anything in art, you've got to really want to do it," said Lane on his advice for aspiring artists. "It's not about the accomplishment, but the wanting. That is what will carry you to succeed. And then you've got to make your own content while you pursue the paycheck. That is what will distinguish you. If you're pursuing this for the right reasons, you'll be making your own content anyway."
"Birdies" reflects these sentiments well in the story of its production—it is a passion project produced by a group of people that had something unique to offer and did what was necessary to create it. Lane and the Tight Lies team's dedication to their film from start to finish indicates a bright future for indie film and filmmaking in general. It is not only about the product, but the motivation to see it made.
"Birdies" is set to premiere at Thalian Hall in Wilmington on Jan. 28, 2022, and will be available for order online on Feb. 2, 2022. Tickets and pre-orders are offered through the film's official website. There will be updates on their social media as well as to future showings, which can also be accessed through their site.