REVIEW: Cucalorus presents a graphic display of Romanian scandal in 'Bad Luck Banging or Loony Porn'
Artistry is like pornography; you just know it when you see it.
However, it's easy to mistake 'Bad Luck Banging or Loony Porn' for baseless virulent smut within the opening minutes. We witness a hardcore sex tape recorded in a point-of-view fashion, documenting extreme closeups on gentitalia, unsimulated intercourse and vulgar innuendos. This three-minute opening elicits several scattered reactions such as shock, disgust, laughter or arousal. At this point, one could say that we are residents in the film's world now, rather than simply being the audience. This is how Romanian filmmaker Radu Jude immerses us into his film that's closer to reality than we realized. Despite its namesake and opening, pornography is the least of the audience's worries in this social commentary about prejudice and the societal lack of empathy towards people who are the subject of controversy.
Emi Cilibiu (Katia Pascariu), a school teacher, finds herself in a compromising position after a private sex tape is leaked online. Unable to avoid its presence, the tape threatens her reputation and professional career. She is then forced to take a stand in a long debate with the students' parents to determine whether or not she will remain a teacher. The film is split into three parts, each with a distinct structure, that implore us to consider the moral complexity of the situation.
The film is galvanized by the Romanian New Wave, a film genre utilizing both realist and minimalist elements. The New Wave tends to focus more on a film's aesthetics and thematic elements rather than a narrative or its characters. We are not formally introduced to Cilibiu via exposition after the opening; Jude casts us as a pedestrian, or fly-on-the-wall, as we watch her navigate the streets of Bucharest from a distance. The film is etched in realism, as it was filmed during the COVID-19 pandemic and features non-actors onscreen wearing face masks. Realism gives the film a time capsule quality, in which anyone watching can see it as a light documentary capturing the way of life caused by COVID-19. With the pandemic context and its severing of social ties, we can attribute it to the characters' social insensitivity throughout the film, such as the verbal disputes we hear between two drivers. The title makes us initially expect a raunchy sex comedy with non-stop vulgarity, but we are instead shown a critique of human nature that is more morally degrading than anything we see in a porno.
The isolative element of the pandemic encourages a more self-centered lifestyle for people, where they might not empathize with others as easily, or give time to listen to someone else's troubles. This idea manifests itself in the film's frequent panning and tilting shots. We see Cilibiu try to navigate her situation as she talks with a friend on one occasion and her husband over the phone on another. Both scenes slowly pan away from Cilibiu, although we can still hear her, just to stop at a bystander doing the most trivial things like playing on a slot machine or watching TV. Life continues on for everyone else while Cilibiu is at the precipice of a large pitfall for her career. Jude is testing us to see if we are too occupied with what is in front of us to concern ourselves with another human's situation. This plays into the film's immersion process.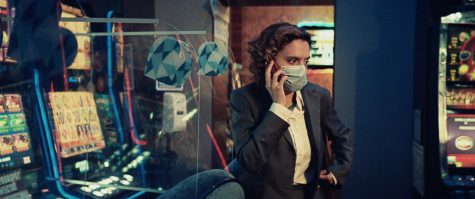 The film further tests our aptitude for paying attention, as it subjects us to a montage of assorted images. These images are accompanied by onscreen phrases and include archive footage from historical events, closeups on male and female genitalia and a decayed corpse. It is challenging to not look away from this montage out of disinterest, but it is another test from Jude that calls for introspection. The genitalia shots are not signaled by preceding images and serve as shock value that is used to a strong advantage. The average viewer likely would not bat an eye to at least half the images of the montage, but sex and human mortality are what would force us to react as opposed to keeping us indifferent. Jude's film is about prejudice and hypocrisy and he strongly compels us to look at our own vices and values regarding taboo subjects.
The third act is a confrontation to the highlighted hypocrisy as we finally hear from the parents within the film. Cilibiu is heavily criticized here for an act that parents say stifles her credibility and derails their children's education. Over-the-top, yet scarily authentic dialogue takes the center stage for the film's remainder as the moral dilemmas are laid bare by inconsiderate characters. However, this act feels slightly disconnected from the first act, as there are multiple camera techniques at work, such as a repetitive crash zoom in which the camera speedily zooms on characters when they deliver a point in the debate. While it is meant to be satirical, it is a departure from the realistic precedent set by the opening act. On the other hand, it works as a culmination of the themes that we had to analyze and contemplate beforehand. But at this point, it seems that we are being hand fed several thoughts and viewpoints to consider from bizarre characters.
"Bad Luck Banging or Loony Porn" strays from what we would expect from Western cinema to deliver a social critique of human apathy. Its themes and aesthetics are effective and present a larger universal theme about the disconnect in human empathy. After watching it, there is no mystery to why it was selected as the Romanian entry for the Best International Feature Film at the 94th Academy Awards.
Magnolia Pictures will distribute the film for a theatrical North American release on Nov. 19, 2021.