REVIEW: Cucalorus documentary 'Theirs is the Kingdom' paints an Asheville community in divine image
We don't know what Jesus looked like.
Whether a manifestation of the divine, or just a Hebrew man, there have been countless depictions of him and his even more ambiguous parent-being God—artists pulling visions of him from their mind and trying to capture him in a painting, sculpture or film. "Theirs is the Kingdom," a documentary selection at this year's Cucalorus Film Festival, presents us with two versions of God. There is Michelangelo's celestial God, surrounded by angels and reaching a muscular arm across the Sistine Chapel, yearning to touch Adam, to touch man, yet falls short. Then there is the version described by a pastor in the film—an unkempt, poor, distrusted radical man, who hung out with people society condemned.
The film, directed by Christopher Zaluski, goes on to suggest the latter version might be a truer representation of God, and if that is so, we should be looking for him in the places and people society avoids—among the homeless, the mentally ill and the recovering addicts. The film connects these two Gods in fresco painting—a Renaissance medium used by Michelangelo and Leonardo da Vinci.
"Theirs is the Kingdom" follows artist Christopher Holt in the three-year process of painting his own fresco of a homeless community in an impoverished area of Asheville, North Carolina.
The film centers on Haywood Street Church, the home of Holt's finished fresco mural and the residents portrayed in that mural. The plot rotates between the arduous process of creating a fresco, individual stories of overcoming struggle from Haywood Street's members and controversy over plans and funding to solve Asheville's growing inequality.
The film's title is most likely derived from a Christian Bible verse, Matthew 5:3 which reads "Blessed are the poor in spirit, for theirs is the kingdom of Heaven."
Who is in that kingdom?
Well, there is the burly Dave and the soulful Mary, who having been hungry themselves, believe food is a human right and now work to feed over 500 people in the community. There is Rachel, an aspiring filmmaker who collects stuffed animals, because she couldn't afford them as a girl. There is Blue, a deep-voiced man named after a jazz musician who shows off drawings of his own. Many of the film's subjects have been homeless, suffered from addiction, have done stints in jail, experienced abuse and other situations that left them forgotten or ignored by society.
Yet, Holt finds them all worthy of being immortalized in a fresco.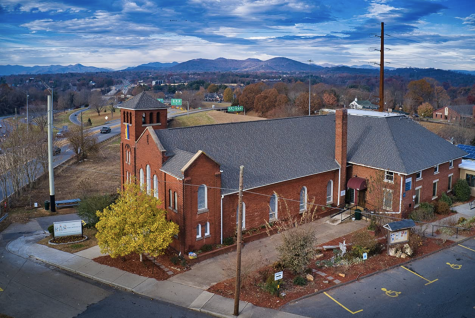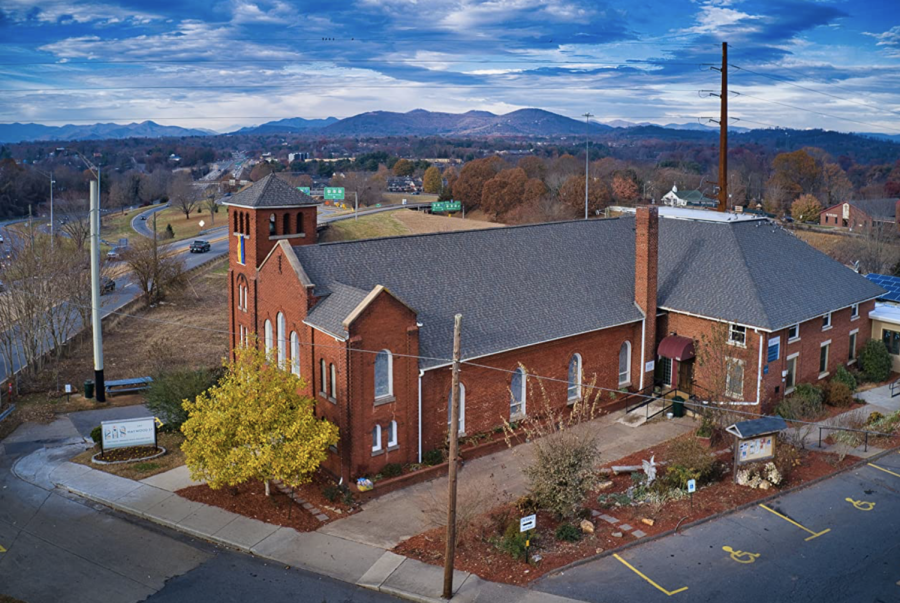 Zaluski's direction takes on a fly-on-the-wall quality and its simple shots let the subjects dictate the story. What Zaluski accomplishes well is making his subjects comfortable in front of the camera, despite many of them being understandably hesitant to be vulnerable to a local artist, much less an unknown filmmaker.
Holt's calm resolve while painting and discussing his inspiration creates intimacy, without the need for any special techniques from Zaluski. The film captures each personality depicted in talking-head interviews that leave an impression, despite each subject's small allotment of the 60-minute runtime. Scored by Leo Sidran, folksy Appalachian acoustics pluck at the heart strings just as much as the guitar, adding another emotional layer to the film.
Throughout "Theirs is the Kingdom," Zaluski inserts media coverage of the controversy surrounding Holt's fresco. The project was criticized for seeking a $72,000 grant to help the homeless. These inserts also talk about the widening class divide in Asheville and the city's paralysis in solving it. The mountain city with its luscious mountain-scapes has been hailed a go-to tourist destination and one of the best places to live in the nation. The film shows how detrimental that narrative has been to lower-income residents, through fast gentrification, rising rent prices and 200 failed strategies to combat homelessness and poverty.
The film's interview subjects express frustration at Asheville's rising prices, the lack of affordable housing and the stark class contrast. This contrast is represented by Asheville's Biltmore Estate, the largest privately-owned home in America and luxury hotels like The Grove Park Inn, where people pay hundreds of dollars for a single night. Both destinations are just a few miles removed from people who cannot afford any housing at all.
These headline inserts cause the film to repeatedly justify using thousands of dollars to make a mural, instead of spending that on other efforts. However, in that justification, "Theirs is the Kingdom" transcends other videos or films that raise awareness of poverty and homelessness. In justifying the mural, the film and its subjects examine who gets to benefit from art and who gets to be represented in art. It questions the often-elitist notion of art as luxury and instead suggests that art is crucial for misunderstood or underrepresented communities. It is necessary that they feel seen, and in a world that often chooses to look away from those standing on street corners, art can represent people as humans worthy of being admired. The audience takes home a much deeper lesson on the intersection between art, religion and humanity.
"Theirs is the Kingdom" is still awaiting distribution, but can be seen at upcoming festival screenings.