REVIEW: 'We're All In This Together' is a remarkable dysfunctional family film
"We're All In This Together," the feature-length directorial debut of actress and filmmaker Katie Boland, might seem like the average "dysfunctional family film" on its surface—but the dark comedy proves itself to be far more nuanced than first meets the eye. Filmed in Canada with a limited budget and within a meager timeframe of sixteen days, the film does more than enough to keep viewers engaged and sports a deft understanding of its characters, a sharp narrative voice and an impressive dual performance by Boland.
The film follows Finn (Boland), an estranged sibling who travels back home after her mentally-ill mother (Martha Burns) rides a barrel down a waterfall—she miraculously survives, albeit in a comatose state. Back home, Finn interacts with her twin sister Nicki (Boland), her younger sister Paris (Alisha Newton) and her ex-boyfriend Gord (Adam Butcher), while picking up the pieces of her family's past and grappling with their uncertain future.
The story of "We're All In This Together" plays out in similar fashion to the film "Three Billboards Outside Ebbing, Missouri" directed by Martin McDonagh. Both films tell stories of broken people who say shocking things to one another and carry heavy personal burdens, telling stories that unfold in unpredictable ways, as each central character acts in ways that push the story in new and exciting directions. Where "We're All in This Together" departs from the work of McDonagh is in its distinctions as a film largely restricted to a handful of family members and also as a film which boasts women as the most integral causal agents of the story. The film boldly asserts its female ensemble as capable of taking a film's story to uncharted territories, which allows the film to feel refreshing when compared to other indie dramedies.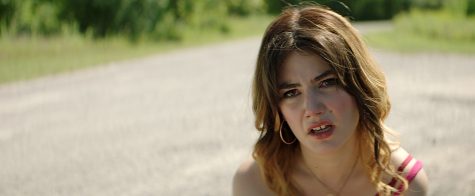 The film also boasts strong acting, especially by Boland who plays both Finn and Nicki, and by Burns who plays the mother. Boland filmed herself playing both twin sisters, sometimes using another performer as an onscreen double—though some viewers may not even notice that Boland plays both roles, as Finn and Nicki feel distinct from one another as characters. Meanwhile, Burns stuns in her role, capturing the mania and false memory of the deeply unsettled woman.
Another remarkable aspect of the film is its adventurous use of editing. In one early moment of the film, Finn discusses the state of the mother, with the film briefly cutting to shots of her clutching the stairwell as she cleans the house—a lesser film would have separated those moments, but Boland uses the juxtaposition to suggest that Finn imagines the state of her mother in that moment. The compelling editing choice is one of many that keeps the audience engaged with the film—and in an endless sea of indie dramedies looking to get noticed, smart editing choices can certainly set a film apart from the crowd.
"We're All In This Together" signals a promising future for star and filmmaker Boland. With this captivating film, Boland can surely harness her vision for characters and story to move forward in the industry as an actress and a director. All in all, "We're All In This Together" tells a chaotic, humorous, and earnest tale of the mending of familial bonds and the unyielding devotion coming along beside it.