REVIEW: UNCW's 'The Christians' is a modern debate of morality and religion
Morality, life, death and hell are in balance in the UNCW theatre department's production of "The Christians." The playwright, Lucas Hnath, has shaped each character to have their own questions about religion and their own set of religious beliefs that drives their character's moral values.
The set is constructed to look like the altar of a church, choir members in the stands, a pulpit, four chairs and Bibles, with a cross in the corner of the stage. Made mostly of wood, the set is beautifully constructed and creates a look of a church that appears to be worn away by time, but it also takes up much of the stage and leaves little room for actors to move around.
It is easy to interpret the large design of the church as a symbol of how much these characters rely on their church and the words of their pastor.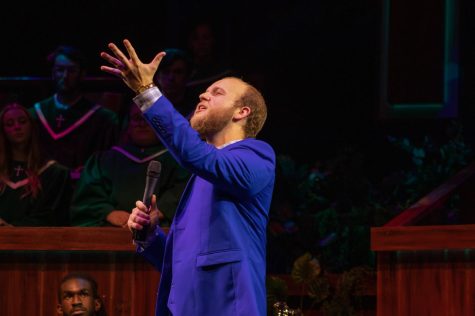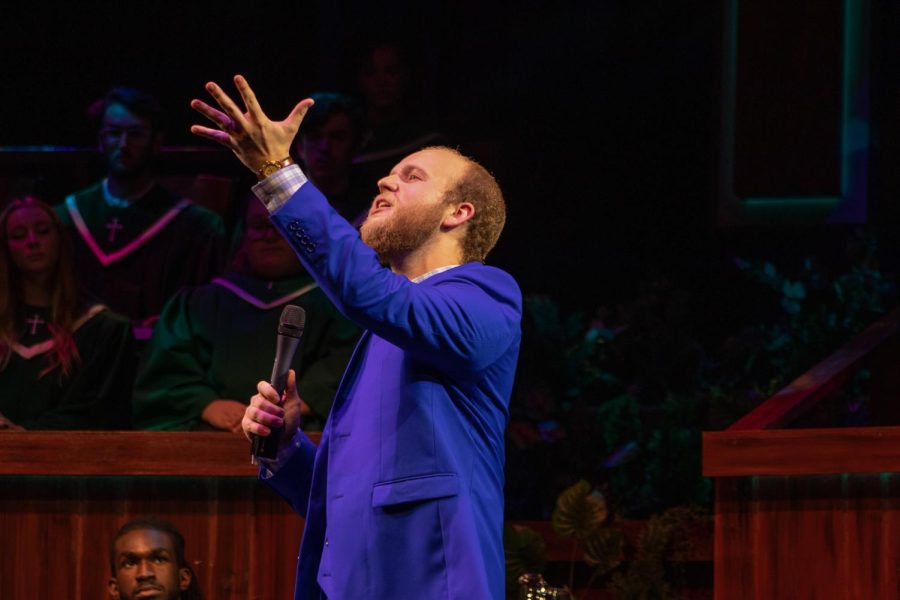 Voices from the choir set the mood for the opening monologue. As the first people on stage, their energy was low and left little to look forward to, but their voices were captivating.
The show opened with a sermon given by Pastor Paul (Davis Wood), that debated the existence of Hell. His sermon challenged all his previous sermons as well as the church's fundamental beliefs.
It is clear to the audience that he has embodied his character fully and we forget he's acting. There was not a moment in the show where the lines the actors were saying felt like words they read on a page and memorized.
Wood's body language combined with the serious and commanding tone in his voice are effective in getting his point across as he questions the existence of Hell. The opening scene feels a bit like a lecture, but can be incredibly touching and personal; however, regardless of the audience's individual thoughts on religion, the questions this play brings up can relate to any audience member.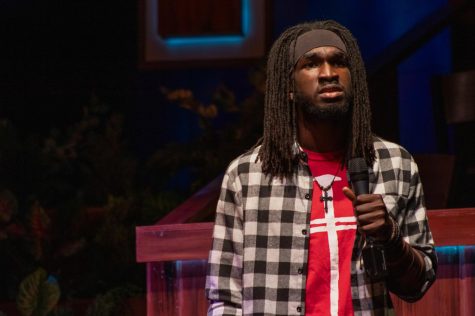 Joshua (Khori Talley) is the assistant pastor at the church. He is the first member of the church to wrestle with Paul's sermon. He raises questions about the sermon by quoting a verse of Corinthians directly from scripture. These questions result in the two taking a poll of the congregation and Joshua eventually leaving the church. Joshua's story is a bit different than the other characters. He is reluctant to leave the church but knows he needs to write his own religious journey. Talley's experience on the stage does not fail him. He captivates the audience and draws out an effective response, using the emotional connection he has built with his character's story.
However, Talley's costume seems out of place and appears to be an outfit that is working a bit too hard to represent his character's personality. He is a rebel in every sense of the word, from his views on God, to the way he remembers his mother on her deathbed. He is down to earth and seems to be waging an internal battle in every line he says.
Elder Jay (Jamie Lane) is a light-hearted comic relief. Lane's comedic timing was impeccable throughout the entire show, leaving the audience with scattered faint laughter. His comedy balances out his character's money-seeking job as the church's elder.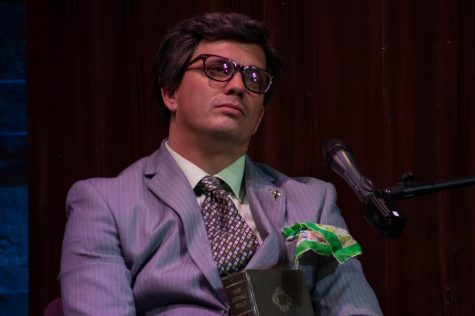 Jenny (Brenna Flanagan) enters from stage right to raise her concerns about the sermon. She mentions her son, living on food stamps and a man in the congregation she has a relationship with. Her character seems nervous and unsure of herself until she falls into an effortless rhythm. She commands the stage; it is clear that emotion is well within her reach when she begins to tear up while talking about her son. She draws deeply from her feelings, making what could have been an uninteresting performance a heart-wrenching question of morality.
Elizabeth (Addison Hamlet) is not the typical preacher's wife. She supports her husband, Paul, until it's time to call him out on his deceit. All of Hamlet's depiction of Elizabeth comes out in her voice alone. Her body language and onstage reactions are lacking, but her words hold a punch that more than makes up for this.
The lighting is woven into a purple, blue, pink and white jumble of colors on the back curtain. This light combination creates an image of illusion. This sets the tone for later misdirection in the show from Paul to his congregation when he changes his personal beliefs on the existence of Hell, which the congregation has been following for years.
This show is successful in leaving the audience wanting to know more, but they leave so many questions unanswered. Audience members leave wishing there was more information, or an answer to questions raised by this production.