UNCW Department of Creative Writing kicks off annual Writers' Week
The UNCW Department of Creative Writing is hosting the annual Writers' Week on Monday, Nov. 1 through Friday, Nov. 5. Students interested in learning about different aspects of the writing community, ranging from an interview with a literary management agent, to learning about printing and participating in a discussion with well-known authors are encouraged to join in the week's events.
Events occur every day of the week. Each morning kicks off with "morning pages," a morning writing exercise with different authors, from 9:30 to 10 a.m. As a part of the department's Write Wilmington series, the morning pages will begin at 9 a.m. over Zoom Friday, Nov. 5.
There are three in-person events for the week, which are the readings and conversations with authors Jia Tolentino, Nikole Hannah-Jones and Sandra Cisneros.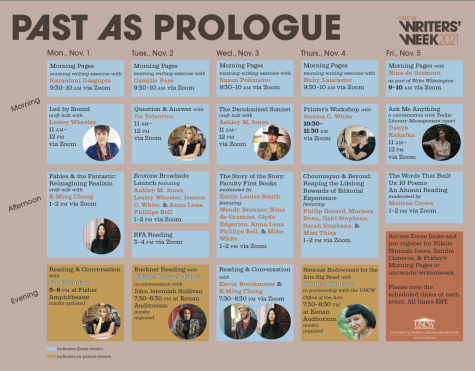 Jia Tolentino is the author of "Trick Mirror: Reflections on Self-Delusion," a collection of essays about the world as millennials have known it. Her novel provides commentary on internet culture, scamming and how people define themselves in this age of rapid change.
Tolentino is presenting a reading from 5 to 6 p.m. in the Campus Commons Amphitheater Monday, Nov. 1.
Nikole Hannah-Jones is the journalist behind "The 1619 Project: A New Origin Story," which focuses on the origins of slavery in the United States and how the legacy of slavery continues to impact American politics, everyday life, music and modern democracy. Her latest project "The 1619 Project: Born on the Water" co-written with Renée Watson and illustrated by Nikkolas Smith is a children's picture book about slavery and how it continues to impact a family's connection to their history.
Hannah-Jones is speaking on Nov. 2 from 7:30 to 8:30 p.m. in conversation with fellow journalist John Jeremiah Sullivan at Kenan Auditorium; the event is also livestreamed via Zoom.
Sandra Cisneros is a poet and author best known for her 1983 novel "The House on Mango Street" which tells the story of a young Latina girl coming-of-age in Chicago. Cisneros will be reading and participating in a discussion on Nov. 4 from 7:30 to 8:30 p.m. at Kenan Auditorium and on Zoom, as a part of the National Endowment for the Arts Big Read. The Big Read is a year-long program that seeks to improve literacy in Wilmington and the Cape Fear region in partnership with the UNCW Office of the Arts and Randall Library.
The week concludes with a presentation of literary works produced by UNCW alumni. "The Words that Built Us: 10 Poems" is moderated by Melissa Crowe, assistant professor of creative writing. To see the presentations by these authors and other members of the literary community, register for the Zoom calls or reserve free tickets for the in-person events.