UNCW opens The Shore Dining Hall
After months of hungrily and patiently waiting for construction to be completed, The Shore Dining Hall has now opened its doors to the students of UNCW.
The Shore is located behind the Recreation Center and can be accessed via Price Drive or from the paths that connect it to The Hub lawn. The dining hall officially opened its doors to all UNCW students on Oct. 6 and it has regular weekday hours from 7 a.m. to 10 p.m., and from 9 a.m. to 8 p.m. on the weekends. The Shore serves as a conveniently closer dining option for students living around The Hub, and it also delivers more food options for the entire student population as a whole.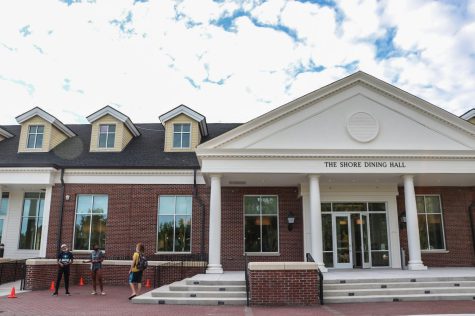 The Shore is much like its nearest counterpart, Wagoner Dining Hall, with its buffet-style food court layout where students can approach different counters to acquire a meal of their choice. Much like other dining options available on campus, The Shore will accept meal swipes, food dollars, Seahawk Bucks, cash, or credit according to the UNCW Campus Dining's Instagram page.
However, what makes The Shore stand apart from the currently existing dining halls is the variety of food available for students, as it features a variety of unique stations, each pertaining to a different food type. A student has the option of eating from the Hearth which serves pizza and pasta, Everything Bowl which serves salads, the custom sandwich bar called Carolina Home, Daybreak which serves breakfast all day, and finally Baja which features a variety of Mexican food.
The layout also serves as a picturesque study area with tall windows displaying a grand view of Sandpiper and Pelican Halls, plenty of seating and a pleasant atmosphere, while delivering both comfort and convenience. The Shore is a welcoming new addition to UNCW's ever-increasing and diverse range of meal options for its students to enjoy.