UNCW's 'A Taste of Honey' is a charming blend of message and humor
With charming wit and heart-wrenching reality of post-war England, the UNCW Theatre Department's production of "A Taste of Honey" displays a real and at times hysterical mother-daughter relationship that is captivating to watch.
Brought to life with a simple set, period costumes that differ based on status, enticing and at times angering character relationships, this show is a masterpiece of asking who will be angry at whom next. Every turn, every line holds a punch for the characters. The honesty, talent and total embodiment of the roles comes through in every scene.
In the opening scene, main character Jo and her mother Helen move into an apartment. The room is plain, freezing cold with faded wallpaper. Jo is a seventeen-year-old girl who is beyond her years. Helen is similar to Jo with her quick wit, yet there is hope in her voice. They proceed to argue about how terrible the living situation is and the reality of their complicated relationship comes through. Jo enters a scene with a navy man, Jimmie, on her arm and they get engaged. He leaves for six months but never returns. Helen marries Peter, a wealthy man, who treats her well at first.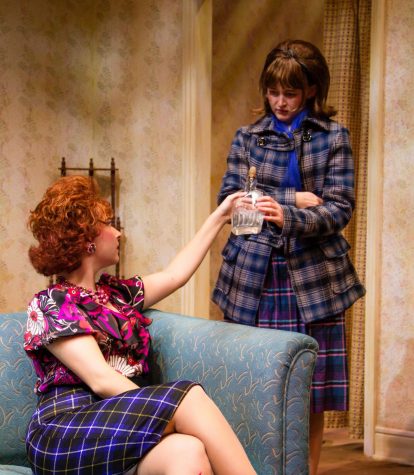 At the beginning of the second act, Jo is pregnant and living alone in the same apartment that her and Helen moved into when she was 17. Now, there are pillows on the couch and a little more warmth in the room. Jimmie has been gone a lot longer than six months. In the next scene, with loneliness in her heart, Jo asks Geoffrey to stay with her. He says yes. Their love is evident through the kindness in their voice and the comfort the audience feels while watching their performance. The show ends the way it began—Jo and her mother back in the apartment living the way they always had.
Jo, portrayed by Nanouri Winchester, an exchange student from Rose Bruford College in London, takes the spotlight with ease, clever retorts and seemingly effortless talent. Her quick wit and disapproval of their living situation comes through in every word. Winchester's tone of voice, disgusted facial expressions and pure attitude add to her character.
She calls her mother, portrayed by junior Meghan McDonald, Helen, which is her first name. This action shows the lack of respect between the parent and child, which adds to the comedic way they bicker. McDonald is another working piece in this performance. Her voice is her character. She speaks with a high somewhat sing-songy tone but with a constant punch. Peter, portrayed by freshman Cole Warren, is cast in his first play at UNCW, but his limited college theatre experience does not fail him. His stage presence is captivating and so is his character arch, from loving husband to verbally abusive alcoholic man ravaged by anger and hate. Warren's acting is simply fun to watch due to his sense of gradual transition and comedic timing.
Jimmie, portrayed by sophomore Kareem White, provides a great counter to Helen and brings out a different side of Winchester's Jo. The two actors' chemistry emanates off the stage. Portrayed by junior Zach Harris Geoffrey's acting is unparalleled, from the way he stands uncomfortably in the corner to the way he talks and his body language. His delivery of lines that follow his character's timid and awkward presence is hilarious to watch.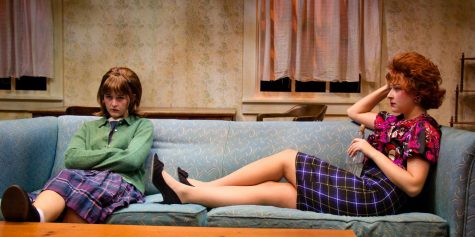 It is truly beautiful to see such talent in the way these characters interact, as well as their engagement and truthfulness in the roles. From the opening scene to curtain call, the cast of "A Taste of Honey" do an excellent job bringing a new life to an old play. Comedic timing and passion for performing do not go unnoticed as they spout off quip after quip.
Costume design perfectly added period context while costume changes refreshed the scene. The audience is also welcomed into these characters' lives while they continue to slam the door on everyone in their lives. Loves leave. Families are ripped apart by time and lingering fights that constantly return. The relationship between Jo and Helen, while complicated and unusual, never lacks power or the possibility of familial love. "A Taste of Honey" is a beautiful presentation of relationships and female brawn.
"A Taste of Honey" runs from Sept. 23- 26 and Sept. 30-Oct.3. The show begins at 8 p.m. Thursday through Saturday and 2 p.m. on Sunday, with a livestream option.