UNCW parking goes virtual this year, but students say there are still problems to fix
Aleks Jones, Contributing Writer
September 28, 2021
This semester parking services' enforcement and technology use evolved to meet the demands of the university's growing pains, but student and staff opinions on the shift oscillate between criticism and acceptance. With this year's expansion of the university and a record-breaking enrollment, parking services reinvented how parking operates on campus. 
UNCW announced that this semester boasted a new record for the number of students enrolled at the university. With the largest student body in 74 years, parking availability and parking services were updated to meet demands. 
David Cook, the associate director of parking, elaborates on several expansions to the college this year. 
"So we did add the Central Parking deck, which is around one thousand spaces. We added an O extension by Loggerhead and Terrapin. We did have modulars on G lot, but those modulars were removed and we now have G lot back. Our capacities at this point are still not full and we're almost a month into the academic year," said Cook.
However, the most notable advancement in parking this semester is the switch to virtual parking passes.
"Everything is based on the license plate and always has been, but we took that license plate information and transferred it to a…decal that someone put on their car that allows us to take that decal and determine if that parking account had parking privileges," said Cook.
"This technology eliminates the need for that decal…that's what LPR is, License Plate Recognition."
Other colleges across North Carolina implemented virtual parking passes in previous years. With UNCW's recent growth, Cook reasons the transition was inevitable.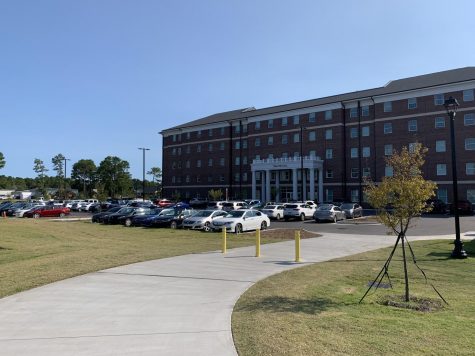 "All the campuses that are arguably larger than ours have already gone to this–this is the direction to go in based on efficiency and sustainability."
In a survey, students responded with their opinions of the switch to virtual passes. According to the survey, 50% of students agreed the process of parking registration was easier since the switch to virtual parking passes.
Abby Yun, class of 2023, notes the ecological benefit of shifting to virtual passes. 
"I think it's a nice switch and environmentally friendly," said Yun.
Emily Winberg, a Junior, said, "I think it [virtual parking passes] is a great idea and more efficient to easily put in your license plate number and be able to pay by phone rather than going back to your car to do so.
However, Winberg and other students also point out the negative effects of the shift, as well as additional complaints involving campus parking.
"I have gotten a few tickets even though I have paid virtually–had to appeal and get it approved to refund me," said Winberg.
"I believe it was a simpler process to obtain a pass, as I did not have to physically attach the sticker to my car, but I also cannot see who around Wilmington and North Carolina also attend UNCW without being able to see the stickers on other cars," said Wesley Earle, class of 2023.
A professor expressed how decals were a "visual footprint around town" and offered a sense of community to students and faculty. 
"I understand why parking services would want to make the switch…but I do miss being able to walk through my neighborhood and identify… all the people from UNCW who are here," the professor said. 
Parking is especially hard for student employees, who often need their car to get to work.
"Even though I had a student employee parking pass in my car, I still got a warning citation. Coworkers of mine have gotten actual fines, though, even with the parking pass in their car," said Whitley Lowe, a student employee for Campus Life.
This issue of wrongful citations coincides with Windberg and many others' experiences.
Lowe provides a possible solution in a "take-home parking pass" for student employees.  If the pass is abused, Lowe suggested parking can enforce regulations from there.
Not only do student workers experience parking issues, but residential students as well, who have to buy a parking pass to park their car on campus. The resident parking pass costs $390 while the Resident Deck pass costs $460.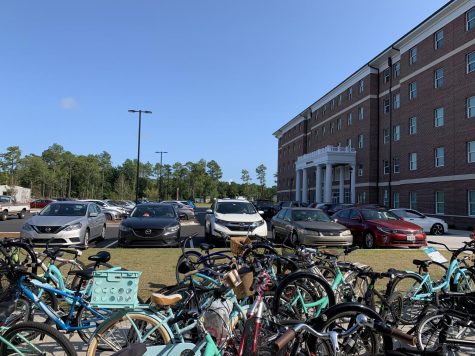 The lack of parking available in the various residential parking lots detrimentally affects student employees' commutes according to senior Jacob Lolley. 
"Going to visit the Residence Hall Association office in Sandpiper or going to do my job in Seahawk Crossing as a desk receptionist has come as quite of a challenge," said Lolley.
Both Lolley and Lowe insist greater parking flexibility between zones and parking expansion could help the problems students encounter. 
While the implementation of virtual parking passes has subverted community recognition and resulted in technological mishaps, the transition eliminated some troublesome situations for students. 
Cook describes how in the past, students whose cars were damaged in wrecks or whose stickers were stolen had to coordinate with parking to receive a new sticker, which could take days. Worn stickers could fail to be recognized in the system, leading students to seek appeals for unnecessary citations. Not to mention, passes have been previously altered or vandalized. 
However, Cook explained, a student with a virtual parking pass can simply update and transfer their status on the parking portal in minutes.
"The pros from that are obviously to eliminate the decals, the paper, the stickers, all of which are susceptible to damage," said Cook. "They can be stolen. They can be altered. This removes all of that."
For Cook, the virtual shift aligns with the parking's "entire purpose" which "is to go out and protect that purchase." 
He expresses an important message to share with the community. 
"We feel like we're the protectors. A lot of times we're not seen that way but with…a campus this size, you have to have a plan to make everything safe and efficient…We protect people who are following the plan against the people who aren't."
Student and faculty opinions on parking enforcement, such as the new virtual parking pass range, however the parking department continues to advance in response to the university's growth.