How clubs are adapting to the return to virtual
With North Carolina's widespread distribution of COVID-19 vaccines, the chances of a return to normalcy at UNCW seemed fairly optimistic. However, such progress came to a halt when UNCW notified students of a COVID-19 cluster in Sandpiper Residence Hall on August 23, 2021. The following day, it was announced that the university would suspend all in-person events and activities that are not related to coursework. On Monday, UNCW extended current guidelines and restrictions until Oct. 15.
Student organizations are perhaps taking the biggest blow.
The announcement canceling in-person events and meetings was made a day before the annual Involvement Carnival. Sponsored by the Campus Activities and Involvement Center the event showcases various UNCW departments and student-led organizations that cater to students' interests. The carnival's abrupt cancellation has made it difficult for student leaders to market themselves and interact with potential club members this semester. This predicament has also forced many clubs to re-plan their events because they relied on being in-person for the purpose of social engagement.
Executive members for multiple campus organizations were able to provide details of how the new safety protocol has impacted their operations, as well as how they've adjusted to it.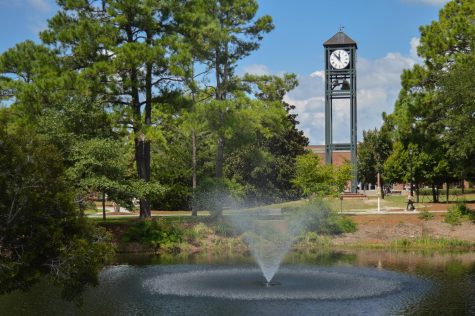 The Association of Campus Entertainment acts as one of UNCW's largest student-programming organizations; their student-produced events allow the UNCW community to engage in fun activities such as film showings, arts and crafts, school spirit and concerts. They were able to host in-person events like "Crafternoon" with origami, "Silent Disco" and "Chancellor's Chill" before the virtual transition. All  their forthcoming events are cancelled or moved online. As ACE's events tend to have a large student attendance, their plans for the coming weeks have changed drastically.
Despite ACE's shuffled event schedule, vice president of operations  Nadia Whitesell believes the move to virtual can work in their favor.
"Like with us wanting to reach a broader dynamic of students, especially off-campus students; that's gonna bring all those off-campus students to our virtual events. And those are events they normally wouldn't be able to come to if they were in person," said Whitesell.
Creative Arts Club allows students to lean into their artistic interests across diverse mediums and collaborate with others who share similar passions. Their meetings also include workshops where students can try new mediums. Their last in-person meeting was back in spring 2020. Although the club faces difficulty in making virtual engagement as effective as in-person, they have learned how to adjust to the circumstances. 
Co-presidents Hanna Keshk and Shelby Watson provided details of their club's transition.
"One of our core values as a club is collaboration, and it's very hard for people to meet new people and collaborate online. We're not getting that one-on-one interaction that we might have in person. So it is difficult to encourage collaboration," said Watson.
"And there are people who don't like breakout rooms. So they'll just quietly leave without us knowing," said Keshk.
Despite the challenge of tailoring in-person workshops to zoom, as well as maintaining students' attention, Watson and Keshk continue to strive for engagement with their club members.
"We also are still trying to hold online social events, like Friday lunches, and we are hoping to have in-person workshops—of course with masks and following safety protocols being outdoors. But we are hoping, if COVID stays manageable, that we can have some kind of in-person events to offer to students," said Watson. 
TealTV is a student media organization that specializes in producing media content such as podcasts,news reporting, sketch comedy and political satire. As the organization's content is production-based, in-person interactions are especially important so that the producers of each show are able to create content.
"Even for our officers, they [in-person interactions] are extremely important. Just keeping up morale within the people running each of these clubs is super important. And I've seen the difference between the in-person meetings and the Zoom meetings, and they are completely different. I'd say that a lot of people are just not as motivated and creative when it's over Zoom," said Vice President Rachel Osterhoudt.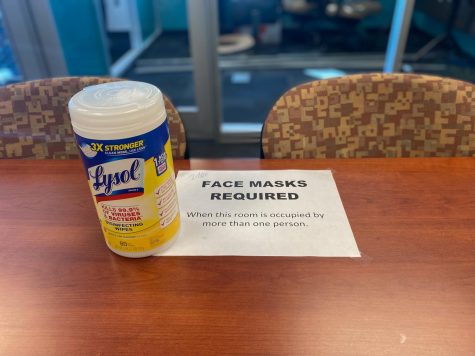 The Involvement Carnival's cancellation is a contributing factor to few members in the organization this semester. The carnival previously allowed TealTV to gain new members; but several productions have few participants at the moment, particularly the Seahawk Central Sports show that currently lacks a producer. 
"We were all planning to have a big team for each show this year. 'Shore Thing' especially, was looking to have a camera-person and a mic-person for the first time in years. We were looking to add more people to the team for that one and for Seahawk Central News. At Seahawk Central News so far, all we have is people who've already previously been a part of TealTV, we don't have any freshmen," said Osterhoudt. 
TealTV's mission to create captivating and creative media content for UNCW has not diminished, but it requires more students in order to maintain consistent quality and promote original ideas.
The Black Student Union hosts events that cater to social interests, academics and pre-professional programs that unify and create a vibrant community for students at UNCW. Such events include a cookout to welcome students for each new school year and a debrief meeting after the upcoming internship and career fair on Sept. 22 to discuss career goals and aspirations. While BSU was optimistic about remaining in-person for most of the semester, they remained cautious of a return to virtual.
"I think for this year, we were a little bit more prepared to maybe switch to virtual than we were last year. I know last year, all the Black organizations, including BSU, had a whole plan and we really didn't have a[n] idea how to do virtual … but this year, I think we're a little bit more prepared. Yes, we still plan for in-person programming, but we always knew there was a possibility of going back to virtual—we plan for the worst, but hope for the best," said President Christopher Neal.
As other committee leaders have noted regarding their own organizations, BSU's treasurer Cierra Johnson and Junior Representative Mari Greene believe that in-person engagement offers students the best experience in their organization. 
"I think that in-person activities are very important for the Black community on campus, just because there aren't a lot of safe spaces that are dedicated for us, or some of the students, they just don't have a space to go to otherwise. So having a place where we can all come together is really important for us to be able to see more engagement with our program," said Johnson. 
"I agree. This is my first year being a part of BSU, and just being able to be a part and communicate with people in person was a major change for me. And I think that it had a positive impact on me, and I would like to continue doing that going forward in the safest way possible," said Greene.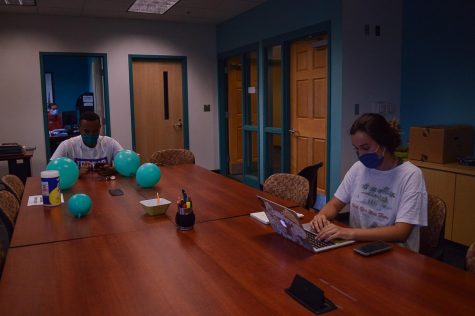 The Student Government Association primarily receives feedback from the student body and ensures that the student opinion is taken into consideration for collective decision-making at weekly Senate and committee meetings. They gain students' opinions by tabling at locations such as Chancellor's Walk and first-year residence halls, which is now at a halt due to COVID-19 protocols. Additionally, SGA holds events that promote diversity, inclusion and sustainability through co-sponsoring with other organizations, including the Office of Student Leadership and Engagement and 350 UNCW. 
Student Body Vice President Thomas Wilson acknowledges that his time in SGA has allowed him to grow accustomed to the virtual operations of the past year. Wilson acknowledges a strange reality after three semesters in a pandemic—new students often don't know what non-virtual involvement looks like. 
"This is actually only my second year in SGA, so all of my experience with student government has been in the virtual modality. So I think that, again, kind of almost like having a year to practice last year of how it would be if everything went online again set us up for success. That being said, there's a lot of goals that are difficult to do with the virtual modality that obviously kind of get infringed upon," said Wilson.
Some traditions like their monthly breakfast with the Vice Chancellor shifted to an online setting —one breakfast had to be cancelled due to a lack of interest in the Zoom setting at an early morning time. 
"In a way it's kind of sad, but in another way, it's teaching us adaptability and we're showing that we're still able to persevere and build connections with those administrators in different ways," said Wilson.
Despite difficulties, Wilson recognizes a stronger connectivity with his peers that makes each interaction feel deeper and worthwhile over the virtual setting.
"I think that if there's one thing we can take away from having this transition into virtual modalities, it is building stronger connections with the students who are not as frequently seen on campus … I think that it's a really good opportunity to reach out and connect in various ways. And I think that through the last year, we've seen greater connection with those students who are typically unrepresented. And I would like to continue that," said Wilson.
While UNCW clubs and organizations face challenges that hinder recruitment and engagement with new members, many organizations have learned to adapt to the new circumstances. Many organization leaders maintain optimism that they will be able to succeed in their respective goals despite the constraints of campus protocol and the danger of COVID-19.