REVIEW: 'American Crime Story: Impeachment' offers a chilling take on the Clinton-Lewinsky scandal
While it's still too early to tell if "American Crime Story: Impeachment" is as great as its predecessors in the "American Crime Story" series, the premiere shows a promise of strong, quality storytelling. The episode stands out for the depth given to each character through the combination of writing and strong acting performances.
The series revisits the 1998 political sex scandal between then-President Bill Clinton and 22-year-old White House intern Monica Lewinsky. Their relationship, which took place from 1995 to 1997, was considered to be an abuse of power in Clinton's presidency. Once their affair became public, Clinton held a press conference on live TV where he denied the relationship's existence and infamously stated, "I did not have sexual relations with that woman." When an investigation disproved his statement, he faced impeachment charges for perjury and obstruction of justice before the House of Representatives.
Linda Tripp, a former White House employee, acted as a confidant to Lewinsky during their time working together at the Pentagon. Lewinsky disclosed the affair's details to Tripp, who had secretly recorded their conversations. It was Tripp's provision of the recordings to Solicitor General Ken Starr that led to the impeachment charges against Clinton.
This political narrative has been reenacted, oftentimes mocked, since it took place. At a time when things like the O.J. Simpson trial, which was reenacted in the first season of "American Crime Story, and the rise of the internet were occurring, the media landscape was being transformed into a more accessible, albeit more damaging place for the public. Think tabloids and blogs—and they were all turned on Lewinsky, at best gently mocking her and at worst hurling vile condemnations. 
Director Ryan Murphy hopes his retelling of this story won't fall into that trap, especially since Lewinsky came on as a producer of the series.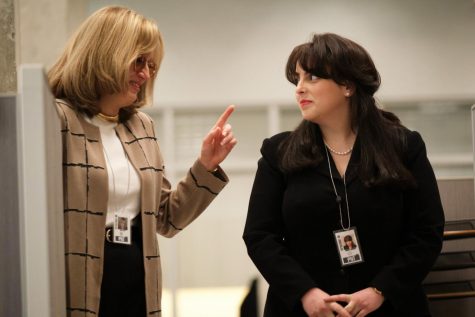 Titled "Exiles," the first episode begins in 1998 with a meeting between Lewinsky (Beanie Feldstein) and Tripp (Sarah Paulson) at the Pentagon City Mall. To Lewinsky's surprise, Tripp arrives with two FBI agents in tow. Flashing back to 1993, the episode recounts the details behind Tripp's removal from the White House and her transfer to the Pentagon. In 1996, Tripp then meets and befriends the newly-transferred Lewinsky, who is a former White House intern. Upon discovering the connection between Lewinsky and President Bill Clinton (Clive Owen), Tripp plans to expose the pair. Also, Paula Jones (Annaleigh Ashford) hesitantly takes legal action against Clinton for sexual harassment, which leads to ridicule and embarrassment from the public.
"Exiles" focus on Tripp, Jones and Lewinsky allows the series to present the scandal from a new perspective. Instead of directly focusing on the scandal, the episode takes time to set up plotlines for the three women, and hones in on their personal lives before the scandal becomes more apparent. The episode's greatest strength lies in the portrayals of the three focal characters. Each actresses' performance brings out the distinctive moral complexities of their character. 
The episode emphasizes Linda's stubbornness and self-absorbed nature as her disdain for the president takes shape. Tripp had served in the White House since George H.W. Bush's presidency and carried on into Clinton's presidency; it's her dismissal from the White House in 1994 that relieves her of the high-status and respect she had there. Her motivation to bring Clinton down is to further advance her own career rather than obtain rightful justice. One scene shows her forming an alliance with Kathleen Willey (Elizabeth Reaser) to maintain her White House position as a civil servant. This leads to the two meeting with new White House counsel Lloyd Cutler in an attempt to keep their jobs after the resignation of their boss. 
Whereas Willey maintains her professionalism in the meeting, Tripp relies on overt name-dropping and arrogantly stating her work experience. This meeting leads to Tripp being dismissed to the Pentagon while Willey is allowed to stay. Even with the new setting, Tripp remains resilient but her requests for special treatment are met with cold annoyance from her superior. This showcases Tripp's uncompromising nature, as well as the complexity of Paulson's performance. Audiences may think Tripp is despicable, but it's easy to become invested in Paulson's portrayal of the determined whistleblower.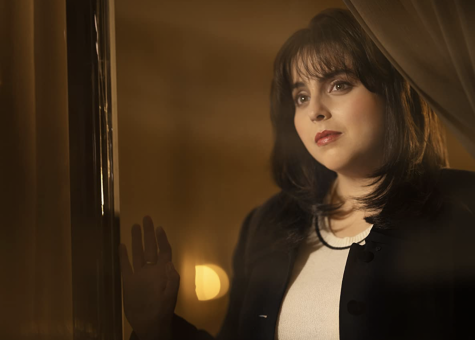 The naïve Lewinsky shares contrasts and parallels with Tripp. Both women share insecurities with each other, such as being subjected to weight criticism, sexism and being forcibly sent to the Pentagon. Lewinsky stands out because she believes that Clinton has a genuine romantic interest in her when his alleged harassment of other White House staff proves otherwise. Feldstein portrays Lewinsky with enough naivete to convey that she's being misguided rather than lacking intelligence. The bright and innocent image that Feldstein acquired in "Lady Bird" and "Booksmart" allows viewers to empathize with Lewinsky while adding an eerie layer to the affair with Clinton. This uneasy feeling comes to a head in the episode's final shot that shows her and Clinton—Owen in his first appearance onscreen—exchanging pleasantries over the phone. A contrast is shown as Lewinsky answers his call with a casual flirtatiousness in her dimly lit home whereas Clinton speaks in a low secretive voice in the shadowy oval office. One can take this to convey that while she views the affair as the best thing to happen to her, it's his worst nightmare if it ever gets out. 
Ashford's portrayal of Jones is marked by its vulnerability. Jones is an employee of the Arkansas Industrial Development Commission, who Clinton allegedly exposed himself to in 1991. Jones's decision to come forward about Clinton's advances puts her marriage on the verge of collapse as she's conflicted about suing him. Ashford's display of vulnerability comes in during Jones's press conference at the Conservative Political Action Conference. Jones's simplicity and her vague account of Clinton's actions leads to ridicule from the crowd. Ashford conveys this embarrassment through the child-like delivery of her lines and her body language, particularly her eye movements.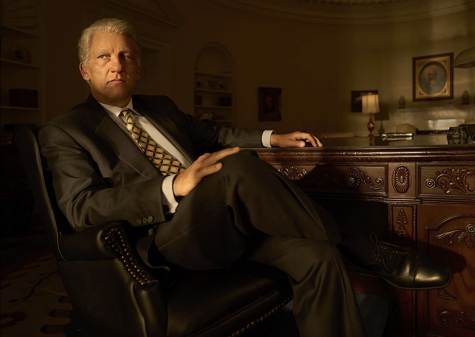 Anticipation is another strength of this premiere. The dialogue throughout the episode likens Clinton to a predator, but there's no image to uphold that perception until the final shot. The scene's low-key lighting creates a dark and threatening portrait of the president. Murphy produces a buildup that's more weighty and subtly menacing than anything he has done with "American Horror Story" recently. 
The episode creates a cold atmosphere that fits the morally bankrupt world of politics that is on display. Each shot has dim lighting that creates deeper blacks and lends to a cold, dark atmosphere. The aura transcends the show beyond being a simple retelling and more of an artistic, detailed vision. 
The first episode of "Impeachment" shows promise that it can be as captivating as its predecessors. As the ensemble cast gives depth to real-life figures, the series displays political intrigue and a chilling intensity. Viewers can expect a compelling narrative that re-evaluates the Clinton-Lewinsky scandal in a new perspective.