Former UNCW professor opens gallery exhibit dedicated to jazz
The Genesis Block Labs gallery in downtown Wilmington is pushed back a bit from the street, secluded in a small arts district, but still perched near the river. The walls are painted a combination of light grey and refurbished wood paneling. The photos are secluded to one wall, with lights above them to bring out key details in the photographs of the "A Time Capsule in Jazz" art exhibit.
The photographs are secluded to one wall, arranged in groups of two or four, picturing famed jazz musicians. The photographs were taken by UNCW's award-winning professor Maurice Martinez, who taught at Watson College of Education for 20 years until he retired in 2014. 
Martinez's medium is a Rolleiflex camera and a Nikon 35 mm. Many of the photos are what Martinez calls "action photographs" because they were taken in jazz clubs where he was able to stand right next to these musicians. Martinez said he used the contours of his subjects' music to find the perfect moment where the musician's facial expression and instrument would come together. Some were taken on the street to capture a moment that only lasted a second.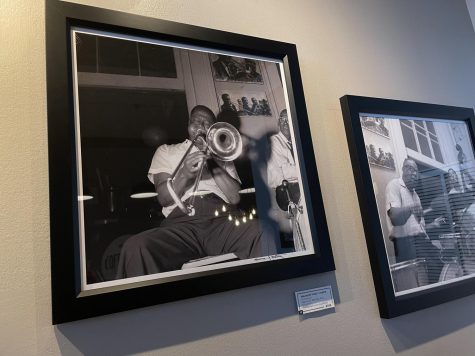 "Look at their faces, their smiles, their expressions of elan vital," said Maurice Martinez, pointing out the moments of joy he captured in his subjects.  
Martinez's photographs date back to 1954 and continue into the modern day. He found his photographs on a trip back home to New Orleans, stored in forgotten boxes. 
"I did have many opportunities to talk with giants like Miles Davis, John Coltrane and many musicians. Once they trusted you, humor and incredible stories followed. I asked Coltrane what advice could he give a young jazz musician. He replied, 'start on the sixth,'" said Martinez. 
Martinez put this exhibit together so his viewers would see musicians as special people. He wanted to show how musicians see the world through rhythm and notes. He decided to open this exhibit to show people what a little love and music can bring to a society gravely torn apart due to social injustice.  
Throughout history, Black artists made it their mission to bring awareness to racism through their art as well as offer first-hand accounts of what it meant to be Black in a racist society.
"The unspoken mantra was 'if you're white, you're right; if you're black, get back; if you're brown, stick around," said Martinez.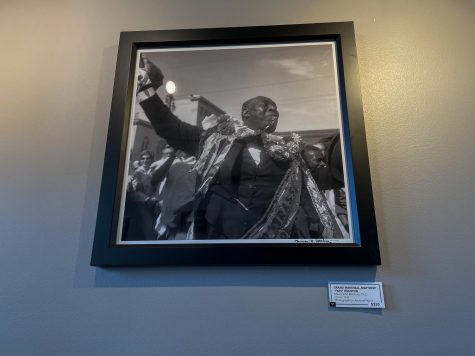 According to New Orleans history, jazz originated in the wake of racial segregation. In the late 1800s, a group of Creole people, a name given to a person of mixed Creole and Black descent typically from the New Orleans area, began to explore the cultural and musical style of jazz. By the end of the 1890s, English-speaking Black people and French-speaking Creoles combined their individual musical celebrations and styles into the musical genre known as jazz.  
But still, New Orleans wreaked with the putrid apartheid air of white supremacy. Anyone who was as little as 1/32nd African descent was considered Black. Restaurants, hotels, hospitals, parks, schools, stadiums, theatres, municipal auditorium, movie houses, churches, all bore signs "White Only." People looked to art for love and stability. It is a tradition that has been passed down through each generation to combat or cope with oppression. 
"Throughout this period of racist rejection, my love of music sustained a sense of stability of a voice within that reassured—in spite of surrounding unjust laws—that music alone can set the spirit free from the dark dark past and the darker things to be," said Martinez.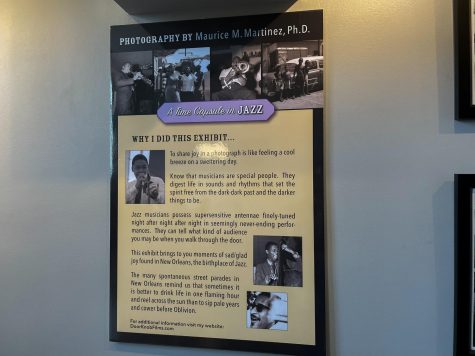 Martinez is not only a photographer but a poet, filmmaker and musician himself. Much of his work focuses on social justice and the history of Black people in the United States in order to bring awareness to their struggles and triumphs in the form of art. His 1976 film, "The Black Indians of New Orleans", has won several awards for telling the story of the Mardis Gras Indians' history and culture. Other well-known films include "Colored White Boy" and "Too White To Be Black, Too Black to be White: The New Orleans Creole." He also hosted a national public radio show called "North Carolina Blue Notes" that shared life stories of famous jazz, blues and R&B musicians born in North Carolina. 
"This photo exhibit is a kind of celebration, paying tribute to the music makers and their faithful second line followers who parade in the streets, who endured in the spirit of a potent poem 'We are the Music Makers, and we are the dreamers of dreams, wandering by lone sea-breakers and sitting by desolate streams, world losers and world-forsakers on whom the pale moon gleams, yet we are the movers and shakers of the world forever it seems,'" said Martinez. 
The exhibit will remain open until Oct. 20 at Genesis Block Labs in downtown Wilmington. Admission is free and the exhibit is open from 9 a.m. to 5 p.m. daily.