OPINION: The money and space being used for the Christian center should be donated to help minority communities in Wilmington
Recently, the Wilmington City Council unanimously approved a resolution for a special use permit to allow a Christian community center to be built in the residentially zoned area surrounding UNCW.  
This was done by individuals who cannot drive a mile without passing a Christain denominational church
As a monist, someone who respects all religions equally, this move is pandering to white evangelicals, and it makes the case for why The Center of Christian Thought, Inc. should donate the money to the City of Wilmington for the building of a secular community center serving all the inhabitants of Wilmington, and the money should be spent building up minority communities. 
UNCW is situated with churches on all sides. Not even a mile away, there is a large college ministry called Overflow, which is popular with UNCW students. On a typical worship night, there are over 400 people in attendance. There is also the UNCW Catholic Campus Ministry which is even closer to campus. With these religious organizations being so well known by the student body and the greater Wilmington area, young white evangelicals flock to this beach community because they know they are in a safe space in terms of their religious beliefs.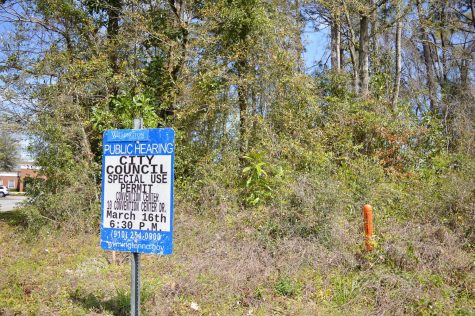 However, students like me, who are who do not identify as Christian, are left trying to fit in wherever they can. This often means that we are left to do mental gymnastics and ignore the issues that make us stand out in order to attempt to fit in and find community. 
Take for example Muslim people, who are a minority community in Wilmington. Although there are Muslim centers in town, students find them harder to access due to their distance from UNCW.  Imagine if Wilmington had backed one of the three Muslim organizations in town rather than backing another Christian organization. Is this prejudice towards Muslim people since the Christian religion is so prominent as we are in the heart of the south? 
While Muslim people make up a small population of Wilmington, the Black community, another minority group, has an even greater physical and historical presence in Wilmington. This community has a greater likelihood of living in poverty than its white counterparts. One would think that the Christian organization, whose religion put an emphasis on aiding the poor, would want to provide money to build the Christian center or just the space, for these individuals to improve their quality of life. This would, in turn, improve the poverty rut that Black people often face due to decisions like this one which primarily benefit white affluent individuals who already have many spaces for their worship. A move like this would only make Wilmington better for all who live here. 
In addition, those of low economic status often rely on public transportation. One would think the Christian organization would want to improve the bus system for those individuals. One would also think that the thousands of dollars being spent to build a structure would have a greater impact on the wider community if it was spent towards improving the transportation system in Wilmington. This would let everyone who uses the public transportation system be more efficient in their day rather than just riding the bus for hours at a time. Efficiency only means less government money spent in the long term because they would have more time to improve their quality of life. 
Similarly, a secular center would improve the lives of all minorities living in Wilmington. This center could provide a safe space to come and seek out information or help. It would also serve as a supplement to other organizations for minority groups within the community, such as the LGBTQ community, the disability community, the immigrant community and more. By investing the money and space as an additional space for people to come would only improve everyone's life rather than just white affluent evangelicals. 
So, while Wilmington is giving the green light to yet another Christian center, I believe that move is just to make the majority more comfortable. This money and or space should be used to build up and improve the quality of lives within minority communities. Our city will be the strongest when all the inhabitants are taken care of and feel seen and heard.