A recap of UNCW's current construction projects
Caroline Straubel, Contributing Writer
May 17, 2021
The University of North Carolina Wilmington (UNCW) campus continues to expand. This summer the university will add Terrapin and Loggerhead Halls, finish the film studies building, the new dining facility and work on the coastal engineering building.  
Terrapin and Loggerhead halls will be suite-style residence halls, with double, or single suites, community kitchens, and 387 rooms in each hall. They will be open for occupation in the fall of 2021.  
The film studies building is "substantially complete" according to Rachel Patrick, director of architectural and construction services for UNCW. The interior of the theater will be constructed this summer, and the building is expected to be completed by the fall.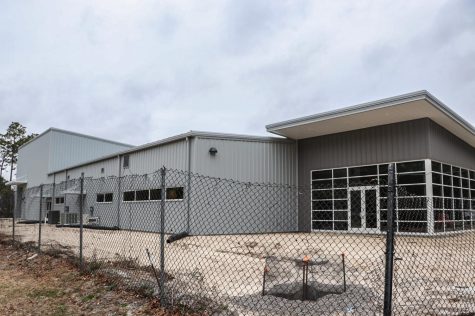 Construction for the coastal engineering building began in early spring of 2021. The building is estimated to be completed in late fall 2021. The progress on the building has been slowed by the scarcity of building materials during the COVID-19 pandemic, although there has yet to be a "major impact on [university] projects," according to David Holsinger, facilities engineer and capital project manager for UNCW. 
The COVID-19 pandemic has also altered construction site management practices for the university.  
"Masks are required to be worn at all times on our project sites and many contractors are doing temperature checks. Anyone who does not feel well is not to come to campus. UNCW staff managing projects have been attending meetings virtually and limiting on-site visits [only] when necessary," said Holsinger. 
A new dining facility will be added this summer. The facility is approximately 20,000 square feet, with indoor and outdoor seating options. It will feature six new dining options—Baja, Hearth, Everything Bowl, Carolina Home, Daybreak and Grab & Go Lockers. The university has not elaborated much on what each of those categories will entail menu-wise. 
"Everything Bowl will be featured as an allergen-friendly option, and the Grab & Go lockers will offer the convenience and flexibility to place orders in advance to pick up on the go with ease," said Holsinger.  
Otherwise, the university has not elaborated on what each of those other categories will entail menu-wise. 
An opening day for the new dining facility has yet to be announced, although it is estimated to be ready in by late August.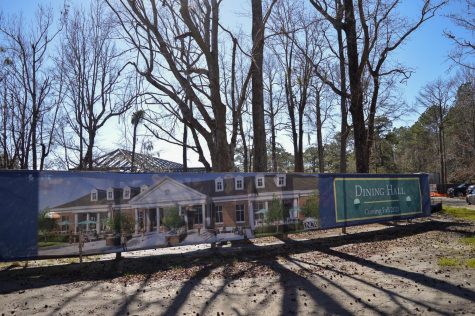 The renovation plan for Randall Library is being designed.  
"Currently, we have funds for design only for a library expansion and renovation," said Patrick. "Construction funding for this project is the top capital priority during the current session of the state legislature." 
The university plans to possibly add a new food service area in the library, with an expansion of approximately 85,000 square feet.  
This summer, the renovation will focus on a smaller project. 
"We plan to remove the reference collection shelving to build a new 1300 square feet family-friendly space for our collection of children's books," said Patrick.