Graduation weekend comes to a close in Wilmington
UNC Wilmington (UNCW) held commencement ceremonies for the class of 2021 this weekend, splitting the ceremonies into five separate events. In-person ceremonies on Friday were held at 1 p.m. and 5 p.m. and Saturday at 9 a.m. and 1 p.m. Additionally, a virtual ceremony was held for graduates that either preferred the online format, or who could not be accommodated at an in-person ceremony due to coronavirus (COVID-19) capacity regulations.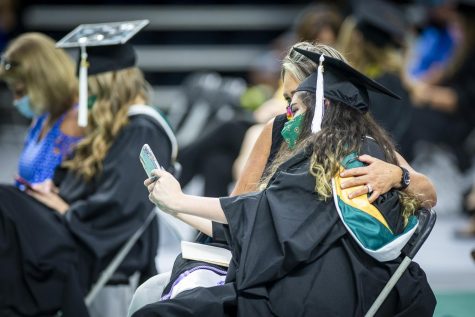 A total of 2807 students received their diplomas, as well as recognition of the dedication put in to receive either their bachelor's, master's or doctorate degrees.
Chancellor Jose Sartarelli led the proceedings at each of the five ceremonies, introducing each speaker, as well as making both the opening and closing speeches himself. 
"There have been amazing moments, friendships formed, new ideas discovered, research conducted, trips taken, and opportunities explored," said Sartarelli in his opening address to the class of 2021. "There have been challenging times. From weathering hurricanes Florence and Dorian, to navigating a global pandemic. You have carefully balanced the demands of academics, jobs, internships, research projects, campus and community leadership activities, sports, and many other responsibilities."
Other speakers who took part in the commencement ceremonies include UNC board of governors member Mark Holton, 2021 class president Pietro Brucia and provost and vice Chancellor for Academic Affairs James Winebrake.
With the addition of the class of 2021, UNCW now boasts over 90,000 total alumni over the 73-year history of the university.