Office of Sustainability gets new space
Last week, the Office of Sustainability formally opened the doors of their new space located in the Warwick Center, filling the vacant space following the Office of Military Affairs' move to Veterans Hall. This space will house Chief Sustainability Officer Kat Pohlman, as well as her staff of peer educators.
Pohlman expressed her wishes for the office to serve as a place for student engagement, as well as sustainability office operations.
"Our hope is that everyone comes to visit us and utilizes the space," said Pohlman. "We have a conference room and that's going to be able to be reserved by students, faculty and staff, even after normal work hours, as well as cubicles and a lounge area for students to meet and study."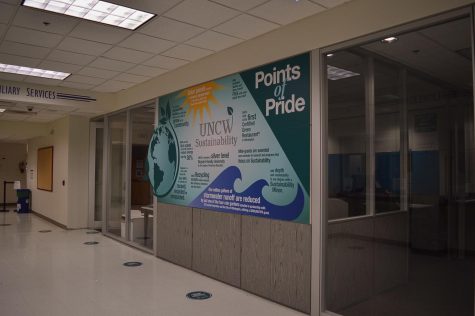 Additionally, the sustainability office will offer displays and resources as to how students can lower their personal environmental footprint. They will also have peer educators on duty to answer any questions students and faculty may have about how to be sustainable in their everyday lives, or how to get their environmentally friendly projects started. 
"We have a great space for people to come and talk to peer educators," said Pohlman. "We also have a bunch of resources throughout the office that people can borrow, and we can also potentially help purchase things for people to help out with sustainability projects."
Looking forward, Pohlman stated that their next priority is to bring more renewable energy to campus.
"I can see a lot of our funds in the future going towards clean energy, and we are all committed to it here at the office," said Pohlman. "With our renewable energy plans, we need to factor in social equity, and economic vitality, on top of the environmental impact. It is more than just saying 'hey, we want solar panels,' but building a smart energy profile that will make us more resilient all around."
The Office of Sustainability has been around since 2007, and has been mainly concerned with developing plans and initiatives to lower the environmental impact of the university. Until recently, the office has been housed in a significantly smaller space within the Environmental Health and Safety Building, located off Plyler drive.
If you are interested in staying up to date or getting involved with sustainability on campus, check out the UNC Wilmington sustainability pledge and sign up for the sustainability newsletter for information on events and activities.