North Carolina could be the next state to legalize cannabis
Two bills regarding the legal status of cannabis were filed in the North Carolina State Senate on April 7. One would see cannabis become available for medical use in certain cases, the other would see the drug become fully legalized in the state.
Senate Bill 646, or the Marijuana Justice and Reinvestment Act, takes a broad approach to cannabis regulatory reform. This bill, sponsored solely by Democratic senators, would allow certain quantities of cannabis to be possessed by adults 21 years old and up, as well as sold by approved and licensed vendors.
Limits on possession are laid out in the bill as follows:
Possession limit. – Any of the following amounts: 
Two ounces of cannabis in a form other than concentrated cannabis or cannabis products. 

Fifteen grams of concentrated cannabis. 

Cannabis products containing no more than 2,000 milligrams of tetrahydrocannabinol (THC). 

Six cannabis plants. 

Any additional cannabis produced by the person's cannabis plants provided that the possession of any amount of cannabis in excess of two ounces of cannabis, 15 grams of concentrated cannabis, and cannabis products containing no more than 2,000 milligrams of tetrahydrocannabinol must be limited to the same property where the plants were cultivated.
"Cannabis prohibition, like alcohol prohibition before it, has been a wasteful and destructive failure. About half of Americans admit to having used cannabis despite more than eight decades of prohibition," reads the bill in making the case for legalization.
"The prohibition of cannabis has had an unfair, disparate impact on persons and communities of color. A 2020 report by the American Civil Liberties Union found black individuals are three and six-tenths times as likely as white individuals to be arrested for cannabis possession, despite nearly identical use rates."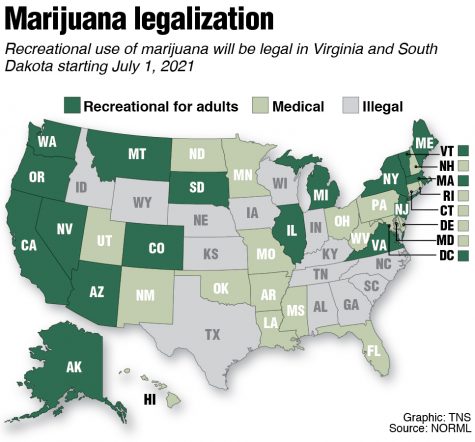 Senate Bill 711 proposes only the medical legalization of cannabis. The bill is off to a promising start, receiving a bipartisan introduction by two Republican and two Democratic senators. The Republicans behind the bill both come from the Cape Fear area, with Bill Rabon representing Brunswick County and Michael Lee representing New Hanover County.
This bill also termed N.C. Compassionate Care Act would allow patients suffering from certain ailments to be prescribed North Carolina grown medicinal cannabis. The bill lays out certain conditions such as cancer, epilepsy, glaucoma, HIV, AIDS, ALS, Crohn's disease, Parkinson's disease and multiple sclerosis as those eligible for medicinal cannabis treatments, but says that diseases similar to those listed will be considered as well.
"Modern medical research has found that cannabis and cannabinoid compounds are effective at alleviating pain, nausea, and other symptoms associated with several debilitating medical conditions," stated the bill in its findings. "This Article is intended to make only those changes to existing North Carolina laws that are necessary to protect patients and their doctors from criminal and civil penalties and is not intended to change current civil and criminal laws governing the use of cannabis for nonmedical purposes."
This recent slate of cannabis legislation comes off the back of neighboring Virginia, which passed a bill for the substance's legalization to begin in July. 37 other states have already passed laws to legalize cannabis for medicinal use, with 15 states having legalized the substance for recreational purposes.