UNCW's recent change in billing practices could result in lower tuition costs
In accordance with the UNC board of governors' (BOG) Task Force on Pricing, Flexibility and Affordability, UNC Wilmington (UNCW) will be updating their billing practices for the next academic year. 
The UNC System will eliminate their "stair-step/block" model used for main campus programs and instead create an equal tuition rate for main campus and distance programs. 
According to an email sent out on March 5, "Students in main campus programs will be billed on a per-credit-hour basis for courses and all mandatory fees and students in distance education programs including OAP [Online Accelerated Program] will be billed on a per-credit-hour basis, but with fewer applicable fees."
Additionally, tuition costs will be capped at 12 credit hours for undergraduate and nine credit hours for graduate students. This means students taking over those hours will not be billed any additional tuition.
According to the university, the majority of undergraduate students with these"fixed tuition cohorts" will see either the same or a decrease in their tuition bills. 
"For the few students where the elimination of the stair-step/block model will result in a higher tuition bill, the university will conduct an analysis after the undergraduate withdrawal date for fall 2021, make appropriate adjustments to the accounts of affected students, and communicate with those students," as written in the announcement.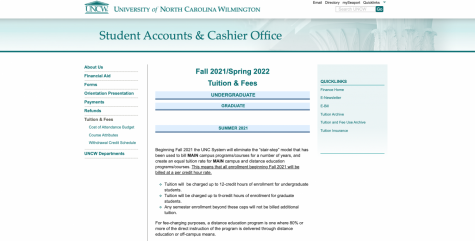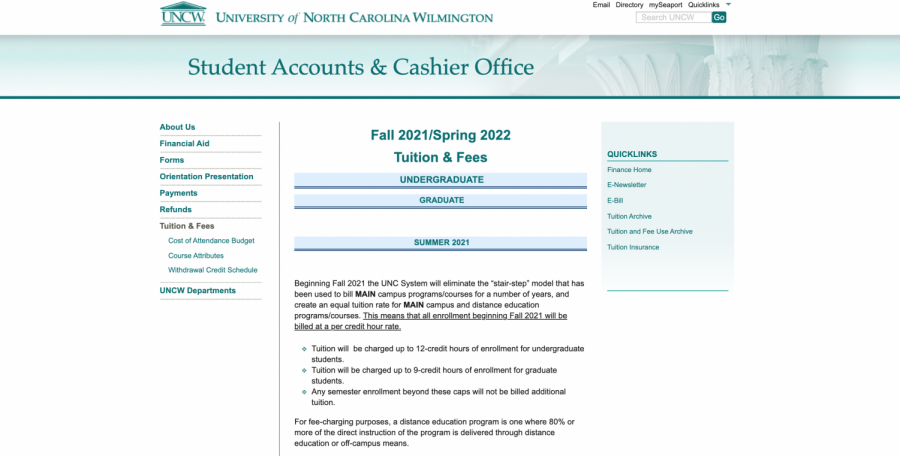 Meanwhile, changes to the billing methods for fees will be based on whether students are in main or distance programs and a per-credit-hour basis based on said program. 
"The UNC System has defined, for fee-charging purposes, a distance education program as one where 80% or more of the direct instruction of the program is typically delivered through distance education or off-campus," as written in the announcement.
Distance education program students will be charged the campus security fee, the education & technology fee and the association of student government fee. Meanwhile, main education program students will be charged all mandatory fees. Any credits over 12 (undergraduate) and nine (graduate) will not be billed any additional fees.
In late 2020 and early 2021, the BOG made two recommendations regarding billing practices which led UNCW to update its bill methods to meet these guidelines. This new method will be implemented starting fall 2021. 
The university is currently working to update these changes in Seanet and determining the billing categories for each student based on their program. Additionally, a website will be created soon with all this information and more.