Electric vehicle charging stations coming to Market Street parking deck
On the evening of April 6, the Wilmington City Council approved the purchase of two direct current (DC) fast charge electric vehicle charging stations.
The resolution was passed unanimously, resulting in a purchase totaling $118,225.20 that includes the charging stations, as well as costs associated with shipping, installation and warranty. The City of Wilmington will be reimbursed for the costs of the charging stations as part of North Carolina's share of the Volkswagen settlement, part of a 2015 tailpipe emissions scandal by the car company dubbed "dieselgate."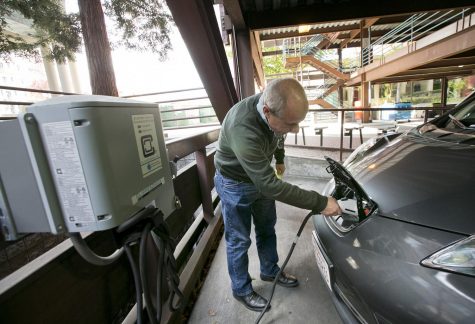 The charging stations will be located on the ground floor Market Street parking deck in the heart of downtown and will be available for free use at the time of installation. There was discussion in the meeting as to how to produce revenue from electric vehicle charging in the future.
The DC fast charge charging stations are produced by ChargePoint, which claims to be the largest network of electric car charging stations in the world. These particular charging stations, the Express 250 model, are said to be able to completely charge an electric car in approximately an hour.
The city council also passed a resolution recently to become one of the first cities in the country to include an electric trash truck in their waste disposal fleet, which makes the addition of the electric vehicle charging stations part of a larger trend of sustainable infrastructure.